Bill Clinton Makes The Case For Barack Obama
Last night, Bill Clinton hit one out of the park for the President Of The United States.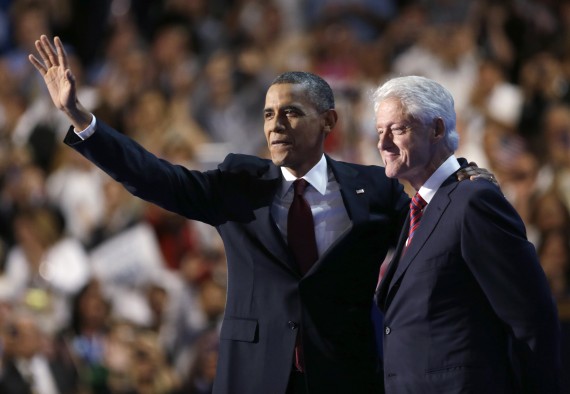 Thousands of column inches have been written since the 2008 Presidential election about the rivalries and resentments between President Obama and the Clinton camp, specifically former President Bill Clinton. By most accounts, and although he never expressed it publicly, the former President was reportedly miffed by the attacks that came at him as he campaigned for his wife, especially during the South Carolina Primary that year when Clinton was nearly accused of racism on more than one occasion. After Obama won the White House, the rumors of bad blood notwithstanding Hillary Clinton's appointment as Secretary of State continued and, in the middle of a lame duck session that followed an historic mid-term election defeat for the incumbent party, Clinton famously took over the White House Briefing Room in a scene that made some wonder if it was 1996 all over again. More recently, Republicans have tried to use nostalgia for the Clinton years against the incumbent President, which is ironic considering the partisan wars of the late 1990s.
When was announced as the person who would give the nominating speech for the President, some pundits thought the party was taking a risk. Clinton was never a man known for sticking to a script, after all, and there were questions about whether he'd use the opportunity to promote the President, or promote his (and Hillary's) own vision of a Democratic Party run by them. Indeed, this week there were reports that Clinton was behind in getting a final draft of his speech to convention organizers and campaign officials, although that's not all that surprising given that as President Clinton had a reputation for changing speeches virtually up until the time of delivery. When he arrived on stage last night to the sounds of the song that defined his 1992 campaign, though, Clinton delivered possibly the best case for the re-election of the President that anyone has done to date:
CHARLOTTE, N.C. — Former President Bill Clinton and President Obama hugged onstage Wednesday night after Mr. Clinton delivered an impassioned plea on behalf of Mr. Obama's re-election, the 42nd president nominating the 44th to a second term with a forceful and spirited argument that Democratic values would restore the promise of the middle class.

The former president delivered a point-by-point rebuttal of the arguments made during the Republican National Convention last week, warning against Republicans taking back the White House and declaring, "We can't let it happen."

He offered an equally detailed affirmative case for the re-election of Mr. Obama, saying there was no question the country was in a better position than it was four years ago.

"We simply cannot afford to give the reins of government to someone who will double down on trickle down," Mr. Clinton said, repeatedly bringing the crowd at the Democratic convention to its feet. He added, "I love our country so much and I know we're coming back."

Mr. Clinton drew sharp lines between the choices facing voters in November. He made the case in a deeply personal way, sometimes articulating the argument for Mr. Obama more forcefully than the president has done throughout his race with Mitt Romney.

"We believe 'we're all in this together' is a better philosophy than 'you're on your own,' " Mr. Clinton said.

(…)

In the 45-minute speech, Mr. Clinton paid tribute to a spirit of bipartisan political cooperation that he lamented was now missing. He characterized Mr. Obama as a president who wanted to bring that spirit back, noting that the president appointed Republican cabinet secretaries and former political rivals like Vice President Joseph R. Biden Jr. and Mr. Clinton's wife, Secretary of State Hillary Rodham Clinton. The relationship they built, he said, sent a signal abroad.

"Democracy does not have to be a blood sport," Mr. Clinton said. "It can be an honorable enterprise."

The arrival here by Mr. Clinton had the feel of a valedictory, particularly as Mr. Obama arrived on stage at the end of the speech, while thousands of Democrats here thundered their approval. It was, perhaps, a capstone in the political career of Mr. Clinton, who was delivering his eighth speech to a Democratic National Convention.

Mr. Clinton offered a comprehensive, even exhaustive, assessment of Mr. Obama's first-term priorities, from the auto bailout to the health care law. Brandishing statistics with a familiar vigor, he laid out a case that each of Mr. Obama's initiatives had met the Republican litmus test: leaving Americans better than four years ago.

"Is the president satisfied? Of course not, but are we better off than we were when he took office?" Mr. Clinton said, pausing as the crowd roared in approval. He added, "The answer is yes."

Mr. Clinton used the successful economic record of his presidency to offer an illustration of the magnitude of the problems Mr. Obama inherited when he took office in 2009.

"President Obama started with a much weaker economy than I did," Mr. Clinton said. "No president, not me, not any of my predecessors, could have repaired all of the damage he found in just four years."

Following the speech by Michelle Obama on Tuesday night, the appearance of Mr. Clinton was the highlight of the convention's second night and underscored the tight nature of the presidential race. He was invited by Mr. Obama himself, who asked him earlier this summer to become more involved in his re-election campaign.

It was in many ways a poignant evening, in part because it marked the full reconciliation of the two most popular Democrats of the past 30 years, but also because Mr. Clinton has been increasingly talking about his own mortality.
Not for the first time at a Democratic Convention, Clinton's speech went far longer than it was planned, and, at some point, he went so far off the prepared text that the "as delivered" version of his remarks ended up about 2,700 words longer than the prepared text released to the press. Unlike the last time that happened in 1988, though, when the words "in conclusion" were greeted with wild cheers from the crowd, this time there was no sign that anyone in the Time Warner Cable Arena really cared. The Bill Clinton of 1988 was some wet behind the ears Governor from Arkansas. The Bill Clinton of 2012 is, and I don't think this is an exaggeration, the Democratic equivalent of Ronald Reagan in terms of the enthusiasm he has long been able to generate in the base. Indeed, according to a recent Gallup poll, Bill Clinton has a 66% favorability rating, the highest that number has ever been since he first became President some 19 years ago, among Democrats that number is at 90%.  I suspect Clinton could've spoken for a full hour, or longer, and nobody in the hall would've minded.
Looking out on the blogosphere, the reactions are about what you'd expect based on the writers political preferences.
Joe Klein at Time was impressed:
I can't think of any politician who talks as good as Bill Clinton. Certainly, no politician has ever been able to unpack and explain dry, complicated policy nuances in as juicy and entertaining a manner. The folks at Fox were speculating that the speech was overly wonky and maybe a lot of people got bored and turned off their televisions. Wishful thinking, no doubt. That's what they always said about his epic State of the Union filibusters-and they were always wrong. People like listening to this guy. He's informal, and informative, in a way that Obama, sadly, has never been able to be-otherwise the folks would have known all that good stuff about the health care plan, and the stimulus plan. But then, Obama's in good company: as I said, Clinton's the most compelling policy wonk I've ever heard. And there is no second place.
As was Michael Tomasky:
Holy smokes. That was the best political speech more or less ever. There wasn't a thing he didn't touch on, and there wasn't a thing he didn't just blast out of the park. His carriage and delivery nailed it for partisans and for persuadables. He hit Republican obstructionism. He slammed the Romney and Ryan plans on virtually every point they've raised in the last six months, from the welfare ads to the tax cuts to the Medicare "cuts" to so much more, and he did it in detail.
On the other side of the aisle, there's Jennifer Rubin: 
Bill Clinton, don't get me wrong, was the best speaker Wednesday night. But that is largely because the rest of the evening was atrocious. Clinton was hoarse, and he seemed to holler for no reason at all. He decried those meanie Republicans of today (the favorite ploy of partisan Democrats is to praise every Republican no longer in office), and he repeated the tropes that Republicans want you to be on your own, want a "winner-take-all" society and want to help only the rich. Yawn.

At times his defense of President Obama strained credulity: Obama, he said, is bipartisan because he hired Republicans in government jobs and he is willing to work "cooperatively." The Obama record is so obviously at odds with that sentiment (unilateral action on immigration and on welfare and the refusal to make a deal entitlements or address the fiscal cliff) that Clinton's argument seemed unserious.

At his most effective, Clinton said that no president could have fixed in four years the economy that Obama inherited. And he extolled the belief that America "always comes back." Unfortunately, Obama promised to fix the economy in his first term. And the Obama recovery is the weakest in history. The comparison between the two presidents' records was obvious, leaving one to consider if Clinton's mere presence was a reminder of Obama's weaknesses.
Byron York also pointed out that Clinton's standard is different from the one Obama set for himself, but not everyone on the right was doing whatever they could to discount the impact of Clinton's speech. Consider the words of former Romney adviser, and long time GOP strategist, Alex Castellanos:
Appearing on CNN shortly after Clinton finished, Alex Castellanos, a longtime cable commentator and former aide to Mitt Romney, spoke in awe of the 42nd president's address.

"I would recommend to my friend Paul [Begala] here, tonight when everybody leaves, lock the doors. You don't have to come back tomorrow. This convention is done," Castellanos said. "This will be the moment that probably re-elected Barack Obama. Bill Clinton saved the Democratic Party once, it was going to far left, he came in, the new democrats took it to the center. He did it again tonight."
This is somewhat of an overstatement, of course. The election is far from over and much can happen between now and November 6th that could change the course of the race, not the least of them being next month's debates. Additionally, it's hard to say how much impact one speech at a convention is going to have on the race, especially given the fact that ratings are likely to be down as they have been throughout the convention season and last night's NFL opening game. Nonetheless, there's plenty in that speech that can be cut into 30-second ads for the campaign, and it's likely that Clinton is going to be spending the next two months campaigning in many crucial parts of the country, including the swing states where the independent voters that Clinton likely appeals to are located.  In a race where the outcome of a single state could decide the election, and the outcome in a single state could be decided by tiny, tiny, margins, there's no doubt that Clinton could help Obama there, and that the GOP really doesn't have anyone capable of equaling him.
Say whatever you will about Bill Clinton, and I've noticed in the past 12  hours or so that many on the right have chosen to respond to the former Presidents speech by bringing up everything from Gennifer Flower to Kathleen Wiley to Monica Lewinsky to impeachment, but you cannot discount his political skills and his ability to connect with voters. It's the reason he won an election that, by all logical evaluation, he should've lost in 1992 when the revelations about his past came out. It's the reason that he survived the disastrous outcome of the 1994 elections after overreaching in the first half of his first term. It's the reason he survived impeachment, and the reason that, after 12 years out of office, he's become an elder statesman of the Democratic Party and one of most popular former Presidents in recent American history. Last night, he used all of those political skills to make a case for President Obama's re-election that was, quite honestly, more eloquent than anything we've seen so far from the President himself or any of his surrogates. I don't know whether or not this will be the moment that we can say Obama won the election, quite honestly I considered him the favorite before Clinton spoke, but if I were a Republican I'd be just as concerned about Bill Clinton as I was in the 90s. They still haven't figured out how to beat him, and it looks like he's back in the game.