Did The Democrats Ever Really Have 60 Votes In The Senate, And For How Long?
Once again in the wake of the President's immigration policy announcement on Friday, one refrain you're hearing from critics is that the President never pursed comprehensive immigration reform when had a Democratic Congress. Of course, as we all know too well, having majority control of both house of Congress doesn't necessarily mean much if the opposition in the Senate decides to filibuster your legislation, and without a consistent caucus of 60 votes to overcome a cloture vote, legislation can be effectively blocked.
That leads to the question of how long the Democrats actually had a filibuster proof majority in the 111th Congress. As this chart from Wikipedia reveals, it wasn't for a very long period of time at all: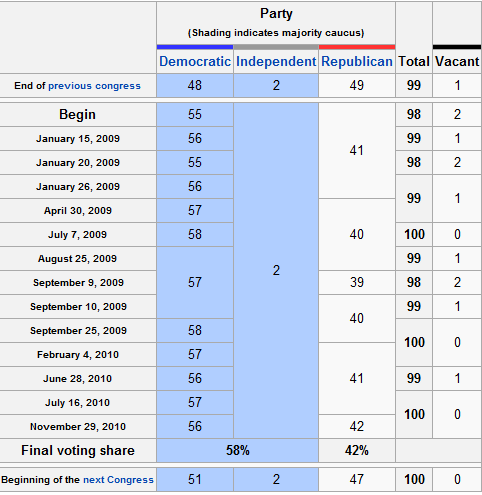 What this shows is is that there were only two time periods during the 111th Congress when the Democrats had a 60 seat majority:
From July 7. 2009 (when Al Franken was officially seated as the Senator from Minnesota after the last of Norm Coleman's challenges came to an end) to August 25, 2009 (when Ted Kennedy died, although Kennedy's illness had kept him from voting for several weeks before that date at least); and
From September 25, 2009 (when Paul Kirk was appointed to replace Kennedy) to February 4, 2010 (when Scott Brown took office after defeating Martha Coakley);
For one day in September 2009, Republicans lacked 40 votes due to the resignation of Mel Martinez, who was replaced the next day by George LeMieux
So, to the extent there was a filibuster proof majority in the Senate it lasted during two brief periods which lasted for a total of just over five months when counted altogether (and Congress was in its traditional summer recess for most of the July-August 2009 time frame).
It's important to keep this fact in mind when discussing what could have happened in the 111th Congress, I think, and it's probably something I haven't kept in mind myself in the past.