Most Bizarre Ad Campaign Ever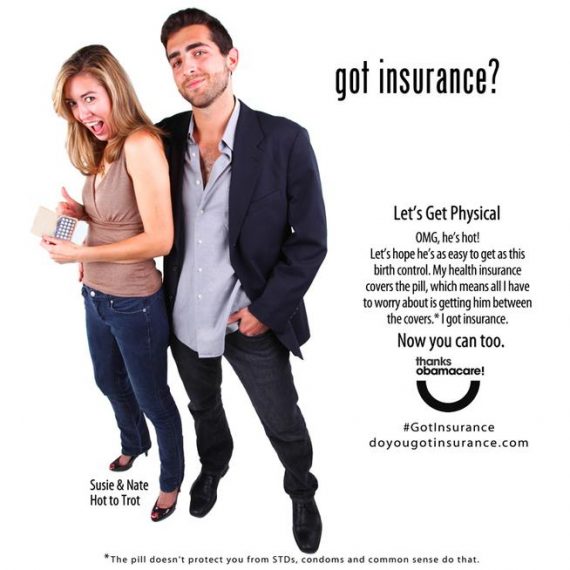 The above ad is, apparently, part of a campaign to get younger people to sign up for health insurance:
A new round of advertisements unveiled by supporters of Colorado's health insurance exchange has ignited controversy that rippled through social media Tuesday and launched debate over their portrayal of women.

In one of the most discussed "Got insurance?" ads, produced by the liberal ProgressNow Colorado and the Colorado Consumer Health Initiative, a young woman holds a packet of birth-control pills and stands next to a young man, his hand wrapped around her waist.

So what's she thinking?

"OMG, he's hot! Let's hope he's as easy to get as this birth control. My health insurance covers the pill, which means all I have to worry about is getting him between the covers," read the words in the risqué advertisement.

While the groups say the aim is to encourage young people to enroll in the state's new health insurance exchange — a pillar to President Barack Obama's Affordable Care Act — some have said it belittles women. It also adds to the partisan back-and-forth over the new health care law.

The enrollment of young adults is pivotal to the new law because, say White House officials, they tend to have low anticipated medical costs and can keep insurance premiums lower.

Other advertisements in the campaign, which began in October, feature young people doing keg stands and downing shots from a "shot ski."

Amy Runyon-Harms, executive director of ProgressNow Colorado, defended the advertisements.

"The whole intention of these ads is to raise awareness, and that's what we're doing. It's great that more and more people are talking about it," said Runyon-Harms, who notes the ads only appear on social media and will not, for example, be displayed on billboards or buses.

A spokesman for Connect for Health Colorado, the state-run health care exchange, which is not associated with the ad campaign, declined to comment.
Apparently, the State of Colorado doesn't want to be associated with an ad campaign based on the premise that young women were concerned with nothing but hooking up. up and that life is great as long as you've got free birth control. Who would've thought that?
The more important question is what makes this group "ProgressNow Colorado" thinks that they're actually going to convince anyone to do anything except, perhaps, go to the bar tonight to see what kind of action there is.