Moving to Georgia
The requirements for voting in the Peach State appear loose.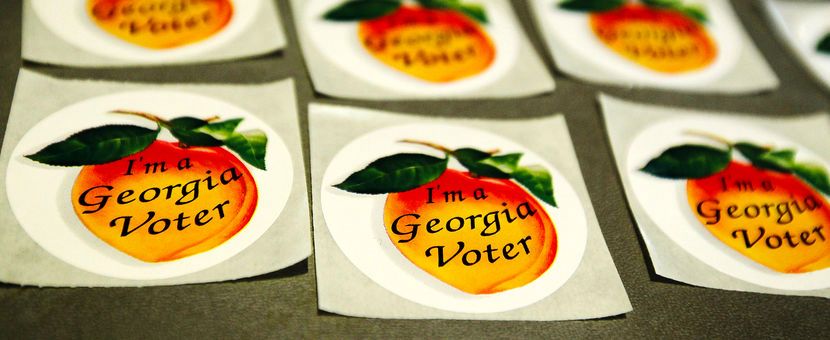 A Facebook friend who lives in Atlanta is encouraging people to come stay a spell in order to participate in what look to be two run-off elections to determine party control of the United States Senate on January 5. While I'm not planning to "move" there, my cursory investigation reveals no reason this couldn't work.
Looking at the Georgia Voter Guide at their Secretary of State's site, we see that,
ELIGIBILITY You are eligible to vote in Georgia if you are a citizen of the United States; a legal resident of Georgia; at least 18 years old; have not been found to be mentally incompetent by the court; are not serving a sentence for a felony of moral turpitude; are registered to vote; and meet all other state requirements, such as showing a Photo Identification if you choose to vote in person or properly requesting and returning an absentee ballot if you choose to vote by mail.
While my mental competence has from time-to-time been questioned, there is no legal finding to that effect. The stumbling block seems only to be "legal resident of Georgia" (we'll get back to that) and registration.
VOTER REGISTRATION You may register any time up to the 5th Monday before election day and vote in that election. Forms are available at www.sos.ga.gov/elections or contact your county registrar's office
So, there's plenty of time to register. And I can do it online! I have Internet access!
So, what is the requirement for Georgia residency? For purposes of getting in-state tuition rates at public universities, they're fairly steep. But for voting purposes, they seem relatively minimal. Indeed, intentionality seems to be the only real requirement and I haven't the slightest idea how they would go about providing that one had no intention of making Georgia's one's residence.
It does appear that they would prefer you to go through the bother of getting a Georgia drivers license for online registration but it appears that even just a utility bill with an address in the county will suffice for in-person registration. Getting a license is pretty simple and, indeed, required once you've been a resident for 30 days:
Original documentation showing your identity, residential address, Social Security number, and U.S. citizenship or proof of lawful status in the United States.
Proof of your Social Security number
2 documents proving Georgia residency (such as a bank statement, utility bill, or rental contract)
Current out-of-state driver's license (not expired for more than 2 years)
License fee, paid for in cash or by credit card.
I don't know that many people will be committed enough to the outcome of the race to go through these steps. But it does look doable.