MSNBC Indefinitely Suspends Mark Halperin Over "Dick" Comment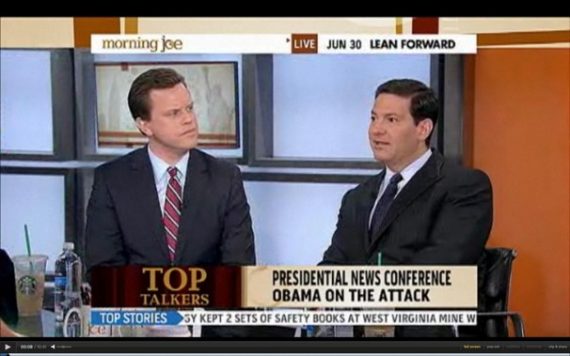 It happened at six this morning, but it didn't take long for the other shoe to drop over at MSNBC:
Mark Halperin, a political analyst on MSNBC, called President Obama a word that stars with "D" and is synonymous with a part of the male anatomy Thursday on "Morning Joe."

MSNBC issued a statement suspending Halperin at 10:30 a.m.

"Mark Halperin's comments this morning were completely inappropriate and unacceptable. We apologize to the President, The White House and all of our viewers. We strive for a high level of discourse and comments like these have no place on our air.  Therefore, Mark will be suspended indefinitely from his role as an analyst."

The incident took place after host Joe Scarborough asked Halperin what he thought Obama's strategy was at a press conference held Wednesday, Halperin asked, "Are we on the seven second delay?"

After getting the go ahead from Scarborough that the show had the safety precaution of filming seven seconds before it went live — enough time to bleep out any bad words — Halperin said, "I thought he was a [shortened version of Richard] yesterday."

While the rest of the panel looked a tad shocked, Scarborough yelled, "Delay that. Delay that. What are you doing? I can't believe — I was joking! Don't do that. Did we delay that?"

The answer: No. They did not delay that.
Greg Sargent thinks the whole thing is ridiculous:
I'm sorry, but this is crazy. Halperin's crack was crude and dumb, but it doesn't deserve indefinite suspension. Halperin's use of an expletive is trival when compared with the degradation of our political discourse we witness on a regular basis from Halperin and many others — degradation that is seen as perfectly acceptable because no curse words are employed. Suspending Halperin only reinforces a phony definition of "civility" in our discourse, in which it's unacceptable to use foul language and be "uncivil," but it's perfectly acceptable for reporters and commentators to allow outright falsehoods to pass unrebutted; to traffic endlessly in false equivalences in the name of some bogus notion of objectivity; and to make confident assertions about public opinion without referring to polls which show them to be completely wrong.
My initial reaction to the MSNBC announcement was that it was appropriate under the circumstances. Halperin said something dumb and derogatory about the President and the circumstances under which he said it make it clear that he knew what he was doing. At the same time, though, we hear quite similar things on a regular basis. Moreover, just about six weeks ago MSNBC host Ed Schultz called columnist Laura Ingraham a "slut," and he only got a weeks suspension. Suspending Halperin "indefinitely" strikes me as a bit of an over-reaction.