Mubarak Resigns As Head Of Egypt's Ruling Party (Update: Or, Maybe Not)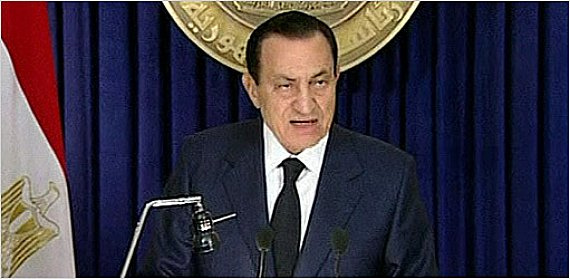 This may be the beginning of the endgame for Hosni Mubarak:
Hosni Mubarak, the Egyptian president, has stepped down as chairman of the country's ruling party, as tens of thousands of protesters are standing their ground in Cairo a day after hundreds of thousands of people gathered calling for him to quit.

State television reported that Mubarak stepped down, along with the rest of the National Democratic Party's (NDP) top leadership, on Saturday.

Hossam Badrawi has been appointed the new secretary-general of the party, according to state television. He replaces Safwat El-Sherif, a Mubarak loyalist, in that post.

Badrawi will also replace Gamal Mubarak, Mubarak's son, as head of the party's political bureau.

"It is quite significant, it means the pressures on the regime are gaining some response … but not enough," Omar Ashour, a political analyst, told Al Jazeera.

However, Ashour said that the move is unlikely to satisfy protesters, who have demanded that Mubarak leave office as president.

He said the resignations are a "cosmetic" move, and that they were "like trying to treat a cancer with a pair of aspirin".
The other way to look at it is that, slowly but surely, they are squeezing Mubarak out.
Update: There are some indications that this report may not be entirely accurate:
Al Arabiya television retracted its report that President Hosni Mubarak had resigned as head of Egypt's ruling party on Saturday.
Stay tuned