Muslim Men Removed From Memphis Flight For No Rational Reason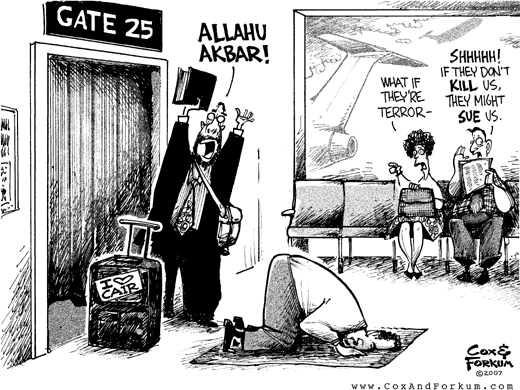 Call it the legacy of Osama bin Laden:
Two Muslim religious leaders who were removed from a commercial airliner in Memphis say they were told it was because the pilot refused to fly with them aboard.

Masudur Rahman and Mohamed Zaghloul were supposed to travel on an 8:30 a.m. Delta flight, run by a subsidiary, from Memphis, Tenn. to Charlotte. They were traveling to attend a conference of the North American Imam Federation that, ironically, intends to address prejudice against Muslims.

Rahman, who is from India, and Zaghloul, Egyptian-born, were both dressed in traditional long shirts and have beards in keeping with Muslim tradition. Rahman said he and Zaghloul were screened in the security line and again at the gate Friday before they were allowed to board their Delta Connection flight to Charlotte.

After the plane started taxiing, he said the pilot announced the flight was headed back to the gate. Both men were removed from the plane, and screened again.

"We were very cooperative," he said Friday. "I say, 'It is okay.' They checked our luggage. They checked our everything."

"Every person–not only me–every person, should allow to check his luggage," Rahman said. "We are living in America. We want the security of America."

After that security check, he said a Delta employee at the gate informed him that the pilot of the flight would not allow him on board. He says the employees in the airport were very apologetic–even angry–and said they tried repeatedly to convince the pilot that he was wrong.

Rahman said he was even told that the gate agents asked the passengers if they felt uncomfortable about the two Muslim men, and reported back to the pilot that the people on board the plane were not concerned
One can only hope that the pilot is appropriate disciplined for an action that had nothing to do with the safety of his airplane, and everything to do with prejudice.