N.F.L. Draft Prospect Michael Sam Comes Out As Gay
Michael Sam is gay.It didn't matter to his University of Missouri teammates. Will it matter to the NFL?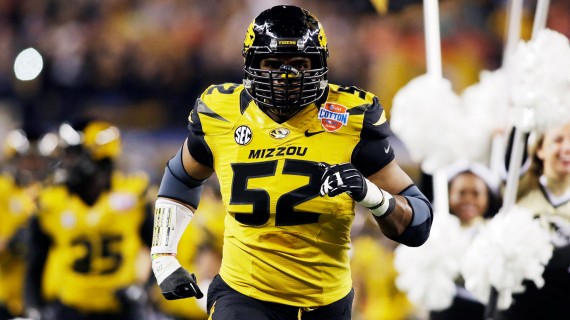 University of  Missouri Defensive Lineman Michael Sam, who was named Defensive Player Of The Year by the Associated Press and is expected to be a top prospect in the mid-levels of the N.F.L. Draft, has publicly come out of the closet:
Coaches at the University of Missouri divided players into small groups at a preseason football practice last year for a team-building exercise. One by one, players were asked to talk about themselves — where they grew up, why they chose Missouri and what others might not know about them.

As Michael Sam, a defensive lineman, began to speak, he balled up a piece of paper in his hands. "I'm gay," he said. With that, Mr. Sam set himself on a path to become the first publicly gay player in the National Football League.

"I looked in their eyes, and they just started shaking their heads — like, finally, he came out," Mr. Sam said Sunday in an interview with The New York Times, the first time he had spoken publicly about his sexual orientation.

Mr. Sam, a senior who was listed at 6 feet 2 inches and 260 pounds, had a stellar season as Missouri finished 12-2 and won the Cotton Bowl. He was a first-team all-American and was named the Associated Press defensive player of the year in the Southeastern Conference, widely considered the top league in college football. Teammates voted him Missouri's most valuable player.

Now Mr. Sam enters an uncharted area of the sports landscape. He is making his public declaration before he is drafted, to the potential detriment to his professional career. And he is doing so as he prepares to enter a league with an overtly macho culture, where controversies over homophobia have attracted recent attention.

As the pace of the gay rights movement has accelerated in recent years, the sports industry has changed relatively little for men, with no publicly gay athletes in the N.F.L., the N.B.A., the N.H.L. or Major League Baseball. Against this backdrop, Mr. Sam could become a symbol for the country's gay rights movement or a flash point in a football culture war — or both.

Mr. Sam, 24, is projected to be chosen in the early rounds of the N.F.L. draft in May, ordinarily a path to a prosperous pro career. He said he decided to come out publicly now because he sensed that rumors were circulating.

"I just want to make sure I could tell my story the way I want to tell it," said Mr. Sam, who also spoke with ESPN on Sunday. "I just want to own my truth."

But the N.F.L. presents the potential for unusual challenges. In the past year or so, it has been embroiled in controversies ranging from antigay statements from players to reports that scouts asked at least one prospective player if he liked girls. Recently, Chris Kluwe, a punter, said that he was subject to homophobic language from coaches and pushed out of a job with the Minnesota Vikings because he vocally supported same-sex marriage laws. And last week, Jonathan Vilma, a New Orleans Saints linebacker, said in an interview with NFL Network that he did not want a gay teammate.

"I think he would not be accepted as much as we think he would be accepted," said Mr. Vilma, a 10-year league veteran.

In a statement Sunday night, the league said: "We admire Michael Sam's honesty and courage. Michael is a football player. Any player with ability and determination can succeed in the N.F.L. We look forward to welcoming and supporting Michael Sam in 2014."
On paper, Sam seems like the kind of player that a team looking to beef up its Defensive Line would be willing to pick up, and it's entirely possible that this will indeed happen. At the same time, though, there's no denying that by making this announcement before the draft, Sam has placed immense pressure on the NFL and on the teams. If he ends up not being drafted at all, then the story will be about whether or not he was passed over because he's gay. If he is drafted, as he probably should be, then both he and the team that selects him will be the focus of unrelenting media attention for being the first openly gay player in the NFL, indeed the first openly gay player in a major American team sport. How that will play out on the field and off is going to be a huge unknown factor.
Sports Illustrated offers this preview of how things may go for Sam:
I spoke to four club officials Sunday—three general managers, one scout—and the reaction to a third-round prospect being gay ran the gamut. I spoke to all anonymously, because with such a touchy subject, I assumed all would either no-comment me (and one other GM did) or say something so sanitized it wouldn't really be the truth. I don't like to do anonymous sources to write an entire story, but I felt in this case it would give the best information possible.

"Should I really care?" one GM said. "Is it going to be that big a deal? Aren't we beyond this?"

"It's not a shocking thing to me, and it won't be to our organization," another GM said. "You'll have old-school guys on your team saying, 'Are you kidding, putting this guy on our team?' And you'll have other guys say, 'Who cares? I knew two gay guys who came out in college.' "

"It'll totally depend on your leadership," the scout said. "A team with strong leadership at coach and in the locker room, like New England, I would imagine, would be okay. I could see Belichick say, 'This is the way it is. There's no story.' And guys would just accept him. There'd be no choice. But without that strong leadership, I could see it being divisive, and I could see a team saying, 'We don't need this.' "

Two team reps didn't know the story when we spoke, with me not naming names and simply asking what would happen if, as I expected, a gay player would be coming out before the combine. One GM said he'd heard that Sam might be the player. But the fourth, a general manager, said he not only knew the story and that Sam was the player, but that his team had discussed it at draft meetings in the past few days.

"We talked about it this week," the GM said. "First of all, we don't think he's a very good player. The reality is he's an overrated football player in our estimation. Second: He's going to have expectations about where he should be drafted, and I think he'll be disappointed. He's not going to get drafted where he thinks he should. The question you will ask yourself, knowing your team, is, 'How will drafting him affect your locker room?' And I am sorry to say where we are at this point in time, I think it's going to affect most locker rooms. A lot of guys will be uncomfortable. Ten years from now, fine. But today, I think being openly gay is a factor in the locker room."

I asked this general manager: "Do you think he'll be drafted?"

"No," he said.
We don't know who this final General Manager is, of course, and he only represents one team in the N.F.L., but one has to wonder how many other team executives are echoing what he said, and what it means for what will happen in the draft. Personally, it doesn't matter to me. If Sam ends up a New York Giant then I'll be cheering for him, if he ends up playing for anyone else in the NFC East then I won't. Whether he's openly gay or not shouldn't really matter to anyone anymore than the color of Jackie Robinson's skin should have mattered to anyone in Major League Baseball. In the end, all that should matter is how good a player he is. In that regard I find it puzzling how someone who was named Defensive Player of the Year would not be a serious prospect for any NFL team looking to fill a gap in that area as the final GM quoted above seems to suggest. That's why it seems likely that there's going to be a lot of pressure on the NFL during draft time, and if Sam doesn't get drafted there are going to be a lot of people asking questions.