Nancy Pelosi Gets 'It' Done
John Cole is ashamed that some House Democrats are running against Nancy Pelosi, given her effectiveness. It's all a matter of perspective.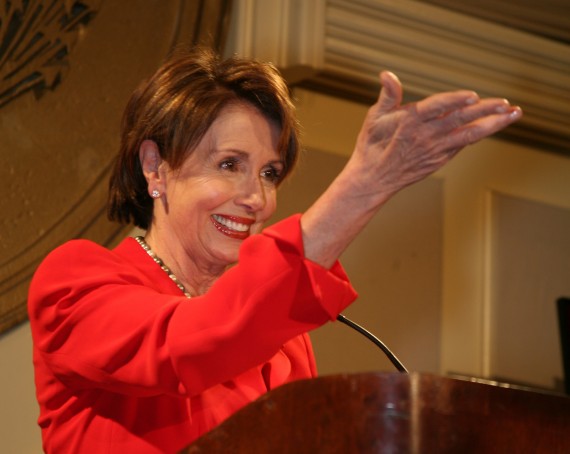 Reacting to a WaPo story titled "Even if Democrats win, Pelosi faces opposition to remain as speaker," which notes that five Democratic incumbents — Reps. Jason Altmire (Pa.), Bobby Bright (Ala.), Jim Marshall (Ga.), Mike McIntyre (N.C.) and Gene Taylor (Miss.) — have "declared their opposition to her," John Cole observes,
Looking back at the last two years, if there was one portion of the government that acted pretty much EXACTLY the way you would think Democrats would want it to act, passing great legislation in a timely manner and really advancing the ball on issues important to Democrats, it would be Nancy Pelosi's House. She's pretty much been the glue that that has kept the entire party together, as was evident during the HCR saga.

So of course, it would make complete sense if Democrats would stab her in the back. If there is anyone in DC right now who I trust almost completely, it is Pelosi. She gets shit done.
My initial reaction was that the shit Pelosi's getting done is get Democrats defeated.   If you're a Democrat, that's some shit you really don't want your most senior legislative official doing.
More importantly, the shit Pelosi's getting done is wildly unpopular in the districts of these five Representatives.  So much so that, despite all the advantages normally associated with incumbency, they're quite likely to be ex-Representatives.*  That's the type of shit sure to engender some animosity from said Representatives.
Now, on the bright side for Democrats more supportive of the party agenda, we're talking five Representatives.   Out of 255 House Democrats!  That's just 2 percent of her existing caucus!  That's pretty decent solidarity, all things considered.  Bonus:  It'll likely to be an even higher percentage, what with the detractors being defeated and all.
_____________
*Which, naturally, put me in mind of this classic bit: