Candor on COVID a Firing Offense
President Trump can't handle the truth.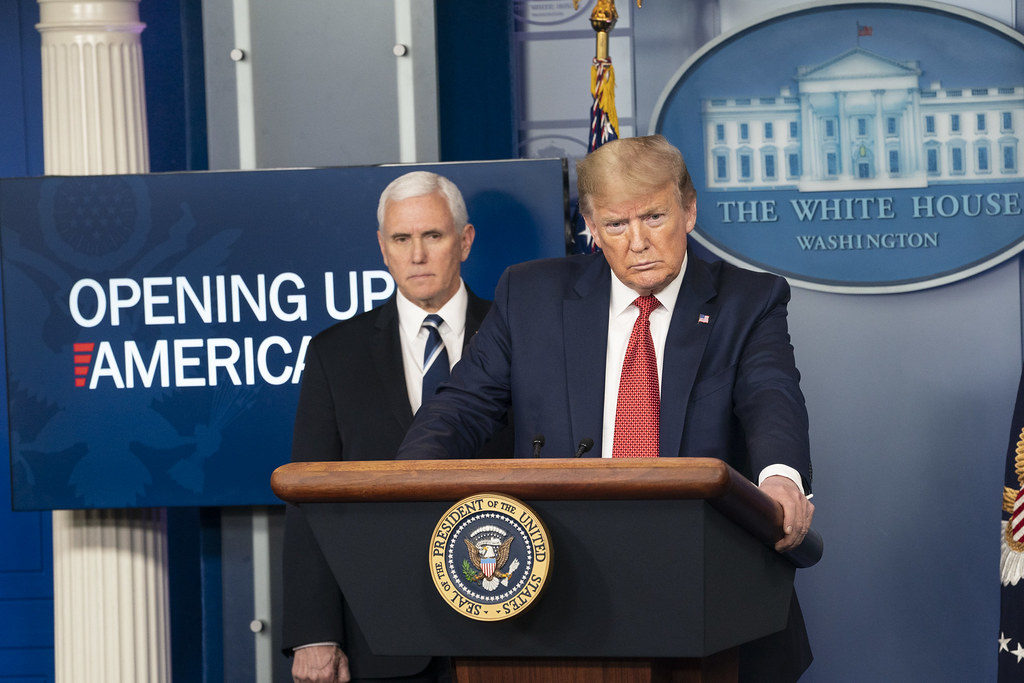 The number one job of the US Government right now is telling Americans the truth about this pandemic. It's failing. And that's solely a function of a President more concerned about his image and re-election than the health of the citizenry.
WaPo ("Under Trump, coronavirus scientists can speak — as long as they mostly toe the line"):
Robert Redfield, director of the Centers for Disease Control and Prevention, issued a candid warning Tuesday in a Washington Post interview: A simultaneous flu and coronavirus outbreak next fall and winter "will actually be even more difficult than the one we just went through," adding that calls and protests to "liberate" states from stay-at-home orders — as President Trump has tweeted — were "not helpful."

The next morning, Trump cracked down with a Twitter edict: Redfield had been totally misquoted in a cable news story summarizing the interview, he claimed, and would be putting out a statement shortly.

By Wednesday evening, Redfield appeared at the daily White House briefing — saying he had been accurately quoted after all, while also trying to soften his words as the president glowered next to him.

"I didn't say that this was going to be worse," Redfield said. "I said it was going to be more difficult and potentially complicated because we'll have flu and coronavirus circulating at the same time."

He added: " 'It's more difficult' doesn't mean it's going to be more impossible."

The remarkable spectacle provided another illustration of the president's tenuous relationship with his own administration's scientific and public health experts, where the unofficial message from the Oval Office is an unmistakable warning: Those who challenge the president's erratic and often inaccurate coronavirus views will be punished — or made to atone.
POLITICO ("Ousted vaccine expert battles with Trump team over his abrupt dismissal"):
The abrupt ouster of a top vaccine expert at HHS has split officials who see it as either a boon for the nation's Covid-19 response or the latest indication of a dysfunctional health department.

Rick Bright, the director of the Biomedical Advanced Research and Development Authority, was transferred to a new, more narrow role at the National Institutes of Health this week, an HHS spokesperson confirmed. The move was more than a year in the making — Bright had clashed with department leaders about his decisions and the scope of his authority — but came abruptly, said five current and former HHS officials.

One person familiar with the situation said Bright was frozen out of his email and learned about the reassignment only when his name was removed from the BARDA website this weekend. As of Tuesday, Bright had not accepted the reassignment to NIH, where he was tapped to work on efforts to deploy point-of-care Covid-19 testing. Gary Disbrow, Bright's former deputy, is now BARDA'sacting leader.

Bright told The New York Times on Wednesday that he believed his removal was because of his internal opposition to pursuing investments in malaria drugs as potential treatments for Covid-19, which President Donald Trump has touted without scientific evidence. Three peoplewith knowledge of HHS' recent acquisition of tens of millions of doses of those drugs said that Bright had supported those acquisitions in internal communications, with one official saying that Bright praised the move as a win for the health department as part of an email exchange that was first reported by Reuters last week, although Bright's message was not publicly reported.

"If Bright opposed hydroxychloroquine, he certainly didn't make that clear from his email — quite the opposite," said the official, who has seen copies of the email exchanges.

In a statement late Wednesday, an HHS official directly linked Bright's decisions to the health department's acquisition of the malaria drugs.
"As it relates to chloroquine, it was Dr. Bright who requested an Emergency Use Authorization from the Food and Drug Administration for donations of chloroquine that Bayer and Sandoz recently made to the Strategic National Stockpile for use on COVID-19 patients," spokesperson Caitlin Oakley said. "The EUA is what made the donated product available for use in combating COVID-19."

Bright did not respond to multiple requests for comment on Tuesday and Wednesday. In a statement released by his lawyers, Bright said that he will ask the HHS's inspector general to "investigate the manner in which this administration has politicized the work of BARDA and has pressured me and other conscientious scientists to fund companies with political connections and efforts that lack scientific merit."

Asked about Bright's claims at Wednesday's press briefing, Trump denied knowledge of his role and his abrupt ouster.

"I never heard of him," Trump said. "The guy says he was pushed out of a job, maybe he was, maybe he wasn't. You'd have to hear the other side."
This pattern is so familiar that it's almost not worth calling attention to. But the effects of repressing scientific expression during this crisis will be significant.