NATO Deserved Nobel More Than EU
My latest for The National Interest, "Why NATO Should Have Won the Nobel," is out.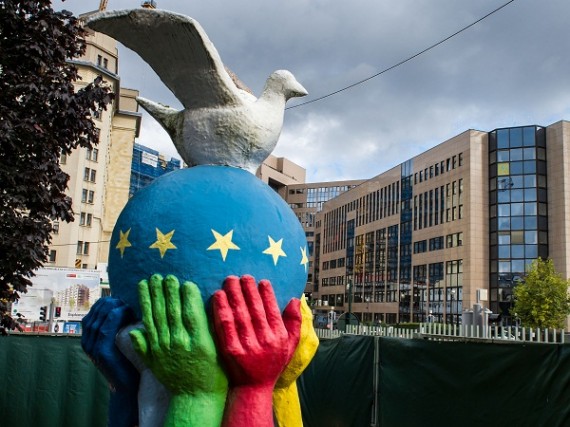 My latest for The National Interest, "Why NATO Should Have Won the Nobel," is out. It's a little stale given the vagaries of the publishing schedule. The main piece was written Friday and the coda submitted Saturday morning but the magazine publishes weekday mornings.
Regardless, the thrust of the piece is that the ostensible reason for the award, the EU's contributions to "the advancement of peace and reconciliation, democracy and human rights in Europe," is rather odd in that NATO, the presence of US forces, the Marshall Plan, and the like all had much more to do with it than an organization that gradually came into fruition and didn't even emerge into a full-blown free trade area until long after the threat of intra-European major power war had ended.
Cynics might attribute this oversight to a reluctance to acknowledge that "peace" is not the highest value; sometimes, it takes war or the threat of war to defeat fascism, deter communist aggression and help people gain freedom from the oppression of ruthless dictators.

But a simpler explanation is more likely here: that the ostensible rationale for the award is not the actual reason.

[…]

While disguised as an award for past accomplishments, the prize is really a prod for future action. The Nobel committee wants to remind Europeans of how far they've come in order to kept them—if not get them—on the track to cooperation in solving today's crisis and thus preserve the European ideal for future generations. If they can actually do that, it will be a prize well deserved, indeed.
It would not, of course, be the first time that the gentlemen of the committee used a Peace Prize to spur future action. The record of success is, alas, decidedly mixed.