NATO to Bolster Ukraine Aid
Membership is stalled by more support is coming.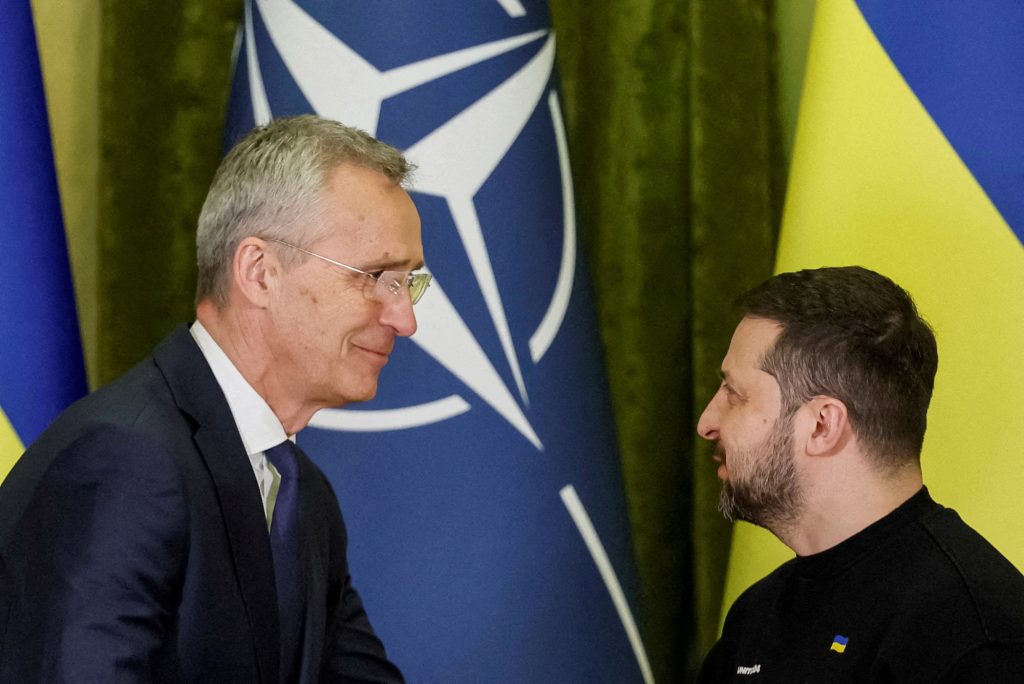 AP ("NATO leaders set to offer Ukraine major support package but membership is off the table for now"):
NATO leaders will agree next week to help modernize Ukraine's armed forces, create a new high-level forum for consultations and reaffirm that it will join their alliance one day, the organization's top civilian official said Friday. But the war-torn country will not start membership talks soon.

NATO Secretary-General Jens Stoltenberg said that when U.S. President Joe Biden and his counterparts meet for a two-day summit in Lithuania's capital, Vilnius, they also will agree to boost defense spending as alliance members pour weapons, ammunition and other support like uniforms and medical equipment into Ukraine.

They had hoped to welcome Sweden as the next member of the world's biggest security organization, but Turkish President Recep Tayyip Erdogan has raised strong objections and it's unclear if they can be overcome in time. Even if so, Sweden's accession would become official only in coming months.

"For 500 days, Moscow has brought death and destruction to the heart of Europe, seeking to destroy Ukraine and divide NATO," Stoltenberg told reporters Friday. "At the summit, we will make Ukraine even stronger, and set out a vision for its future."

Stoltenberg said the leaders "will agree a multi-year program of assistance to ensure full interoperability between the Ukrainian armed forces and NATO."

The summit starts Tuesday. A NATO-Ukraine Council – where crisis talks can be held – will be established. Ukrainian President Volodymyr Zelenskky will attend the council's first meeting in Vilnius on Wednesday

Stoltenberg said the leaders "will reaffirm that Ukraine will become a member of NATO and unite on how to bring Ukraine closer to its goal." NATO first pledged that Ukraine would become a member one day in 2008, but things have evolved little since then.

Asked when, or how, Ukraine might join, Stoltenberg said that the "most important thing now is to ensure that Ukraine prevails." The U.S., Germany and some other allies consider that Ukraine should not be invited in while it's at war, so as not to encourage Russia to widen the conflict.
CNN ("Turkey's Erdogan says Ukraine deserves NATO membership"):
Ukraine deserves to have NATO membership, Turkish President Recep Tayyip Erdogan said, following talks with Ukrainian President Volodymyr Zelensky that Russia said it was closely watching.

Zelensky spent this week visiting NATO countries, courting support ahead of a NATO summit in Lithuania next week where members are expected to reaffirm that Ukraine will eventually join.

"Without a doubt, Ukraine deserves to be in NATO," Erdogan said.

Zelensky said he was "happy to hear" that Turkey supports Ukraine's bid to join during a joint press conference.

While visiting the Czech Republic this week Zelensky said that he needs "a clear signal that Ukraine will be in the alliance. Not that the door is open for us, which is not enough, but that Ukraine will be in it," he said Thursday.

NATO has an open-door policy, meaning that any country can be invited to join if it expresses an interest, as long as it is able and willing to uphold the principles of the alliance's founding treaty. However, under the accession rules, any member state can veto a new country from joining.

Some allies, particularly those in Eastern Europe who are located closer to Ukraine and Russia, have advocated for a more concrete path for Kyiv to join the defensive alliance once the war ends.

Other officials have argued an expediting Ukraine's NATO membership could be too provocative and that it could amount to an extremely risky gamble for the alliance even if there is an end to the fighting, particularly if Russia still claims Ukrainian territory.
Bloomberg ("Sweden NATO Goal Enters Home Stretch as Turkey Upholds Block"):
Sweden's prime minister will come face to face with Turkish President Recep Tayyip Erdogan on Monday, as Ulf Kristersson is making a last-ditch push to convince Turkey that his nation should be allowed to join NATO.

On the home stretch before a key meeting of North Atlantic Treaty Organization leaders in the Lithuanian capital Vilnius starting Tuesday, the two will work to pave way for Sweden's membership, NATO Secretary General Jens Stoltenberg told reporters. The intention is to end a year-long stalemate that's stunted the alliance's northern expansion.

Armed with a show of support from US President Joe Biden, Swedish officials met with their Turkish counterparts at NATO's Brussels headquarters on Thursday.

"Today, we reaffirmed that Sweden's membership is within reach," Stoltenberg said. "It's absolutely possible to have a positive decision at the summit next week."

Bolstered by support from the alliance's biggest member, Sweden is looking to persuade the Turkish president to drop his objections at next week's summit and declare his intent to ratify the Nordic country's accession. That may have become easier after a Swedish court on Thursday found a Turkish national guilty of attempted extortion on behalf of the militant Kurdish group PKK, sentencing him to four and a half years in prison and ordering his extradition to Turkey after the sentence has been served.
NPR ("The U.S. is sending cluster bombs to Ukraine despite humanitarian warnings"):
The United States is supplying cluster munitions to Ukraine to help defend its territory against Russia, despite concerns from human rights groups that the deployment of such weapons endangers civilians.

Speaking at the Pentagon on Friday, Colin Kahl, undersecretary of defense for policy, announced a new drawdown of $800 million in military assistance, including DPICMS or cluster bombs.

U.S. officials maintained that Ukraine has provided written assurances to minimize civilian casualties with the use of the controversial munitions as human rights groups stress that the weapons drop dozens of bomblets that endanger civilians. Cluster bombs release a larger number of bomblets over a wide area, and they can continue to pose a deadly risk long after the fighting has ended.

[…]

President Biden told CNN in an exclusive interview that the decision to send Ukraine cluster munitions was "very difficult."

"And by the way, I discussed this with our allies, I discussed this with our friends up on the Hill," Biden said, according to CNN. "The Ukrainians are running out of ammunition."
Overall, there appears to remain strong support for continuing to aid Ukraine in its fight against the Russian invaders. How much longer our European allies will be willing to bear the high cost of doing so is an open question but, thus far, they seem on board.
Turkey continues to be an odd, frustrating ally in name only. It makes no sense at all to keep Sweden out of NATO and advocating for immediate membership for Ukraine while they are in an ongoing war with a great power is simply asinine and counterproductive. Alas, the rules of the alliance are what they are, requiring unanimity. We have little choice but to allow Erdogan's continued grandstanding.
The expected decision by President Biden to send illegal weapons to Ukraine is an interesting wrinkle as well. I believe him when he says he consulted with the allies ahead of time. Alas, I'm pretty sure most of them urged him not to take this step. Leaders in the UK, Germany, Canada, and Spain are on record opposing it. (I can't find commentary one way or the other from France but they're rather busy with ongoing rioting.)