Turkish Governing Party Loses Parliamentary Majority In Elections
Turkey's governing party suffered big setbacks at the ballot box yesterday.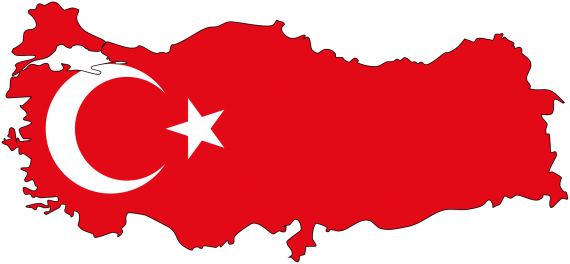 The governing party of Turkish President Recep Erdogan suffered widespread defeat in Parliamentary elections yesterday:
ISTANBUL — Turkish voters delivered a rebuke on Sunday to President Recep Tayyip Erdogan as his party lost its majority in Parliament in a historic election that thwarted his ambition to rewrite Turkey's Constitution and further bolster his clout.

The results represented a significant setback for Mr. Erdogan, an Islamist who has steadily increased his power since being elected last year as president, a partly but not solely ceremonial post. The prime minister for more than a decade before that, Mr. Erdogan has pushed for more control of the judiciary and cracked down on any form of criticism, including prosecuting those who insult him on social media, but his efforts appeared to have run aground on Sunday.

The vote was also a significant victory to the cadre of Kurds, liberals and secular Turks who found their voice of opposition to Mr. Erdogan during sweeping antigovernment protests two years ago. For the first time, the Kurdish slate crossed a 10 percent threshold required to enter Parliament.

Mr. Erdogan's Justice and Development Party, or A.K.P., still won the most seats by far, but not a majority, according to preliminary results released Sunday night. The outcome suggests contentious days of jockeying ahead as the party moves to form a coalition government. Already, analysts were raising the possibility Sunday of new elections if a government cannot be formed swiftly. Many Turks were happy to see Mr. Erdogan's powers curtailed, even though the prospect of a coalition government evokes dark memories of political instability and economic malaise during the 1990s.

With 99 percent of the votes counted, the A.K.P. had won 41 percent of the vote, according to TRT, a state-run broadcaster, down from nearly 50 percent during the last national election in 2011. The percentage gave it an estimated 258 seats in Turkey's Parliament, compared with the 327 seats it has now.

"The outcome is an end to Erdogan's presidential ambitions," said Soner Cagaptay, an expert on Turkey and a fellow at the Washington Institute for Near East Policy.

Almost immediately, the results raised questions about the political future of Prime Minister Ahmet Davutoglu, who moved to that position from that of foreign minister last year and was seen as a loyal subordinate of Mr. Erdogan.

Speaking Sunday night from a balcony at the party headquarters in Ankara, Mr. Davutoglu struck notes of triumph and optimism, touting his party as the winner because it won the most seats, without mentioning the loss of its majority.

"The elections once again showed that the A.K. Party is the backbone of Turkey," he said.

Mr. Erdogan, who as president was not on the ballot Sunday, will probably remain Turkey's dominant political figure even if his ambitions have been curtailed, given his outsize personality and his still-deep well of support among Turkey's religious conservatives, who form the backbone of his constituency. But even among those supporters, including ones in Kasimpasa, the Istanbul neighborhood where Mr. Erdogan spent part of his youth, there are signs that his popularity is flagging.

"A lot of people in Kasimpasa have become disheartened by Erdogan's aggressive approach in recent weeks," said Aydin, 77, who gave only his first name because some of his family members are close to Mr. Erdogan. "I voted for the A.K.P. because it has become habit, but I think Erdogan lost votes this week."

Turnout was 86 percent for the elections, which were seen as a referendum on Mr. Erdogan's tenure, especially his plan for a presidential system that would have given him more power. Polling had consistently shown that the majority of Turks are opposed to the change.

Selahattin Demirtas, 42, a former human rights lawyer who leads the largely Kurdish People's Democratic Party, told reporters Sunday night: "As of this hour, the debate about the presidency, the debate about dictatorship, is over. Turkey narrowly averted a disaster."

The People's Democratic Party, known as H.D.P., was able to broaden its base by fielding a slate of candidates that included women, gays and other minorities and appealed to voters whose goal was to curtail Mr. Erdogan's powers.

(…)

The Republican People's Party, the main secular opposition party, came in second with 25 percent of the vote, but it was the Kurds whose surge positioned them as kingmakers in the next Parliament. It also highlighted the evolution of the Kurdish movement, from the battlefields of the southeast, where a bloody insurgency raged for nearly 30 years, to the halls of power in Ankara, the capital.

Even as days of political bargaining lie ahead, the elections capped a two-year period of seismic shifts in Turkish politics. Widespread antigovernment protests in 2013, set off by plans to raze an Istanbul park and replace it with a mall, laid bare the growing resentments among liberal and secular Turks toward the governing party. Then, a corruption scandal threatened to engulf Mr. Erdogan and his government. Mr. Erdogan survived by targeting the followers of his erstwhile ally, the Muslim cleric Fethullah Gulen, who over the years had taken positions in the judiciary and the police and were accused of orchestrating a graft inquiry.

"I voted for H.D.P. because it's the only party that can break up Erdogan's bid for absolute power," said Selen Olcay, 47, a fitness instructor who voted in Istanbul's Sariyer District. "In this election a lot of Turks abandoned their ideological preferences and voted strategically to derail Erdogan's one-man rule."

The Kurdish party opted to run a unified slate, rather than field independent candidates as it had in the past. But it was a big risk: either it would reach the 10 percent threshold and enter Parliament, or it would be shut out, and its seats would have gone to the A.K.P.

By law, Mr. Erdogan can call for new elections after 45 days if a coalition is not formed, and the political uncertainty sent Turkey's currency, the lira, to a record low against the dollar in after-hours trading.

The vote turned on the historic performance at the ballot box of Turkey's Kurdish minority, which aligned with liberals and secular Turks opposed to Mr. Erdogan's leadership to win almost 13 percent of the vote, passing the legal threshold for earning representation in Parliament.
The Atlantic's David Graham notes that the election was widely seen as a referendum on Erdogan even though he was not on the ballot and was officially bar from campaigning himself:
The presidential position is currently largely ceremonial, though there's no doubt that Erdogan holds the reins of power. He was, however, officially barred from campaigning during the election. While Erdogan insisted he had benign intentions in seeking the new setup, some observers warned that it would be a step on the way to dictatorship.

It may be that Erdogan simply overreached in the last few years. While he's Turkey's most popular and powerful leader in decades, his eagerness to expand his reach alienated voters, particularly urban and secular ones. He embarked on a $615 million white-elephant palace project, imprisoned and intimidated the press and his political opponents, tried to block YouTube and Twitter, and feuded with Fethullah Gulen, a religious leader who'd help bring him to power. Anger boiled over in the streets of Istanbul and elsewhere in 2013, sparked by protests over trying to turn a park in the city into a mall. Meanwhile, the economy sputtered.
And The Washington Post's Ishaan Tharoor calls the election a blow to Erdogan and a victory for the Kurds:
The deciding factor in this election was the emergence of the People's Democratic Party, or HDP, which came in fourth with 12 percent of the vote. For a political party to enter Turkey's parliament, it has to pass a threshold of 10 percent of the total vote. The HDP did so and will command an estimated 78 seats in the 550-seat legislature, mostly won at the expense of the AKP.

It was a remarkable achievement for a party that was formed less than three years ago and has direct ties to the violent three-
decade Kurdish separatist insurgency in Turkey's southeast. The war between the militant Kurd­istan Workers' Party, or PKK, and the Turkish state has claimed 40,000 lives since it first flared in the early 1980s.

"From now on, HDP is Turkey's party. HDP is Turkey, Turkey is HDP," the party's leader, Selahattin Demirtas, said Sunday evening at a news conference in Istanbul.

The party framed itself as a leftist movement for all Turks and boasted a diverse slate of parliamentary candidates, including representatives of virtually all of Turkey's major ethnic groups, a large number of women and the nation's first openly gay candidate.

The HDP's progressive agenda appealed to disgruntled urban voters who disliked the AKP and struggled to identify with the other main opposition parties — the secularist Republican People's Party, or CHP, a staunchly republican party that walks in the shadow of Turkey's founding father, Mustapha Kemal Ataturk, and the Nationalist Action Party, or MHP, which is "a stone's throw away from fascist," said Aaron Stein, an associate fellow at London's RUSI think tank.

"The HDP represents the diversity of the minorities in Turkey and a real pluralist democracy," said Laura Batalla, secretary general of Friends of Turkey, a unit attached to the European Parliament.

(…)

Analysts believe Erdogan's desire to assume further powers and eliminate checks and balances through an executive presidency badly backfired.

"Erdogan may have made the mistake of his political life by going for the presidency," said Aliriza, instead of remaining as prime minister, a post he held from 2003 until last year. "If he had not decided to go for the presidency, we would now be discussing his record fourth electoral victory as prime minister."
Assuming that the A.K.P. is able to form a governing majority with some coalition of smaller parties, the obvious question is what impact this will have on policy in Turkey going forward. On the domestic side, it would seem to mean that Erdogan's efforts to consolidate power and push Turkey away from the secularism that has characterized the state since is founding will at least be slowed down significantly if not come to an end. Additionally, the entry of the Kurds into Parliament for the first time will put the Kurdish issue into a far more prominent position in Istanbul at the same time that Kurds in Iraq and Syria are fighting ISIS and effectively making a bid for statehood in territory that is still technically part of those two nations. The Turks have allowed some aid to go to these Kurds from Kurdish regions in Turkey, but given that Kurdish ambitions aren't necessarily limited to land currently in Iraq and Syria, the long history of conflict between Turkish Kurds and the government has seemingly always been lying underneath the surface of that relationship.
Internationally, the Turks continue to play something of a standoff-ish role in the fight against ISIS notwithstanding the fact that the conflict has often quite literally been on their doorstep and the fact that they have been playing hosts to Syrian refugees virtually since the day the civil war began in Syria, and we've seen several cross-border incidents over the years including the shelling of Turkish villages by Syrian forces, a Turkish jet being shot out of the sky, and an incident where Turkey discovered Russian military equipment on board a detained Syrian jet. Despite this, Turkey has held back from direct involvement in the fight and has limited the kind of operations that the United States can engage in from the bases in Turkey where American forces are stationed.  Whether these election results will have any impact on how Turkey approaches the crisis against Syria and the fight against ISIS remains to be seen.