New Jerseys Make NFL Lineman Feel Fat
Some of the NFL's heftier players do not appreciate the new form-fitting jerseys introduced this season.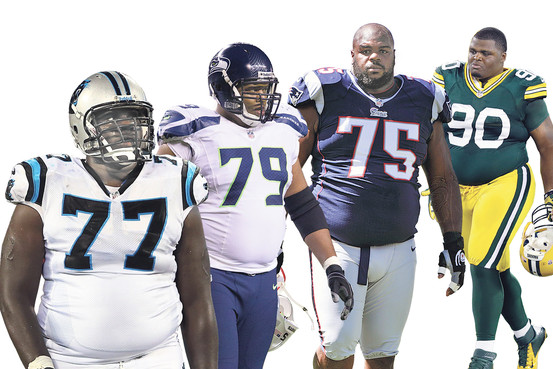 Some of the NFL's heftier players do not appreciate the new form-fitting jerseys introduced this season.
WSJ ("The NFL's 300-Pound Fashion Victims"):
Pondered in the NFL locker room this season, as some players try on their new tighter, sleeker Nike uniforms, is a question usually reserved for Nordstrom fitting lounges: Does this make me look fat?

"I hate them. They are built for thin guys," said Alex Boone, a 300-pound starting guard for the San Francisco 49ers. "It makes me look like I have big old love handles."

After a decade of wearing Reebok-made jerseys, NFL players this year switched to Nike, which unveiled a new model that has what it calls a "body-contoured fit." While it looks great on Adonis-like players such as Arizona wide receiver Larry Fitzgerald and Miami running back Reggie Bush, it's a bit less popular among those who are a bit more full-figured.

"I don't really care for the new jerseys," said Baltimore Ravens defensive lineman Terrence Cody, who is 349 pounds and 6 feet 4. "I feel like they should put different material in for the big guys."

Boone, who complains that his stomach hangs out the bottom of the jersey, said it makes him feel self-conscious. "It makes me look fat," he said, "and I'm not fat."

When Boone's wife first saw him in the new garb, he reports, "she said, 'It looks like you ate a small baby.'"
Most of these guys actually are pretty fat around the middle. They're freaks of nature with enormous strength, earned through hard work in the weight room. But, while they're tremendous athletes, they're not built for sprinting but rather to be human road blocks. A few extra pounds is a bonus in their business, not a liability.
Aside from the constricting fabric making them feel self-conscious, though, there's a real problem:
[S]ome players are spending inordinate amounts of time during breaks in the game pulling down their jerseys. For the Ravens' Cody, the trouble begins in particular whenever it gets damp. "It feels like it tightens up and stuff, it's hard to breathe, it constricts," Cody said. As soon as his jersey gets wet, he added, "it's kind of ruined." On passing plays in Thursday night's rain-soaked game against the Cleveland Browns, he continued, his jersey was "jacked up" on each down. Cody said he's had to experiment with different sizes—from a 48-inch chest down to a 44.

Making jerseys for lineman has become a bigger challenge in recent years. The 1966 Green Bay Packers, winners of the first Super Bowl, did not feature an offensive lineman heavier than 250 pounds. Today, the Packers' five offensive line starters weigh an average of 312.8.
Most of that's a function of today's guys being taller and more muscular; indeed, despite being 63 pounds heavier, today's Packers linemen are almost surely more physically fit than their 1966 predecessors were in their day.