When Equality is Unequal
Black football players at Iowa complain they were treated differently---and also the same.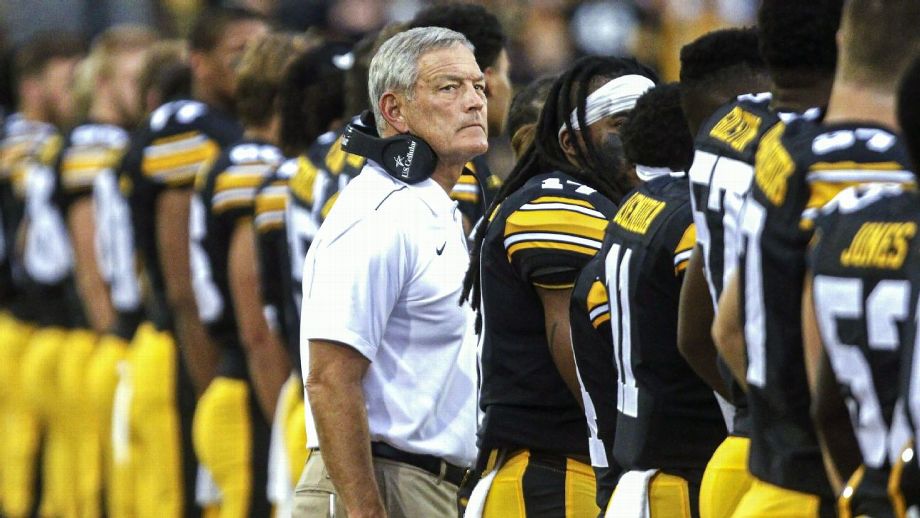 A report by Adam Rittenberg and Michele Steele this morning raises interesting questions about what constitutes racism in modern American society.
ESPN ("Iowa football and Kirk Ferentz see Black players speak out on program's racial inequities"):
It was spring of 2009. Iowa's Derrell Johnson-Koulianos had been late for a meeting, and Chris Doyle, the team's longtime strength and conditioning coach, decided the wide receiver would receive a very public punishment. At practice, Doyle ordered Johnson-Koulianos to jog around the field with a large yellow trash can covering his head. Players, coaches and recruits attending the practice with their parents watched as Johnson-Koulianos circled the field.

"I felt so humiliated for him," Spievey told ESPN. "I was humiliated. That felt like me running. … It still bothers me."

[…]

Spievey, a third-round pick in the 2010 NFL draft, says he believes the incident reflected something deeper about the program under coach Kirk Ferentz.

"I guarantee if [Johnson-Koulianos] was white, [Doyle] would've never done that," Spievey said. "There have been white players getting in trouble, too. They never had to do what DJK had to do. I wish I spoke up. I regret that.
Doyle was the nation's highest paid strength and conditioning coach, having been on Ferentz's staff during his entire 21-year tenure but was let go amidst these protests. I have no idea how he treated white players but I find it quite plausible that he unintentionally gave them more of a pass than the black players, quite possibly having no awareness he was doing so.
More generally, the Black players believe they were held to a different standard:
"We saw a lot of our fellow Black teammates put in a situation where they were one-and-done," said McNutt, who played at Iowa from 2007 to 2011. "We would talk to Coach Ferentz and say, 'We need to come up with a better system to handle these incidents.' … We felt Black guys were leaving or having to transfer, and the white guys are able to stay and figure out community service or something."

But more than a decade after the meeting, former Iowa players say those issues persisted and Black athletes operated under a double standard. (Iowa denied ESPN's request to speak to players on the current roster.)
And, certainly, the school wasn't doing right by its Black players in the most fundamental way they're charged with:
Big Ten — in graduation rates for Black athletes in all sports between 2014 and 2018. Only 40% of Iowa's Black athletes graduated, compared to 77% of all athletes, a differential that also ranked last in the conference. Hawkeye Nation also reported that Iowa enrolled 31 Black scholarship football players between 2013 and 2015, but only eight graduate from the school.
So, something is going on at Iowa and it's not good.
But what most fascinated me about the story was complaints by Black players that they were being held to the same standard as whites.
"There's always a Black table, a white table. At the Black table, this was the stuff we talked about every single day," James Daniels in June told "Washed Up Walkons," a podcast hosted by three former Iowa players. "The main root of the problem is that Black players did not feel like they could be themselves in the facility. It felt like that Black players had to conform to being the white, Iowa try-hard football player.

"When Black people go to the facility, they should feel safe there."
Being asked to try hard made them feel unsafe?
But Black players who have spoken out often didn't see the facility as a safe place. In June, junior running back Ivory Kelly-Martin described a walking-on-eggshells environment, calling Iowa's football facility "an atmosphere where I couldn't be myself or where you had to look out and kind of watch your back." Former safety Geno Stone, drafted by the Baltimore Ravens in the seventh round of April's NFL draft, tweeted, "Walking into the facility everyday I felt like we all had to put a mask on and be someone we were not."

Black players said success within the program hinged on assimilating to The Iowa Way, a reference to the program's "smart, tough, physical" motto.

"Iowa culture is — and we saw it on the wall every day — smart, tough, physical, disciplined, hard-nosed, put your nose to the grindstone and work, be early, and many more," said Tyler Kluver, a former Iowa long-snapper who is white and hosts the "Washed Up Walkons" podcast. "Those are the pillars of Iowa culture."
Surely, "smart, tough, physical, disciplined, hard-nosed, put your nose to the grindstone and work, be early," are good values? Ones that help players succeed at big-time football and, more importantly, in life?
But here's where the subtext becomes text:
But The Iowa Way, as many Black players describe it, also meant conforming to a white football culture and suppressing their own, whether it be their hairstyle or how they spoke or dressed.

"I've talked with guys and they talked about how they were made to conform to what Coach Ferentz wanted or what they expected white players to be like," former offensive lineman Dace Richardson said. "We had a lot of guys on our team that had personalities and they weren't allowed to be their natural selves. I never had issues with that because I kind of just conformed to what the team wanted."

Spievey said Ferentz wanted players to be "robots," programmed to make the coaches comfortable.

"We couldn't wear earrings, we couldn't wear hats, we had to dress a certain way," Spievey said. "They wanted us to be white Iowa kids. [They] wanted us to fit that mold. We couldn't be us. We had to be like them."
The problem isn't so much that Black players are being held to the Iowa Way in terms of work ethic, although I suspect there are some cultural issues at work there as well. It's that they're being held to a 1950s white standard of What It Is to Be a Man. Khakis and polo shirts, jackets and ties, no tattoos, short, parted hair, and the like. That's probably not a big ask for a white offensive lineman from Davenport but a radical change for a Black kid from inner city Los Angeles or Chicago.
Not long ago, I wouldn't have really seen a problem here. Ferentz is the coach and a damn good one. And the standards we're talking about are Old School. Normal. But, of course, that's because white culture is the default position.
Not long ago, I'd likely have said, if the players don't like it, they can always go to another school. It's not like Ferentz is making any of this a secret. But he's a gatekeeper to one of the biggest programs in college football, which is the pathway to these young men's dreams of playing in the National Football League and the possibility of generational wealth.
Iowa's overall lack of diversity likely contributed to those challenges. A four-time Big Ten coach of the year with two league titles and 17 bowl appearances, Ferentz has never had a Black offensive or defensive coordinator in his 21-year tenure and in 11 of those season only had two Black assistants. Thirty percent of Iowa's current football roster is Black, at a university where Black students represent 3.3% of the student body. (Iowa's Black population is 4.1% for the entire state.)

"It's a culture shock," Spievey said. "There's only a few Black people there. When Doyle is making comments about our culture and our people, it's uncomfortable. We're already uncomfortable."

Hawkeye Nation also reported that of the 33 players Iowa brought to Big Ten media days from 2009 to 2019, only 10 were Black — the fewest of any school in the conference. There were two years when Iowa only brought white players, while every other Big Ten school always included at least one Black player.
Again, absent more direct evidence to the contrary, I'm not about to accuse Ferentz or Doyle of racism. I'm sure they tell themselves that it's just hard to recruit inner city Black kids to Iowa. But, whether they admit it to themselves or not, they instinctively view inner city Black culture as inferior to the Iowa Way. And, if I'm being honest, so do I.
But that's obviously a problem.
They likely think that they're doing these young men a great service, lifting them up and transforming them into something better. But at what price?
"It was almost like they were trying to portray the perfect white guy that represented Iowa football," former cornerback Jordan Lomax told the "Washed Up Walkons" podcast. "Guys were like, 'If I want to go to Big Ten media days … I've got to at least dress different or act different or be different, because I'm trying to get to that level.' We see that. We're like, 'Why can't one of us go? Why can't more of us go?'

"It's just a constant theme. And that kills guys psychologically."
There's a whole lot more to the piece but that's the nub.
I've been seeing parallel debates in Defense circles lately. Like sports, military service has long been seen as a meritocracy, where race really doesn't matter and everyone has an equal chance to rise to the levels their talent and work ethic will take them.
In many ways, that's actually true. We had a Black general officer as early as 1940, a Black four-star as early as 1975, and a Black Chairman of the Joint Chiefs in 1989. And professional sports has been integrated roughly as long with Black athletes disproportionately dominating most of the major leagues.
But, in both cases, there's also enormous pressure to conform to white social mores. While the NBA, in particular, has long embraced hip-hop culture, they've also long mandated suits and ties for travel and otherwise taken great pains to ensure that a predominately Black league doesn't alienate the sensibilities of a mostly white fan and sponsor base.
The military is still very much mired in 1950s sensibilities in terms of style and presentation. The Marine Corps, in particular—and especially on the East Coast—is still very much khakis and polos off duty, particularly for officers.
Over the last few years, there have been complaints that, for example, Army hairstyle regulations discriminate against Blacks, and particularly Black women. Cornrows, for example, are considered an "extreme" hairstyle, prohibited by the regulations. Senior leadership has indicated in recent weeks that this policy is under review.
As long as I can remember—and we're talking nearly half a century now—the focus of racial and other justice movements has been on equality of treatment. But we're slowly coming to an understanding that sometimes, at least, equality isn't really equal.