NFL Punishing Victim in Ray Rice Case
The firing actually hurts Janay Rice much more than it does Ray.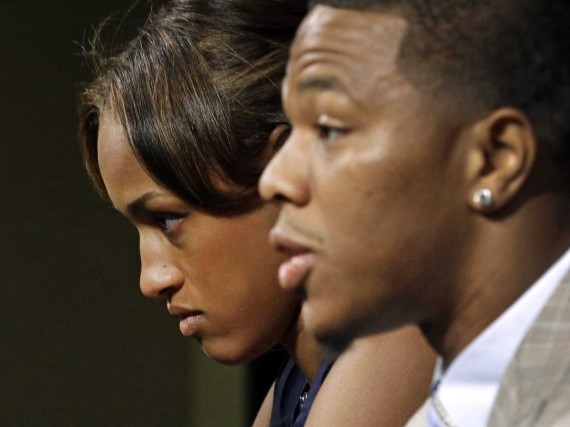 After NFL commissioner Roger Gooddell was so roundly excoriated for giving him a measly two-game suspension over the summer, it came as little surprise when the Baltimore Ravens cut Ray Rice and the league suspended him indefinitely yesterday when an even more stomach-turning video went public.
While I fully understand why the NFL and the Ravens are taking this draconian step, cutting a star player and absorbing a substantial salary cap hit for their troubles, I'm nonetheless slightly concerned about two aspects.
First, this amounts to double jeopardy. To be sure, the NFL and the Ravens are private entities and not bound by the Constitution's ban on that practice. Still, it's a fundamental element of fairness in the American culture that people aren't punished twice for the same crime. It's not clear that we know more after seeing the new video than we did the old one. We still don't know what happened before Rice punched the then-Janay Paymer in the face. It probably doesn't really matter given the viciousness of the hit and the enormous disparity in physical stature. Regardless, yesterday's move  seems more like a public relations do-over than a response to new information.
Second, and more notably, Janay Paymer is now Janay Rice. I know next to nothing about their relationship and sincerely hope the night in question was, as both claim, the lone incident of violence. Regardless, she was clearly the victim that night. Now, she's paying the price for his transgressions. Rice's salary for this year was $3.529 million. He was scheduled to earn base salaries of $3 million in 2015 and 2016. Granting that NFL contracts are not guaranteed, the Rice family is substantially poorer than they were this time yesterday. That impacts Janay just as much as Ray. It's not like Ray Rice is going to be able to get a job making anywhere near that kind of money. The normal post-football route of capitalizing on his fame is almost certainly unavailable to him given his newfound infamy.
Indeed, the firing actually hurts Janay more than it does Ray. Rice had already received a $15 million signing bonus and a $7 million option bonus; I haven't the foggiest idea whether the terms of his contract will allow the Ravens to claw back a prorated portion of that. But Maryland is an Equity Property, not a Community Property, state. Should the two divorce, Janay wouldn't be entitled to Ray's previous earnings, only those he brought in after the marriage. And that amount just went from a princely sum to bupkis.
This isn't a unique outcome, of course. Punishing those who commit crimes often has devastating financial impact on their families. In domestic violence cases, that perversely includes the victim of the crime in question. Still, it's worth noting that the Ravens' PR move signaling their sudden interest in employing only non-criminals is hurting the victim in this instance.
UPDATE: It should be clear from my references to Ray Rice's criminality and the "viciousness" of the hit and to my continued references to Janay Rice as a "victim" that I'm not siding with him here, much less condoning his actions. My point is twofold. First, the NFL and the Ravens are taking a second bite at the apple in the wake of a public relations nightmare. Second, that this punishment harms the innocent victim of his crime substantially.  (And that's to say nothing of their child.)
None of that means that the Ravens and NFL shouldn't have terminated Rice. At the end of the day, as in the Donald Sterling situation in the NBA, keeping him around is bad for the brand.  And, as noted in the final paragraph of the original post, the perpetrator's family usually suffers from their punishment.  Nonetheless, it struck me as interesting that none of the commentary I've seen on the case has even mentioned that Janay is getting victimized again.