Ray Rice Could Be Back In The N.F.L. Before The Season Is Over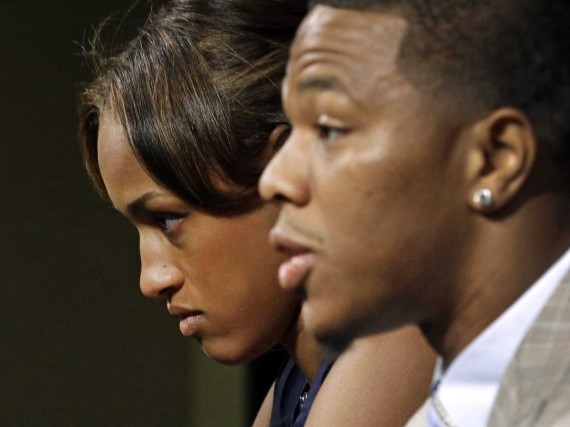 CBS Sports reports that it is possible that Ray Rice, the former Baltimore Ravens Running Back who was released by the team and indefinitely suspended by the N.F.L. after additional details of the February incident where he severely beat his now wife in an elevator, could be back in uniform before the end of the season:
Former Ravens running back Ray Rice remains suspended indefinitely following the publication of the video of him striking his now-wife, Janay, in a casino elevator, but he could be reinstated within the next four weeks, sources said.

An appeal hearing date has been set, with a final decision expected to come in an expeditious manner thereafter, and all of that could be resolved by mid-November, which would conceivably allow Rice to sign with another team this season.

Perhaps, even if reinstated, teams will find him too controversial to sign, but there is every expectation his playing status will be resolved before the NFL's investigation into its handling of his case, being conducted by former FBI chief Robert Mueller, is completed.

Former U.S. District Court Judge Barbara S. Jones is handling the appeal as a neutral, third-party arbitrator, and all sides in the case have agreed to a date to conduct the hearing in the near future. That date could change somewhat based on what Jones rules this week on some requests the NFLPA made to have certain materials available to them in discovery, but sources said Rice's legal team has made it explicitly clear it has no desire to wait until the NFL and the NFLPA's investigations are concluded to resolve the matter of this suspension appeal.

Rice has maintained he did not lie in his testimony to Commissioner Roger Goodell, and his legal team will make the case that even under the NFL's new domestic violence policy, and as a first-time offender, Rice should be suspended a maximum of six games, which has already passed. Furthermore, they will make the argument that the video tape of Rice's actions were available to the team and the league throughout the process of determining his discipline, and thus nothing changed whatsoever with the case from the time Rice was suspended two games, until eventually being suspended indefinitely, save for TMZ obtaining and posting the video.
Rice winning his appeal would obviously be a public relations problem for the league, because it would essentially confirm that Goodell and others were in fact aware of the details of what happened in February before the full video was released earlier this season and that Rice's initial two-game suspension was made with that knowledge in hand in some respect even if the league didn't have a copy of the tape. Beyond that, though, the league's problems would seemingly be magnified if any team ended up signing Rice to a contract in the event he is reinstated. The linked article mentions the Colts, where former Ravens coach Chuck Pagano is Head Coach, and the Patriots, but I honestly have to wonder whether any team, especially one that's in playoff contention would be willing to take on the controversy and media attention that would be involved in bringing Rice back to the N.F.L. I suppose it's possible, especially if there's a team that's hurting for a Running Back, but it strikes me that the attention would be a huge diversion from on field activities that most teams would prefer to avoid.