New York Village Votes To Keep Logo That Appears To Show White Guy Choking Native American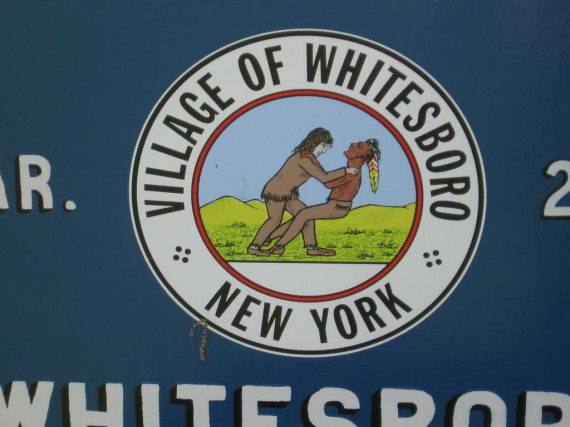 Residents of the Village of Whitesboro, New York have voted to keep a town logo that has proven to be controversial:
ALBANY — There will be no change to the controversial town seal in the village of Whitesboro outside Syracuse.

After years of debate over the seal, the town put it to a non-binding vote: Residents voted Monday night, 157 to 55, to keep it.

"It's been a controversy for decades, so we decided to get the input of our local village residents," Mayor Patrick O'Connor told Syracuse.com. "We wanted to get a feeling from them on what image they want to represent their history."

Village officials in Oneida County have defended the seal, saying it shows a friendly wrestling match between Hugh White, the town's founder, and a member of the local Oneida tribe.

"The wrestling match was an important event in the history of the settling of the Village of Whitesboro and helped foster good relations between White and the Indians," the village says on its website. "The new version is displayed on Village trucks, highway equipment, letterheads and documents."

The Oneidas, based in central New York, have been outspoken against how Native Americans are depicted and have led a national campaign to have the Washington Redskins change the name of its NFL team. The Oneidas, who own the Turning Stone Casino, helped start a petition in July to change the seal.

Village clerk and historian Dana Nimey-Olney told the Associated Press residents were presented several drawings to choose from, including settlers and Indians standing together.

The seal has been modified slightly over the years, with the latest version showing with White's hands on the Indian's shoulders instead of his neck, Nimey-Olney told the AP.
Well, I suppose that's something. Nonetheless, as I said when I wrote about this last June, this strikes me as something you might not want your little town to be associated with. But what do I know?