Newsweek Mitt Romney Mormons Cover
Another sad chapter in the slow death of a once proud magazine.
Newsweek has chosen this cover to illustrate their feature on the Mormon movement: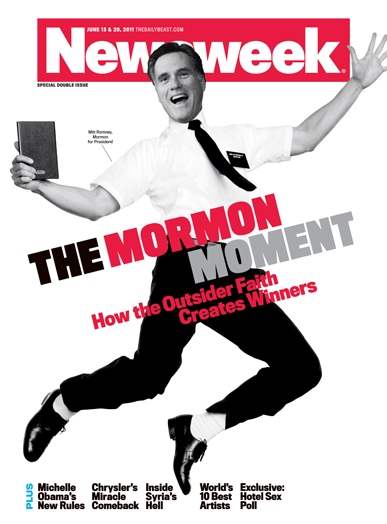 Jim Geraghty says he finds it "appalling." While that's too strong a word choice, I do find the photoshopping of the head of a political leader–arguably the frontrunner for a major party presidential nomination–onto some other image (in this case, a poster from a Broadway musical) a violation of basic journalistic principles.  They wouldn't have done this with Barack Obama or Hillary Clinton, certainly.
I realize that Newsweek is having a hard time just staying in business–it was on the verge of bankruptcy when it merged with the upstart Daily Beast–and that they're desperate for attention. They did something similar when they used an out-of-content photo of Sarah Palin from a running magazine to illustrate an unrelated cover story in November 2009. (And, yes, I condemned that as over the line, too.)
Romney is a Mormon and, so he tells us, a devout one. His membership in that faith is absolutely a fair subject for journalistic inquiry. Faked photos, on the other hand, have no place in serious journalism.
The retort, presumably, is that Newsweek has long stopped being about journalism–they're simply trying to sell magazines. If so, I'd note that it doesn't seem to be working.