Newt Gingrich: America In Danger From Secular Atheist Radical Muslims, Or Something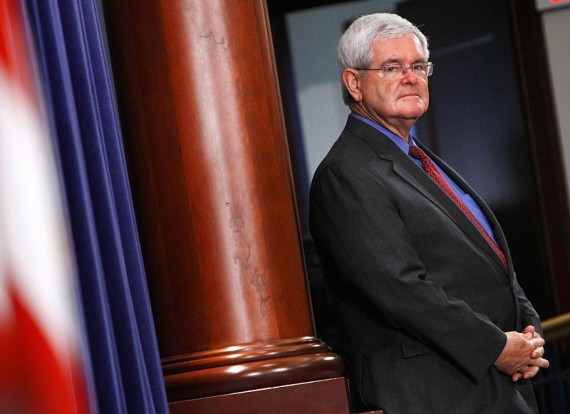 Count on Newt Gingrich to be right on top the latest threat to America, the creation of an atheistic society dominated by radical Muslims:
SAN ANTONIO — Newt Gingrich stood before thousands of evangelical churchgoers Sunday night to deliver a dire warning that nation's Christian roots are under attack.

"I have two grandchildren — Maggie is 11, Robert is 9," Gingrich said at Cornerstone Church here. "I am convinced that if we do not decisively win the struggle over the nature of America, by the time they're my age they will be in a secular atheist country, potentially one dominated by radical Islamists and with no understanding of what it once meant to be an American."
Two thoughts come to mind. First, if Gingrich is really concerned about the nation's spiritual well-being, he should be running for Pope, not President. Second, as Jonathan Turley notes, Gingrich fails to recognize that radical Muslims have more in common with the people Gingrich was speaking to than they do with atheists:
What is always striking is the failure of religious conservatives to recognize that they have much more in common with radical Islamists than do liberals or secularists. Islamic radicals love the attacks on the separation of church and state, crackdowns on free speech in the arts, the anti-homosexual measures, and other morality issues pushed by some conservatives.
Indeed. Expect more of this phony moralism, along with the Muslim-bashing, from Gingrich and others as the 2012 campaign continues.