Newt Gingrich Calls Palestinians An "Invented People"
Once again, Newt Gingrich speaks without thinking.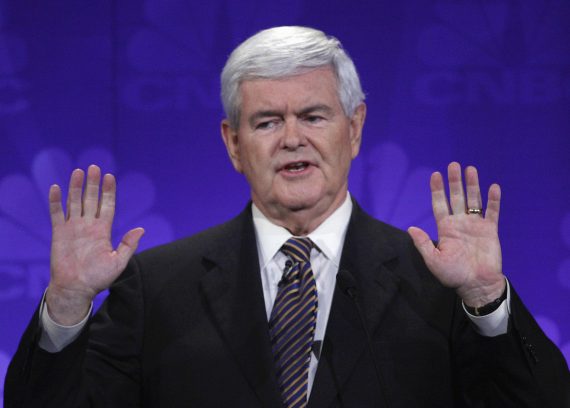 Speaking in an interview on a Jewish cable network yesterday, Newt Gingrich essentially said that the Palestinians do not have a legitimate claim to nationhood:
Does Newt Gingrich believe in a two-state solution to the Israeli-Palestinian conflict? Democratic and Republican administrations have adopted that framework, but Mr. Gingrich raised the possibility he might break with it, calling Palestinians an "invented" people and the current stalled peace process "delusional."

His comments were made this week in an interview with the Jewish Channel, a cable service.

Discussing the origin of the State of Israel in the 1940s, Mr. Gingrich said, according to a transcript: "Remember there was no Palestine as a state. It was part of the Ottoman Empire. And I think that we've had an invented Palestinian people, who are in fact Arabs, and were historically part of the Arab community. And they had a chance to go many places."
As a historical matter, of course, this is largely accurate, but it also happens to be largely irrelevant. The Ottoman Empire, for one thing, hasn't existed since 1918 and the land on which Israel, the West Bank, Gaza, and Jordan now exist was, until 1947, controlled by the United Kingdom under a mandate from the League of Nations the purpose of which was to administer the lands in the Middle East that the Ottoman Empire had controlled for some 400 years. Other areas of the Middle East governed, at least for a time, under League  mandates included present-day Iraq (Mesopotamia) and Syria. Does Gingrich then purport to assert that there is no Iraqi, Syrian, or Jordanian national identity either? After all, none of these nations existed prior to the creation of the League mandates, and all were under the boot of the Ottoman for the better part of half a millennium. Yet each of these are nations that we recognize the territorial integrity of and, contra Gingrich, they are in fact a national people despite the fact that their nations are relatively new.
Of course, as Daniel Larison points out, Gingrich isn't just making the odd historical point here. He's saying something far more sinister:
We should all understand that Gingrich isn't referring to an "invented people" here in the way that historians sometimes talk about nations as "imagined communities" or constructed identities. He is singling out the Palestinians. He is plainly saying that Palestinians have no national existence, and therefore no claim to national self-determination. This claim would have been ridiculous fifty years ago, and today it is the statement of an ideological fanatic. Lumping together Palestinians with all other Arabs and referring to "the Arab community" as if it were one thing is typical of Gingrich's sloppy and shoddy thinking.

The particular circumstances and experiences of an individual nation that accounts for the differences between nations that may share a language or culture, and if Gingrich were half as serious as an historian as he pretends to be he would understand that. If an identifiable Palestinian nation did not exist, say, 150 years ago, it has existed for the better part of the last century. National identities are formed through historical experience, and the last seventy or eighty years have witnessed the emergence of a distinctive Palestinian national identity.
Precisely. Gingrich calling the Palestinians an invented people has as little merit as if a British politician had said in 1811 that Americans were not a real nation. Indeed, that attitude was quite common among British elites in the early decades of the 19th Century and one that helped create the air of conflict that led to the War of 1812. Whether the British believed it or not, though, Americans had formed a national identity in war and were in the process of becoming a people. The same, I would submit, applies to the Palestinians. One can certainly deplore, and should condemn, the acts of terrorism committed in the name of Palestinian independence, but the use of a tactic does not define an entire nation, and the idea that the answer to the Israeli-Palestinian problem is to deny that there are a Palestinian people strikes me as guranteed to just lead to more terrorism.
Moreover, as one commentator points out, Gingrich's comments call into question his own claimed credentials as a historian:
Gingrich's comments will likely infuriate backers of Palestinian statehood on both sides of the debate, and drew immediate criticism from a fellow at the American Task Force on Palestine, Hussein Ibish.

"For a man who likes to call himself a historian, Gingrich's grasp of these realities is astoundingly weak. To call the Palestinians 'an invented people' in an obvious effort to undermine their national identity is outrageous, especially since there was no such thing as an 'Israeli' before 1948," he said. "Arab and Jewish identities are very old, but Israeli and Palestinian nationalisms are both 20th-century phenomena, and arose at the same time in competition with each other. The idea that either is more 'invented' and hence less 'authentic' than the other is ignorant, ahistorical claptrap."
Perhaps in recognition of the utter absurdity of Gingrich's statement, his campaign has already walked it back in a statement released this morning:
"Gingrich supports a negotiated peace agreement between Israel and the Palestinians, which will necessarily include agreement between Israel and the Palestinians over the borders of a Palestinian state," Gingrich spokesman R.C. Hammond said. "However, to understand what is being proposed and negotiated you have to understand decades of complex history – which is exactly what Gingrich was referencing during the recent interview with Jewish TV. "
Of course, this is what you get from Gingrich so very often. He talks off the top of his head without really thinking about the consequences and then ends up walking it back. That's eccentric when it's coming from a professor or a political pundit, perhaps, but it's downright irresponsible when coming from a candidate for President, and it would be potentially dangerous in a President of the United States. Imagine the consequences had a President Gingrich made a comment like this. Give Newt a radio show somewhere where he can spout off about all kinds of random topics that interest him — like say his idea to build bases on the Moon or put giant mirrors in space — but putting this guy in the Oval Office would be positively idiotic.