On Gingrich, The Palestinians, And "Invented People"
Newt Gingrich's comments about Palestinian nationhood came up during last night's debate.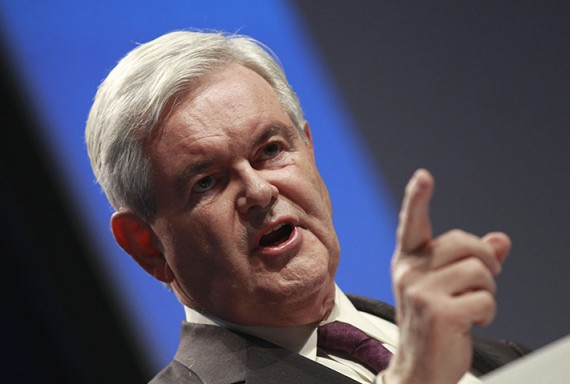 As I noted yesterday, Newt Gingrich raised a few eyebrows Friday night when he stated in an interview with a Jewish cable network that the Palestinians were an "invented people." The issue came up again last night in the ABC News Debate, and Gingrich doubled down on his comments even in the face of criticism from other candidates:
In a fact-check on the debate, ABC News asserted that Gingrich was wrong:
While  former Israeli Prime Minister Golda Meir said in 1969 that "there is no such thing as a Palestinian people," it is not exactly a factual statement.

Scholars assert that a Palestinian national identity began to solidify in the 1890s when Arabs in the region now known as Palestine revolted against the Ottoman Empire. While the revolt was eventually crushed, the clans that banned together later reemerged as a relatively unified Palestinian people.
Barry Rubin aserts that ABC gets it wrong, but that it really doesn't matter  if Gingrich is right or not:
ABC says that the Palestinian Arabs began to have a consciousness in the 1890s. I cannot imagine what evidence would be brought to make that argument. The bare beginnings were around 1920 when actual groups began to form, though even then the "southern Syria" identity was strong. One is safer at putting the date in the late 1920s.

Yet again I don't see this point as very significant. What's important is whether a large portion of the people in question believes that they are a people. Moreover, the same "invented" charge has been made against the Jewish people, of course, by Stalin and of course by Arab and Islamist propaganda.

The fact that today, a Palestinian people does exist doesn't give the Palestinians a right to invent history, of course. ABC News didn't point out that they regularly claim a history of two thousand years or more. And Golda Meir was pointing to the fact that the dominant politics of the Palestinian movement certainly as late as 1945 was a pan-Arab nationalist one. If the "invention" of a Palestinian (Arab, Muslim) people is relatively recent, though, that does imply that they don't have a claim to everything between the Jordan river and the Mediterranean Sea. And that's what's important.
Jonathan Tobin makes much the same point:
That said, it must be conceded that even if the Palestinians did invent themselves in the last 100 years, it is pointless to deny that they do exist now. Millions consider themselves to be part of a distinct Palestinian people with a common history and destiny. The United States and Israel both understand that their desire for self-rule must be accommodated so long as it does not infringe on the rights and security of Israel. A two-state solution that would allow a state of Palestine to exist alongside Israel is now believed by most Israelis to be a commonsensical idea even if it would involve painful territorial compromises.
Tobin and Rubin are, essentially, making the same point I did yesterday. Whether or not it is historically accurate to say that there was no such thing as the idea of a Palestinian nation prior to the early 20th Century is largely irrelevant. What matters is what the facts on the ground are right now, and right now there are some 4 million people in the West Bank and on the Gaza Strip who consider themselves part of a Palestinian nation. Ignoring that reality is impossible, and engaging in historical diversions about the Ottoman Empire, the Caliphite that preceded it, or the Roman Empire that once ruled Palestine is really quite pointless.
More importantly, though, it also happens to be potentially dangerous:
JERUSALEM (AP) – A slew of Palestinian officials reacted with dismay Saturday to Republican presidential hopeful Newt Gingrich's statement that the Palestinians are an "invented" people.

(…)

The Palestinian prime minister, Salam Fayyad, demanded Gingrich "review history."

"From the beginning, our people have been determined to stay on their land," Fayyad said in comments carried by the Palestinian news agency Wafa. "This, certainly, is denying historical truths."

(…)

Palestinian legislator Hanan Ashrawi said Gingrich had "lost touch with reality." She said his statements were "a cheap way to win (the) pro-Israel vote."

A spokesman for the militant Hamas rulers of the Palestinian Gaza Strip called Gingrich's statements "shameful and disgraceful."

"These statements … show genuine hostility toward Palestinians," said spokesman Fawzi Barhoum.
As I said yesterday, imagine if Gingrich had made these statements as President. The outrage would have been amplified a thousand fold, and any hope that the United States would be able to serve any useful purpose in resolving the Israeli-Palestinian conflict would be out the window for the foreseeable future (not that I think there's much the United States can do if the parties don't want to act themselves anyway). This is the kind of recklessness that I've referred to in connection with Gingrich in the past, and it does not bode well for his skill as a diplomat on the world stage, not that I think he'll ever get a chance to actually stand on the stage of course.
Perhaps the most galling part of  Gingrich's response on this question last night was his comparison of himself to Ronald Reagan. In this context, it was the assertion that, like Ronald Reagan when he called the Soviet Union "the focus of evil in the modern world" in a 1983 speech famously remembered as the "Evil Empire Speech," he is willing to speak the truth about the Palestinians. The problem with Gingrich's assertion here is manifold. First of all, to borrow a line from Lloyd Bentsen, Newt Gingrich is no Ronald Reagan. Where Reagan was principled but willing to compromise, optimistic, and focused, Gingrich is willing to change principles but disdains compromise, projects a worldview that is far from optimistic, and is anything but focused. Second, at the same time that he was making that speech, Reagan was already trying to find a way to open more direct communications with the Soviet leadership about arms control and related issues but, as Reagan once said about the Soviet leadership of his day, "they keep dying on me."  Gingrich, by contrast, clearly has no intention of negotiating with the Palestinians. Instead, he seems to be among those Republicans for whom the only acceptable position on the Israeli-Palestinian conflict is the hard-line Likunik position, which grants almost no legitimacy to the Palestinians and their aspirations. Finally, it's worth noting that in 1983 the USSR was the United States's adversary, arguably the most serious one we had ever faced in our history. The Palestinians are not our enemy, and taking positions that turn them into one are not in our interests.
Rubin and Tobin get it exactly right. What we want the world to be like is largely irrelevant, as is the question of whether or not there was a Palestinian national identity 500 years ago before Ottoman rule. We must, as Rick Moran puts it in his own post on this issue "deal with the world as it is, not as we would like it to be." Along with other conservatives for whom policy in the Middle East seems to be more religious crusade than rational foreign policy, Newt Gingrich does not appear to want to accept that.