Newt Returns to Privatizing Social Security
Campainging like is it 1999.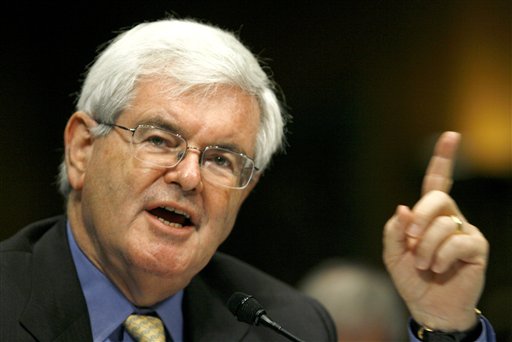 Via the AP,  Gingrich calls for private retirement accounts:
Republican presidential contender Newt Gingrich on Monday proposed allowing younger workers still decades away from retirement to bypass Social Security and instead choose private investment accounts that would be subject to stock market gyrations.

[…]

Under the plan, workers would be able to do one of two things: continue sending their share of Social Security taxes to the popular, safety-net program or give it to private firms that would compete for those dollars — as much as $20,000 a year, Gingrich estimated.

"No one is ever forced into the (private account) system," he said after the speech.

Markets would determine how much money workers who chose private accounts would get each month. Gingrich guaranteed a minimum income in case Wall Street collapses like it did in 2008.
A few thoughts.
1.  Been There, Done That.  President Bush engaged in a heavy push early in his second term to reform Social Security in this direction.  It failed.  The political climate for such a proposal has only worsened since then.
2. We Just Went Through a Financial Collapse.  One can make claims about guarantees, but the fact of the matter is, the near-collapse of the financial sector and the massive stock losses that went along with it demonstrated have caused some reevaluation of the wisdom of yoking the entire country's retirement security to the Wall Street.
3. Optional?  What is it with this new fetish for half measures?  (Perry was first with his optional flat tax).  There is no wisdom in creating two systems that will result in disparities.  At any given moment in time, one plan would likely be better than the other.  Consider:  if one had retired in, say, 1998 with a stock-base portfolio, life was good and yet, no so good in 2008.  Further, a bifurcated system  still leaves the government on the hook for bailing out whichever one isn't working at a specific moment in time, with all of the commensurate political resentments that such a situation would create.
4.  Helping the Wealthiest.  Of course, such a program (especially an optional one) would fundamentally help the wealthiest (who already fund their retirements outside of SS as it is).  So, basically, this idea is an opt-out for persons of financial means.  The persons to whom this type of proposal appeals are people who already make enough money to have individual retirement accounts and/or work-based pensions to go along with Social Security.
Part of what bugs me about this is that if Gingrich is even 10% as smart as he thinks he is, he knows this is a non-starter, which makes lines like "Wouldn't you rather control your account?" and claims that his proposal "would save literally trillions over the next generation" nothing put fantasy and pandering. One can't even pretend that he is trying to spark a debate about public v. private retirement.  Understand:  I have no problem with a politician proposing and trying to champion ideas and trying to garner support for them.  Still, relative failures on this specific policy especially in the context of the recent financial crisis makes this come across as an oldie but a goodie instead of an attempt at a serious proposal.  Further, claims about funding the proposal are the stuff of hand-waving:
Employers would still pay their share of the tax, which would be used to pay benefits for current retirees. But it would create a funding shortfall that Gingrich brushed off.
Ok, so the current funding mechanism is so robust that we can afford to fund it solely from employer contributions.  That's news.
And then there is this:
Gingrich's plan would cover the near-term deficits by giving to states responsibility for such programs as AmeriCorps volunteers, Section 8 public housing and Pell Grants for college students. He said states were better suited to administer those programs.
This strikes me as an odd proposal insofar as it appears to save the federal government money by shifting some costs to the states for federal programs.  It is a little unclear as to whether this is a proposal to shift the entire cost of the programs, or just the administrative costs, but even if one takes the most charitable interpretation it means more cost for the states.
But, don't worry:
His advisers couldn't say how much the plan would cost, when it would begin or who would be eligible. They did say, however, that current retirees would continue to receive benefits at promised levels.
So, no worries, then.