No, Damn It, Army Generals Aren't Exempt From Uniform Regulations
When will BG Jeffrey Sinclair get an effing haircut?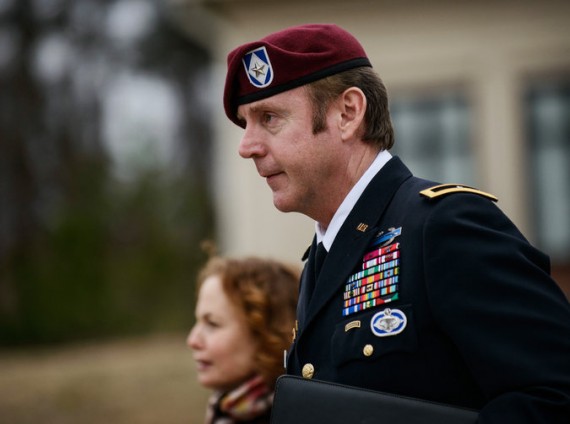 Pursuant to Andrew Exum's perfectly valid question as to "when, exactly, BG Sinclair is getting an effing haircut," I devoted precious minutes on Google trying to figure out why Sinclair "looks like a 1970s Hollywood conception of what a general looks like. Or an Air Force officer" rather than the second in command of the expletive deleted 82nd Airborne division.
Google was, alas, no help. In fact, it's spreading a longstanding misconception: that general officers get to wear whatever they want. While it's true that, there are fewer people in position to tell a general to get an effing haircut than is the case for a private soldier, Army Regulation 670-1 does in fact apply.  The confusion comes from this passage;
Applicability: This regulation applies to the active Army, the Army National Guard/Army National Guard of the United States, and the U.S. Army Reserve, unless otherwise stated. Also, it applies to the Reserve Officers' Training Corps and the Corps of Cadets, United States Military Academy, only when their respective uniform regulations do not include sufficient guidance or instruction. It does not apply to generals of the Army, the Chief of Staff of the Army, or former Chiefs of Staff of the Army, each of whom may prescribe his or her own uniform. During mobilization, the proponent may modify chapters and policies contained in this regulation. [emphasis mine]
The phrase "generals of the Army" is not synonymous with the phrase "Army generals." Rather, "generals of the Army" refers to five star generals, the last of whom was Omar Bradley, who was promoted to that rank in 1950 and who died in 1981. We know this because, if the awkward phrase simply meant "brigadier generals and above," it would be redundant to also single out the Chief of Staff.
____________
*Yes, there are more pressing questions regarding soon-to-be-former BG Sinclair. I have no special insights into them.