North Korea Launches Another Ballistic Missile Test
Another escalation on the Korean peninsula.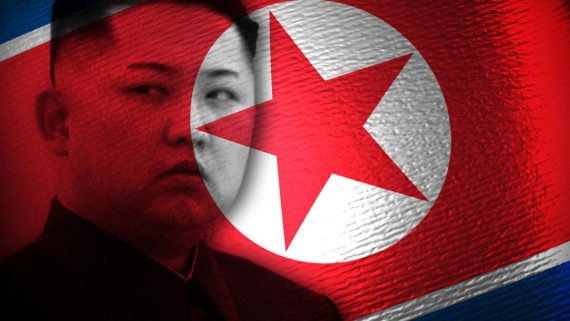 North Korea has launched another ballistic missile, putting it closer to the ability to deliver a nuclear warhead to the continental United States and potentially inflaming an already intense situation on the Korean peninsula:
SEOUL, South Korea — North Korea launched a ballistic missile on Friday that traveled farther than its first test of a similar missile earlier this month, officials from the United States, South Korea and Japan reported.

South Korean officials have said that in the earlier, July 4th test of the Hwasong-14, the North's ICBM demonstrated a range capable of reaching Alaska, but that it remains unclear whether the North has mastered all technologies needed to deliver a nuclear warhead to targets in the continental United States.

In Tokyo on Friday, Japan's chief cabinet secretary, Yoshihide Suga, said the latest North Korean missile flew for about 45 minutes before landing off Hokkaido, the northernmost Japanese island. The flight time suggests that the missile may have a range greater than any the North has tested previously.

In the earlier test, the Hwasong-14 flew about 39 minutes and for a distance of 578 horizontal miles, but it was launched at a highly lofted angle, reaching an altitude of 1,740 miles. Had it been launched on a standard trajectory, it would have flown around 4,200 miles, missile experts said.
The report came just two days after U.S. intelligence agencies released a report in which it was projected that Pyongyang could be less than a year away from being able to deliver a nuclear weapon to a good portion of the United States:
North Korea will be able to field a reliable, nuclear-capable intercontinental ballistic missile as early as next year, U.S. officials have concluded in a confidential assessment that dramatically shrinks the timeline for when Pyongyang could strike North American cities with atomic weapons.

The new assessment by the ­Pentagon's Defense Intelligence Agency (DIA), which shaves a full two years off the consensus forecast for North Korea's ICBM program, was prompted by recent missile tests showing surprising technical advances by the country's weapons scientists, at a pace beyond what many analysts believed was possible for the isolated communist regime.

The U.S. projection closely mirrors revised predictions by South Korean intelligence officials, who also have watched with growing alarm as North Korea has appeared to master key technologies needed to loft a warhead toward targets thousands of miles away.

The finding further increases the pressure on U.S. and Asian leaders to halt North Korea's progress before Pyongyang can threaten the world with nuclear-tipped missiles. President Trump, during his visit to Poland this month, vowed to confront North Korea "very strongly" to stop its missile advances.

The DIA has concluded that North Korean leader Kim Jong Un will be able to produce a "reliable, nuclear-capable ICBM" program sometime in 2018, meaning that by next year the program will have advanced from prototype to assembly line, according to officials familiar with the document. Already, the aggressive testing regime put in place in recent months has allowed North Korea to validate its basic designs, putting it within a few months of starting industrial production, the officials said.

The DIA and the Office of the Director of National Intelligence declined to address any classified assessments.

But Scott Bray, ODNI's national intelligence manager for East Asia, said in a statement: "North Korea's recent test of an intercontinental range ballistic missile — which was not a surprise to the intelligence community — is one of the milestones that we have expected would help refine our timeline and judgments on the threats that Kim Jong Un poses to the continental United States. This test, and its impact on our assessments, highlight the threat that North Korea's nuclear and ballistic missile programs pose to the United States, to our allies in the region, and to the whole world. The intelligence community is closely monitoring the expanding threat from North Korea."

One of the few remaining technical hurdles is the challenge of atmospheric "reentry" — the ability to design a missile that can pass through the upper atmosphere without damage to the warhead. Long regarded as a formidable technological barrier for impoverished North Korea, that milestone could be reached, beginning with new tests expected to take place within days, U.S. analysts said. U.S. officials have detected signs that North Korea is making final preparations for testing a new reentry vehicle, perhaps as early as Thursday, a North Korean national holiday marking the end of the Korean War.

"They're on track to do that, essentially this week," said a U.S. official familiar with the intelligence report who, like others, insisted on anonymity to discuss sensitive military assessments.

North Korea has not yet demonstrated an ability to build a miniaturized nuclear warhead that could be carried by one of its missiles. Officials there last year displayed a sphere-shaped device the regime described as a miniaturized warhead, but there has been no public confirmation that this milestone has been achieved. Preparations reportedly have been underway for several months for what would be the country's sixth underground atomic test. The last one, in September, had an estimated yield of 20 to 30 kilotons, more than double the explosive force of any previous test.
One advantage of where this missile apparently ended its journey is that it should be relatively easy for American and Japanese authorities to recover whatever might be left of the device in order to study it. By doing so, we may be able to determine just how close the North Koreans actually are when it comes to developing an ICBM that would be capable of being correctly targeted and reaching deep across the Pacific to hit American territory in Hawaii, Alaska, or the west coast. There may also be some indications from the debris that could aid in determinations about how close they might actually be with regard to the crucial final step of being able to miniaturize a functional warhead that could be mounted on such a missile. While it's unlikely that information will be publicly released for obvious reasons, it would go a long way toward aiding the military in the development of potential anti-missile technology and decision makers in determining the appropriate response to not only these advances in missile and weapons capability on the part of Pyongyang, but also any future moves they may take on the peninsula in an effort to increase tensions.
As things stand, though, this development will no doubt increase tensions on the peninsula and put increased pressure on the United States, Japan, South Korea, and China to act before the North Koreans are successful in developing a missile capable of extending its ability to threaten its neighbors. One of the first interesting things to watch is what happens to a sanctions bill that Congress just passed that imposes additional sanctions on Russia and North Korea and makes it harder for the President to revoke sanctions against those countries without the consent of Congress. Both the House and the Senate passed the bill with veto-proof majorities, so it's possible that the measure could become law regardless of what the President does. Additionally, it's worth remembering that the United States has recently increased its military presence in the area, with three aircraft carriers in the general area of North Korea engaged in military exercises and a fourth on the way. This launch is likely to increase the alert level for those forces, although it seems unlikely that any kind of retaliatory or preemptive military strike is imminent. Finally, the newly elected President of South Korea, who was elected on a platform that included the idea of trying to reopen direct contact with the Kim regime, responded to today's launch by expressing more willingness than he's shown in the past to accept a planned anti-missile system that would protect South Korea, Japan, and American forces in the area:
North Korea fired a missile on Friday in an unusual late-night test launch, and details from Japanese, South Korean and U.S. officials suggested it was an intercontinental ballistic missile (ICBM).

Following the launch, South Korean President Moon Jae-in ordered discussions to be held with the United States on deploying additional THAAD anti-missile defense units, his office said.

The launch from North Korea's northern Jangang province took place at 11:41 p.m. (1441 GMT), an official at South Korea's Office of the Joint Chiefs of Staff said.
THAAD would go a long way toward providing some sense of security to the region but, of course, it would do little to prevent North Korea from launching conventional weapons attacks on the south that could end up being as devastating as a weapon of mass destruction.
As I've said before, it's unclear what the answer to all of this ought to be, or how we can achieve it even if we do figure that part out. Even accepting the idea that the North Koreans would probably not be reckless enough to launch a first strike nuclear attack on the United States or any other nation, an attack that would mean the end of the Kim regime in a matter of an hour or less, that does not mean that a nuclear North Korea would be a good thing. Such a nation would, potentially, be emboldened to act far more aggressively than it has in the past while operating under the unstated yet obvious idea that any effort to restrain them could lead to a potentially devastating nuclear attack. Additionally, a North Korea that possesses such technology could end up selling it to the highest bidder, including nations or non-national entities that may not be as fearful of a retaliatory nuclear attack. Finally, this kind of attack could lead to a breakdown in long-standing efforts to prevent the proliferation of nuclear weapons. Whatever the answer is, though, we'd better find it soon because it appears we're getting close to the point where something unthinkable becomes far more likely than anyone wants it to be.