North Korea Launches Another Missile Test
Another provocative move by North Korea.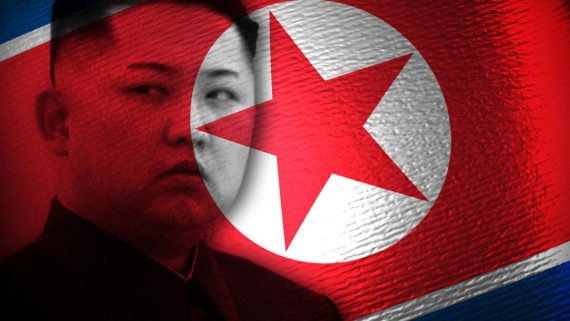 North Korea launched another missile test that appears to have been somewhat more successful than what we've seen in the recent past:
SEOUL, South Korea — North Korea launched an intermediate-range ballistic missile on Sunday, the first test since a new president took office in South Korea this past week and called for dialogue with the North.

The missile took off from the northwestern city of Kusong and flew more than 430 miles before landing in the sea between North Korea and Japan, the South Korean military said in a statement. Data on the launch was still being analyzed by the South to determine the type of missile.

Saying that North Korea had been "a flagrant menace for far too long," the White House said in a statement late Saturday in Washington that the test served "as a call for all nations to implement far stronger sanctions" against Pyongyang.

"The United States maintains our ironclad commitment to stand with our allies in the face of the serious threat posed by North Korea," the statement said.

It also noted that the missile had fallen closer to Russia than Japan, adding that "the president cannot imagine that Russia is pleased."

Russia, a Cold War-era ally of North Korea, is a member of the so-called six-nation talks aimed at persuading North Korea to give up its nuclear arsenal in return for diplomatic and economic benefits. The forum, first begun in 2003, has been stalled since 2008.

The missile on Sunday reached an altitude of more than 1,245 miles during its 30-minute flight time, the Japanese government said. That data, combined with the announcement by South Korea that the projectile covered a distance of 430 miles, showed that it was an intermediate-range ballistic missile that could target key United States military bases in the Pacific, including those in Guam, missile experts said.

The North's launch took place as its biggest supporter, China, was hosting delegations from around the world at its "One Belt One Road" forum in Beijing. A North Korean delegation, led by its external trade minister, was also attending.

President Xi Jinping and his Russian counterpart, Vladimir V. Putin, who was at the forum, had a "fairly detailed talk" about the situation of the Korean Peninsula, including the North's missile test, said Mr. Putin's spokesman, Dmitri S. Peskov, according to the Russian news agency Interfax.

"Mutual concern was expressed about how this situation is developing, and about growing tensions," Mr. Peskov said.

Hours after President Trump's comment, Russia's Defense Ministry said the North Korean missile posed "no danger" to Russia because it flew at a "significant distance" from the coast, Interfax said, citing a ministry statement.

Russia's ballistic missile early-warning system tracked the North Korean missile for 23 minutes before it fell into the sea, about 310 miles off the Russian coast, while its air-defense systems were "on combat duty as usual," the statement said.

This was the North's first missile test since a launch on April 29 that was considered a failure, with the unidentified projectile exploding a few minutes after liftoff.

Under a series of United Nations Security Council resolutions, the country is banned from developing or testing ballistic missiles.

In South Korea, President Moon Jae-in ordered an urgent meeting of top security officials during which he condemned the missile launch as "a clear violation of United Nations Security Council resolutions" and ordered his military to be prepared for provocations by the North.

Mr. Moon, who won the presidential election on Tuesday, said the move was "deeply regrettable" only days after he took office calling for dialogue with the North.

"We keep our door open for dialogue with North Korea, but we must act decisively against North Korean provocations so that it will not miscalculate," Mr. Moon was quoted as saying by his office. "We must show that dialogue is possible when the North changes its attitude."

Mr. Moon also urged his military to speed up its development of an indigenous land-based ballistic missile defense system known as the Korea Air and Missile Defense.

After a series of North Korean missile tests, Mr. Moon's ousted predecessor, Park Geun-hye, agreed to the deployment of an American missile defense system, Terminal High Altitude Area Defense, known as Thaad. Mr. Moon has questioned the technical and political usefulness of Thaad, whose deployment has angered China.

Mr. Moon's victory on Tuesday brought South Korean liberals back to power. They favor dialogue with North Korea, saying that sanctions alone have not worked to stop its nuclear and missile threats.

North Korea has a history of raising tensions to strengthen its leverage when its foes have proposed negotiations or to test new leaders in Seoul or Washington.

Prime Minister Shinzo Abe of Japan strongly protested the North's action in comments to reporters.

Speaking on Sunday morning, Mr. Abe described the repeated missile launches as a "grave threat against Japan" and vowed to cooperate with the United States and South Korea.
This morning, there's been some suggestion that the test was directed as much at sending a message to Russia and China as it was at sending a message to the United States, South Korea, and Japan. By this, analysts apparently mean that Pyongyang is apparently sending another message to the two nations that it depends on the most for assistance that it won't necessarily respond to pressure to pull back on things such as its nuclear weapons research program, or its program to develop and enhance ballistic missile technology. This would be consistent with other recent behavior in which the Kim regime has attempted to assert its independence from its two benefactors, especially in the face of international suggestions that both China and Russia have become increasingly frustrated with North Korean recklessness and what it might portend in terms of increased pressure on the regime to change course on some of its core military programs. It's hard to say how any of this might be interpreted in either Beijing or Moscow, but it's unlikely to improve the ties between the three nations or to make either Russia or China any more tolerant of behavior that could result in exactly the type of chaos on the peninsula that they clearly have an interest in avoiding.
In addition to sending a message to those nations, of course, the test was likely aimed at the United States, Japan, and South Korea, particularly the former and its newly-elected President. Ironically, though, it strikes me that acting to ramp up tensions so soon after the South Korean election may end up backfiring on the North. The Republic of Korea's newly elected President is a left-of-center candidate whose party has generally favored a somewhat more conciliatory position toward the North aimed at diplomacy rather than confrontation. President Moon also took the campaign position of being somewhat skeptical, although not entirely dismissive, of the idea of activating the THAAD missile defense system being provided by the United States. Launching a provocative test so close to Moon becoming President may have the impact of pushing him closer to accepting installation of the defense system and deterring him from immediately proceeding with a more conciliatory policy toward the North for the time being.