Not Surprisingly, The Boycott Campaign Against Rush Limbaugh Has Failed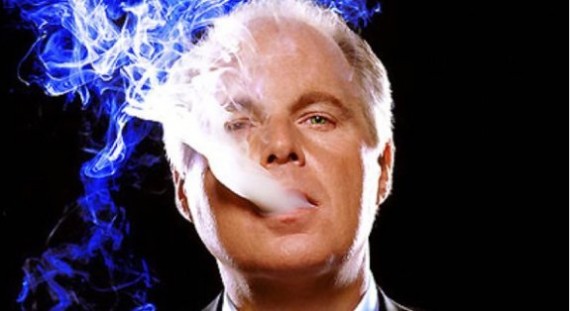 Anyone who pays attention to the world around them could have seen this coming from a hundred miles away:
The dark clouds hanging over Rush Limbaugh appear to be lifting.

Exactly one month after the conservative radio host sparked outrage by calling Georgetown law-school student Sandra Fluke "a slut" and "a prostitute" in a three-day diatribe, stations are standing by him, advertisers are trickling back to his program and the news media have moved on.

Liberal groups that organized petitions and boycotts against Limbaugh say that they intend to keep up the pressure and that they've had a lasting impact on the most popular radio host in America.

"The objective has been to show that there are real consequences when someone like Mr. Limbaugh or his company shows no accountability for his actions," says Angelo Carusone, who has been leading the anti-Limbaugh efforts for Media Matters for America, a Washington organization. "That is continuing."

At the same time, however, Carusone acknowledged that outrage is hard to sustain. "I think certainly the pressure has been reduced," he said. "To a certain extent, that's okay and acceptable. . . . Obviously, the intensity is gone, but the engagement remains high."

On Monday, the 600 or so radio stations that air Limbaugh's program were told by his syndicator, Premiere Radio Networks, to resume running "barter" ads during his program. Stations are required to run these ads in exchange for paying discounted fees to Premiere to air Limbaugh's show. Premiere, which is owned by radio giant Clear Channel Communications, had suspended the "barter" requirement for two weeks in a move widely seen as a way to give advertisers a chance to lie low while Limbaugh was in the news.

Limbaugh has apologized for some of his statements about Fluke, whom he attacked after she spoke last month in favor of mandatory insurance coverage for contraception at an event sponsored by congressional Democrats.

Limbaugh's advertising losses may have been less than media accounts suggested. While more than 100 advertisers told Premiere that they didn't want to be associated with "controversial" radio programs of any kind in the wake of the flap, some of these companies weren't regular Limbaugh sponsors in the first place.

Carusone said most of the advertiser exodus over the past month appeared to be among companies whose ads aired only in regional or local markets, he said.

"Contrary to the wishful thinking of the professional special interest groups, reports of sponsors fleeing the 'Rush Limbaugh Show' are grossly exaggerated. In fact, the program retains virtually of all its long-term sponsors who continue to have great success" with the show, saidRachel Nelson, spokeswoman for Premiere.

Another Limbaugh advertiser, plumbing-fixture maker Kohler, said this week that it would no longer sponsor Limbaugh. But that was the first such announcement by a sponsor in almost two weeks.

Limbaugh's recovering fortunes may be best exemplified by what hasn't happened. At the peak of the controversy in early March, two small stations — in western Massachusetts and Hilo, Hawaii — said that they would drop his program. Since then, no other station has said it will take him off the air, dashing the hopes of MoveOn.org, a liberal group whose ongoing petition drive seeks Limbaugh's removal from 180 stations.

Expectations that a weakened Limbaugh could be bumped by a new program hosted by former Arkansas governor Mike Huckabee (R) have also not materialized. None of Limbaugh's many affiliates have said they'll move him from his midday time slot in favor of Huckabee.

Among the stations sticking with Limbaugh is WMAL AM-FM in Washington, one of several big-city Limbaugh stations owned by Cumulus Media. Cumulus is syndicating Huckabee's program, yet the company isn't moving Limbaugh aside for its own program on its stations.

In all, "the temperature of this controversy has finally fallen below the boiling point," said Tom Taylor, news editor of Radio-Info.com, which covers the industry. He added, "I think the advertiser base is coming back."
Anyone who has followed Limbaugh's career even casually could have seen this one coming. Every controversy only serves to grow his listener base and, in the end, that's what sponsors want. Now, instead of engaging in pointless and, I submit, dangerous boycott campaigns, maybe people can just do what I do and not listen to the guy.