Now You Can Drunk Dial Congress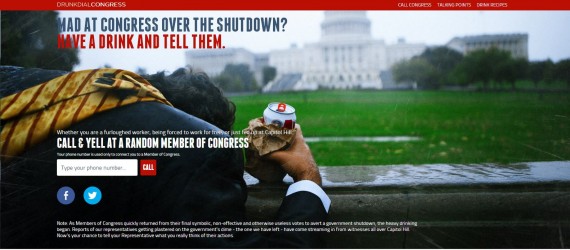 As Week 2 of the government shutdown continues, new websites have begun popping up to give furloughed workers and frustrated Americans alike an outlet to express their anger.

Especially after they've knocked back a couple.

Drunkdialcongress.org connects the disgruntled to the House of Representatives. You can enter your phone number into the website and an inebriated voice from a 1-800 number will call you back and ask, "Is this government shutdown making you want to drink?" before transferring to Capitol Hill so that you can "tell them what's on your mind and tell them to get back to work."

The site, created by the liberal mobile ad firm, Revolution Messaging, offers talking points like "I can't watch the panda!" or "Why don't you make yourself useful and at least mow the lawn?"

For those who need help selecting their form of liquid courage, there are also recipes for drinks like "the bad representative" (three parts liquor, one part lemon juice).

Need something stronger? There's "the sleepy senator" for those with absinthe lying around.

Before you get your drunk dial on, there's also f—youcongress.com, which offers a slew of facts regarding those who have been affected by the shutdown, such as "The National Institutes of Health is closed, but all they do is admit kids with cancer into clinical trials to try and save them. So sure, keep holding out Congress. It's worth it. Also, f— you."

The co-creators of that site are a trio of liberal and government watchdog groups — Common Cause, The Sunlight Foundation and RootStrikers. They offered this explanation for why they created it:

"Due to an unprecedented lack of public confidence in the U.S. Congress, we sadly found it necessary to purchase and populate this domain," the organizations wrote. "Right now, a few Republicans are willing to hurt millions of lives and risk the world economy while others in office pretend they are powerless. F—ing enough already."

And these new outlets may be just what the doctor ordered for ticked-off constituents.
And you can do all of this without actually drinking.
But what would be fun about that?
If you're so inclined, though, drunk dial away.