Obama: African-Americans 'Mongrel People' (Other Americans Too!)
President Obama went on TV and said something true. What was he thinking?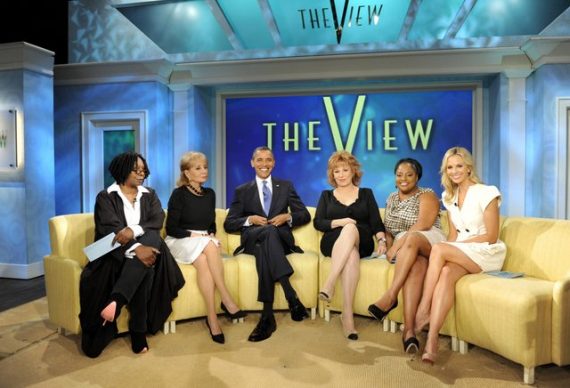 President Obama went on "The View" yesterday to deliver an important statement on race:
President Obama waded into the national race debate in an unlikely setting and with an unusual choice of words: telling daytime talk show hosts that African-Americans are "sort of a mongrel people."

The president appeared on ABC's morning talk show "The View" Thursday, where he talked about the forced resignation of Agriculture Department official Shirley Sherrod, his experience with race and his roots.

When asked about his background, which includes a black father and white mother, Obama said of African-Americans: "We are sort of a mongrel people."

"I mean we're all kinds of mixed up," Obama said. "That's actually true of white people as well, but we just know more about it."

The president's remarks were directed at the roots of all Americans. The definition of mongrel as an adjective is defined as "of mixed breed, nature, or origin," according to dictionary.com.

Obama did not appear to be making an inflammatory remark with his statement and the audience appeared to receive it in the light-hearted manner that often accompanies interviews on morning talk shows.
With regard to the Shirley Sherrod brouhaha:
Obama noted "there's still a reptilian side of our brain" that leads people to not trust others "if somebody sounds different or looks different."
Well, I'm glad he skipped the Boy Scout 100th Anniversary Jamboree for this!  A bunch of 11-year-olds would have been very confused.
There's nothing in the president's remarks that's untrue or particularly controversial.   Still, he acted stupidly.
Not only have conservative bloggers like Melissa Clouthier, GayPatriot, Tammy Bruce, Doug Powers, Doug Ross, BlogProf, Basil, and LaShawn Barber jumping on the story but the out-of-context quotes will likely reverberate on the talk radio and TV circuit.
"Mongrel" is a word we normally use to describe dogs, not human beings.  And, as some of those linked above have noted, it has particularly odious connotations in the race debate. (Although, certainly, a man who looks black has more license in this manner than a white man.   So, Robert Byrd and even Rush Limbaugh comparisons are silly.)
Obama's candid talk apparently played well in the friendly confines of "The View."  And it's the kind of thing that nobody would bat an eye at in a faculty lounge or a D.C. cocktail party.  It's how intellectuals talk.   But he likely offended some substantial number of people with his word choice.
Presumably, that's precisely the opposite of what he set out to do when he agreed to appear on a chit-chat show for housewives.