Obama Fills Out His Bracket While World Collapses
President Obama is once again catching flak for his leisure activities.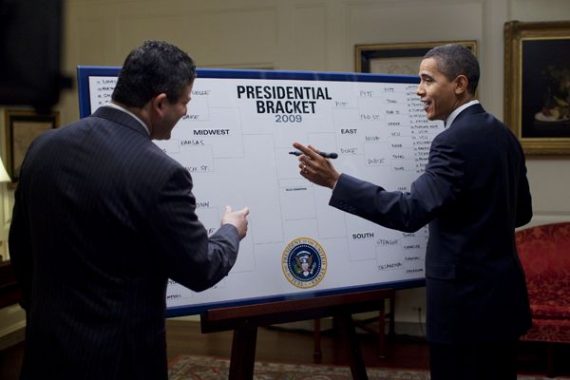 This morning, Ben Domenech tweeted, "Over 72 hours, POTUS will have played 18 holes, spoken at Gridiron, taped his NCAA picks on ESPN. Good thing nothing important's happening."
Jim Geraghty gets in on the act with "While Japan Burns, Obama Fills Out His Bracket."
Japan faces an almost unparalleled crisis, Libya is in civil war, and we're having another budget showdown after running up a $222.5 billion deficit in the 28 days of February. And after last week's bullying summit, Obama is spending this week talking education reform.
In an update, he notes that Obama also attended a DNC fundraiser for the 2012 run.
This is all amusing enough. Pundits and jokesters never tire of juxtaposing world events with presidential leisure and I presume Domenech and Geraghty are just engaging in that time-honored tradition.
John Podheretz takes the leap into absurdity, though, proclaiming that  "Obama's Presidency Hangs by a Thread."
It's hard to overstate how poorly Barack Obama is doing in the face of these crises — and I don't even mean how he's doing substantively, which is a scandal in itself. I mean how he's doing politically. Recall how much hay Michael Moore made of the fact that George W. Bush read My Pet Goat for nine minutes in that Florida classroom on 9/11 after being informed that the first plane had struck.

We're going on four weeks now, or more, that Barack Obama has been reading My Pet Goat.

He is largely notable by his absence, which is itself the result not only of not knowing what to do but also apparently believing it is better for the world if he remains a minor player as a bloodbath approaches in the Middle East and something more ominous seems to be approaching in Japan. When he talks, as he did in Friday's press conference, he only makes matters more confusing; there is little reassurance that there is a hand anywhere near the tiller.

Obama's defiant unwillingness to take the measure of the world's multiple crises and to act as a world leader in response to them in the eyes of the public indicates a fundamental disconnect in the Oval Office. We've heard all kinds of talk about how his new team in the White House is so much better than the old, but at least the old team recognized there was a crisis underway in the United States in 2009. It reacted too gleefully, and with wild overreach. But it acted.
I happen to think Obama is more-or-less doing the right thing in the Middle East. But I know plenty of smart foreign policy experts who disagree, arguing America has a duty to weigh in on the side of anti-authoritarian movements. So, there's at least room for debate there.
I've yet to read any plausible account suggesting that Obama should be doing something substantially more or different with respect to the disasters befalling Japan. It's a rich, sophisticated country with plenty of in-house expertise. And the United States is ready with any additional assets they might need.
And, yes, there's plenty of other stuff going on, including unacceptably high rates of unemployment.
But the notion that the president should never do anything that smacks of frivolity or recreation so long as there's something important going on is absurd. He oversees a massive executive branch, consisting of hundreds of thousands of employees. His job is to make the hard decisions; their job is to apply their expertise in carrying them out.
Does anyone seriously think unemployment would be lower if Obama had skipped his golf outing? That Japan's nuclear reactions would be safe, if only the president didn't keep up with college basketball? That Libya would now be a democracy if Obama hadn't attended that fundraiser?
Yes, there's such a thing as optics. Images of the Leader of the Free World enjoying himself while tens of thousands are missing and presumed dead in the land of one of our great trading partners–and young people in the Middle East are fighting for freedom from one of the world's true bad guy–just don't look right.
Then again, this is a no-win situation. If he'd canceled his annual bracket extravaganza, he'd be accused of a bunker mentality.