Obama First President Outspent in His Re-election Campaign
Mitt Romney will likely be the first challenger able to outspend a sitting president. He'll need it.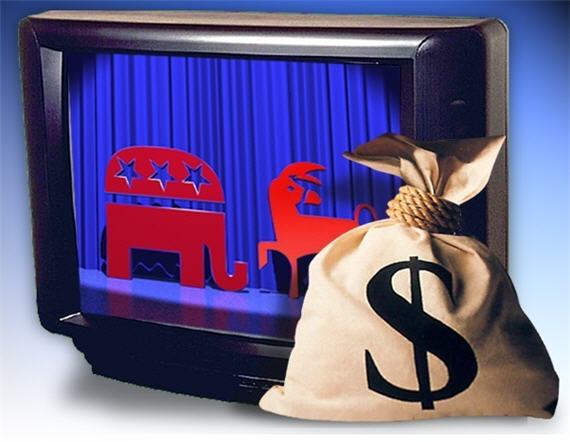 Taegan Goddard highlights President Obama's fundraising appeal that "I will be the first president in modern history to be outspent in his re-election campaign."
Now, obviously, he's saying this in hopes that it won't be true. Or, at least, less true than it otherwise might be. He urges potential donors , "We can be outspent and still win — but we can't be outspent 10 to 1 and still win."
That's probably true, but only because it's likely to be a very close election.  While rich people like Mike Bloomberg and Jon Corzine got themselves elected on the strength of pouring lots of their own money into advertising, well funded candidates from Ross Perot to Phil Gramm to Carly Fiorina and Meg Whitman to Newt Gingrich and Donald Trump have gone down in flames. Still, there's no doubt that having more money is better than not having enough.
Moreover, the fact that no incumbent president has ever been outspent in a re-election campaign strikes me as much more problematic than the notion that one might be, even if it's mostly a function of a few billionaire geezers throwing their fortune into the campaign. Incumbents already have a tremendous advantage in terms of name recognition, free media, and simple inertia. That they should also have a bigger warchest–largely a function of people wanting to curry favor with the sitting president–seems unsporting at best.
I had never heard of Sheldon Adelson and several other fat cat donors who have taken advantage of SuperPACs and the demolition of the silly line between "issue advocacy" and outright campaign donations until this election cycle. Some of them strike me as unsavory and, while I absolutely believe that they should have the right to spend their money on political speech, I'm not unconcerned that the ability to do so gives them an outsized voice in the process.
But it seems to me that the old game was worse. In 2008, Obama far outraised and outspent John McCain. Partly, that was a function of Obama's personal magnetism and a fundraising team that was ahead of its time. Partly, it was a function of McCain being an uninspiring candidate and the Republican Party being in the doldrums after eight years of Bush. But there was another factor: it was clearly Obama was the favorite and people wanted to bet on a winner and reap the rewards that come with that.
Obama remains the favorite to win this cycle. While he no longer has the rock star appeal he did last cycle, people still like him and he remains a very strong candidate. Nor is Mitt Romney exactly inspiring people. And America's default position is to re-elect their presidents.
Against all that, an even financial playing field means that Obama would coast to re-election absent another shock to the economy that reduces public confidence that things are getting better. Having enough money to flood the airwaves with commercials to get his message out is Romney's best hope of overcoming inertia.