Obama: I Was Too Polite In The Last Debate
President Obama hinted that he might be more aggressive in his next debate with Mitt Romney. That could be a mistake.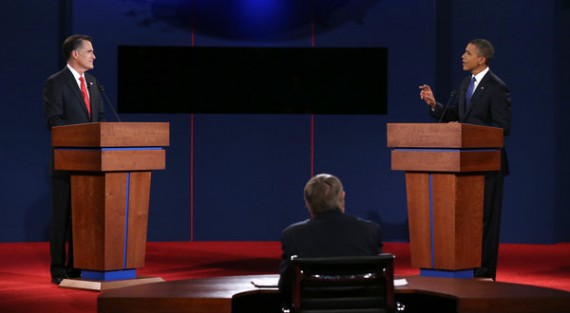 President Obama thinks he's figured out what went wrong last Wednesday:
WASHINGTON — In addition to refiguring his approach to and preparation for the next debate, part of President Barack Obama's task is to reassure a base in despair. During a radio interview with Tom Joyner Wednesday morning, Obama tried to do just that, telling the hugely popular host that he understands he has to go for the jugular when he meets Mitt Romney again next Tuesday. Below is a transcript sent out by the Tom Joyner Morning Show:

Well, two things. I mean, you know, the debate, I think it's fair to say I was just too polite, because, you know, it's hard to sometimes just keep on saying and what you're saying isn't true. It gets repetitive. But, you know, the good news is, is that's just the first one. Governor Romney put forward a whole bunch of stuff that either involved him running away from positions that he had taken, or doubling down on things like Medicare vouchers that are going to hurt him long term.

…And, you know, I think it's fair to say that we will see a little more activity at the next one.
Even if we accept that what the President is saying here is true, or at least that he believes it, it presents him with a bit of a conundrum for next week's debate. As I've noted before, that debate is a "Town Hall" style debate where members of the public will be present in the studio with the candidates and asking questions. It's a much more intimate format than the debate we saw last week,  and it's one where being aggressive can be difficult. As many have observed, it's much easier for a politician to be be aggressive against an opponent when they are standing behind podiums taking questions for a single moderator or a group of journalists. When they're standing, because you usually don't sit during these town hall debates, in a small area surrounded by voters, it becomes much harder to become aggressive against your opponent and it often comes off completely wrong. Case in point would be this encounter between Al Gore and George W. Bush in 2000 (the title of the video is not my choice):
There were many people after that debate who thought that Gore hurt himself by trying to play a dominance game with Bush by basically walking up next to him and getting in what some would call his "personal space." Indeed, Bush's response to Gore's actions, a simple nod in his direction as he continues to answer the question, elicited laughter from the audience, which strikes me as an indication that the audience was at least a little uncomfortable with what Gore was doing here.
There are many things that Obama can do to improve his performance in the next debate. Indeed, as I've suggested before, the "Town Hall" format is likely to work in his favor because it's something he's been doing since he began running for President in 2008. Romney does these kinds of forums as well, but it's always seemed to me like he's slightly uncomfortable with the format and would prefer to just give a speech. So, Obama goes into next week's debate with what I think is an advantage. He risks blowing that advantage, though, if he ends up being perceived as overly aggressive toward a candidate whose likability ratings have improved markedly over the past week or so. I can understand why Obama's supporters might want him to strike out next week, but it would be unwise to do so too aggressively, which is why I think Obama's comments today are pretty much just meant to reassure supporters, not to state an actual strategy.