Obama On Iraq: "We Have Met Our Responsibility. Now, It's Time To Turn The Page"
President Obama didn't use the words "Mission Accomplished" last night, but the message was the same.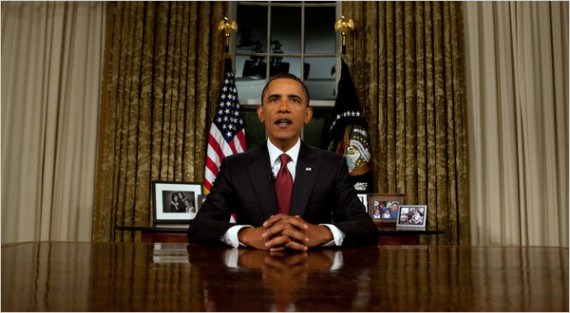 President Obama gave a rather lackluster address from the Oval Office last night to mark the official end of American combat operations in Iraq:
WASHINGTON — President Obama declared an end on Tuesday to the seven-year American combat mission in Iraq, saying that the United States has met its responsibility to that country and that it is now time to turn to pressing problems at home.

In a prime-time address from the Oval Office, Mr. Obama balanced praise for the troops who fought and died in Iraq with his conviction that getting into the conflict had been a mistake in the first place. But he also used the moment to emphasize that he sees his primary job as addressing the weak economy and other domestic issues — and to make clear that he intends to begin disengaging from the war in Afghanistan next summer.

"We have sent our young men and women to make enormous sacrifices in Iraq, and spent vast resources abroad at a time of tight budgets at home," Mr. Obama said. "Through this remarkable chapter in the history of the United States and Iraq, we have met our responsibility. Now, it's time to turn the page."

Seeking to temper partisan feelings over the war on a day when Republicans pointed out that Mr. Obama had opposed the troop surge generally credited with helping to bring Iraq a measure of stability, the president offered some praise for his predecessor, George W. Bush. Mr. Obama acknowledged their disagreement over Iraq but said that no one could doubt Mr. Bush's "support for our troops, or his love of country and commitment to our security."

Mr. Obama spoke for about 18 minutes, saying that violence would continue in Iraq and that the United States would continue to play a key role in nurturing a stable democracy there. He celebrated America's fighting forces as "the steel in our ship of state," and pledged not to waver in the fight against Al Qaeda.

But he suggested that he sees his role in addressing domestic issues as dominant, saying that it would be difficult to get the economy rolling again but that doing so was "our central mission as a people, and my central responsibility as president."
I didn't watch the speech last night, but I did manage to catch it on a replay this morning and I've got to agree with Ed Morrissey that it was, at best, uninspiring and dull:
Last night, Obama delivered yet another mediocre performance in what should have been a perfect setting: a war speech as Commander in Chief.  He had the ability to be inspirational and talk of a great victory over tyranny and oppression; instead, he praised the performance of the troops without actually ever explicitly thanking them for it and skipped entirely any notion of victory.  Instead of being gracious and effusive, Obama seemed to want to tamp down any enthusiasm over the effort made over the last several years in Iraq, a curious position for a Commander in Chief to take.

His one reference to his predecessor, who bucked strong opposition from Congress (including Obama) to persevere in the winning surge strategy, was to note that George Bush loved his country and the troops, about as dismissive as one could be without simply ignoring Bush entirely in the speech.  Why bother mentioning Bush at all if that's what Obama had to say about him?  It sounded very much like an afterthought, a way of checking a box on his way to get to the end of the speech.

Obama then watered down his C-in-C status by oddly interjecting four paragraphs about the economy.  Unlike a State of the Union address that moves cleanly from topic to topic in an omnibus manner, Obama shoehorned this brief speech on economics before returning to veterans affairs and reassuming the C-in-C mantle.  If Obama wanted to give a comprehensive speech on White House policies, that would have been his prerogative, but the speech was billed as a war speech, and Obama went right back to war issues.  Even that would have been a minor point had Obama said anything original to justify it — but instead, we got the usual platitudes and no specifics at all.  Once again, the sense was that of checking boxes on a list.  Bush?  Check.  Economy?  Check.
I can understand why the White House felt the need to include a reference to the economy in last night's speech. For one thing, the idea that the war itself was diversion from more pressing domestic matters has been a standard Democratic line for quite some time. For another, poll after poll shows that the public cares far more about the economy, and their own personal economic situation, right now than they do about foreign affairs. Given that we're about to go into the final stages of the mid-term campaign, a message that the nation can now focus on the economy is a natural one.
I've got to wonder, though, why the White House felt the need to have the President give this address at all. The situation in Iraq has been on the back burner of the political discussion for more than a year now, and public opinion on the war itself hasn't shifted all that much during the time that President Obama has been in office. It would have been just as easy for the President to give a short Rose Garden statement, or no statement at all, than to add the prestige of only his second Oval Office address to an issue that hasn't been on the front burner of American politics for a long time. Nonetheless, Obama spoke last night, not doubt in part to claim for himself some of the sense of "victory" that the Administration is asserting we've achieved.
But, have we ?
2,722 days after it started, the Iraq War is officially at an end. We still don't know what it's ultimate impact on the politics or Iraq, the Middle East, or even the United States will be, or whether Iraq will indeed be able to make the transition from authoritarian despotism to representative democracy without further bloodshed. And, as David Harsanayi  notes, there remains an open question as to whether or not the whole enterprise was worth the investment of American blood and treasure that we've made over the past seven years:
President Barack Obama claims that the end of the combat mission is no time for victory laps. But the president, who once accused the Bush administration of intentionally sending soldiers to die in Iraq to create a political distraction, now asserts that "America is more secure."

Are we? It is far-fetched to believe that 50,000 U.S. troops remaining in Iraq in a "training and backup role" will be withdrawn by the end of 2011 as scheduled.

Recently, coordinated bombings in 13 cities across Iraq killed more than 70 people and wounded hundreds of others. If the violence continues to escalate, are these 50,000 American troops going to take a "backup role" in Iraq's ethnic and religious wars?

Doubtful. And less secure.

Our long-term presence in Iraq, in fact, is likely to impede any ability to react militarily to genuine threats. Americans don't have the appetite for it. So if the Islamic radical leadership of Iran — which many experts believe filled the vacuum left by toppling of Saddam Hussein — is, as many believe, an imminent nuclear threat, we are powerless to stop them.

And if every military action in defense of U.S. interests now comes with an obligatory 10-, 20- or 40-year Marshall Plan, you've made it even more politically unpalatable.

There are other questions that make the claim "we're more secure" highly suspect. If we do leave, where is the evidence that Iraq (or Afghanistan, for that matter) will blossom into a secular democracy and ally in the war against Islamic radicalism?

Doubtlessly it is Islamophobic to bring this up, but Americans are dying, not only in the war on terror, but also to codify Sharia law. Brooks claims that, in Iraq, "The role of women remains surprisingly circumscribed." (Surprisingly?) Actually, that's just a polite way of saying — and I quote directly from the Iraqi Constitution — "Islam is the official religion of the State, and it is a fundamental source of legislation."

That's one reason many of us regret our support of the Iraq war. Though I am not reflexively isolationist, I am reflexively suspicious of social engineering. And nation-building is social engineering on the grandest of scales.
The irony, of course, is that George W. Bush campaigned in 2000 against the Clinton/Gore Administration's legacy of nation-building in places like the Balkans and ended up embarking upon two of the most ambitious exercises in nation-building in history. The prudence of that decision is looking increasingly doubtful.
Update: Here's the speech if you missed it:
Visit msnbc.com for breaking news, world news, and news about the economy