Obama-Romney Foreign Policy Debate Reaction
President Obama was the pretty clear winner on substance. But Romney may well have done enough.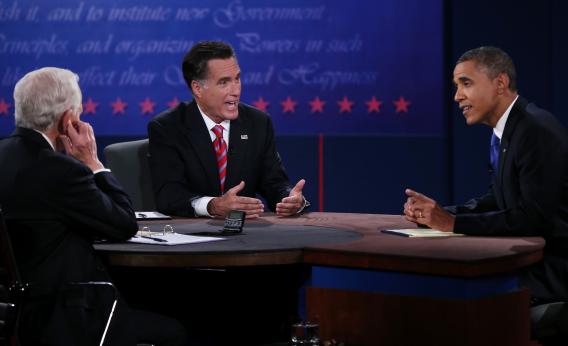 I had overnight guests, so didn't get a chance to do my standard instant reaction post on the debate, which I live-tweeted for RealClearWorld.
In terms of substance, President Obama was the pretty clear winner. While Mitt Romney was well prepared and avoided any significant gaffes, Obama had the confidence and command of the topic of a man who had been sitting in the big chair for four years. Furthermore, on most topics, Romney failed to differentiate himself from the president, essentially saying he would have done what Obama did–just with more toughness, backbone, and speed.
In terms of style, it was less clear. Obama had several zingers ready, some of which (like the "we used to have more horses and bayonets" line) were effective and some of which (like "the 80's called an wants its foreign policy back") were pretty lame. Additionally, Romney sounded confident and relaxed while Obama may have gone too far in his condescension and interruptions. (I should note that I listened to the debate and followed it on Twitter, so can't assess the visuals aside from a handful of clips I saw this morning, which seemed like a draw.)
In terms of impact on the race, I suspect it will be modest to non-existent. I can't imagine that anyone who was committed to either candidate would have changed their minds based on last night. Those leaning toward Romney but undecided before last night may well have come away thinking he could indeed be trusted with the nuclear codes. Likewise, those leaning toward Obama were likely reassured that their guy was up to the job. Those of us who would prefer an alternative foreign policy that committed us to fewer wars were, as usual, disappointed.
The real question, then, is whether any truly undecided voter (that is, someone who will actually vote but hasn't made up their mind) will decide that they're better off staying the course since Romney offers no real change or whether they'll figure that, since Romney seems reasonable enough they might as well try someone new.