Obama Says He'll Try To Close Guantanamo Prison Again
President Obama said today that he wants to move forward with closing the prison at Guantanamo Bay but there's little he can do on his own.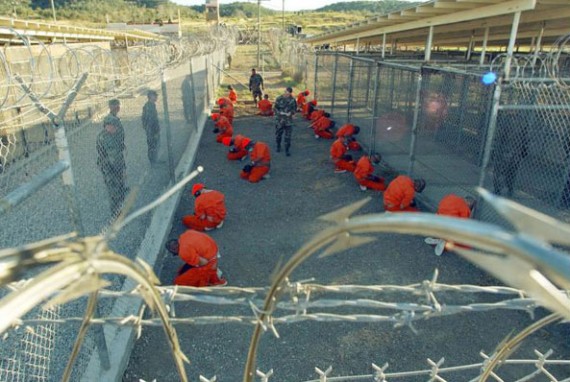 At his press conference today, President Obama said that he will make an effort to close the prison at Guantanamo Bay again despite the fact that his previous effort ended in failure:
(Reuters) – President Barack Obama vowed on Tuesday to make a new push to close the Guantanamo detention center, where about 100 inmates are on hunger strike, saying it was damaging to U.S. interests to keep holding prisoners there in legal limbo.

Human rights groups have long been critical of the 12-year-old camp for foreign terrorism suspects, and their concern has intensified in recent weeks. Some of those on hunger strike are being force-fed at the camp at the U.S. Naval Base in Cuba.

Obama, who repeatedly vowed to close the camp, which now holds 166 detainees, when he was campaigning for a first term and when he first took office in 2009, said he would re-engage with lawmakers to find a way to shut the facility and make good on an unkept promise.

However, he offered no new path to overcoming congressional, political and legal obstacles that blocked his earlier efforts to close Guantanamo, where many of the prisoners have been held for more than a decade without being tried or charged.

"It's not sustainable – I mean, the notion that we're going to continue to keep over 100 individuals in a no-man's land in perpetuity," Obama told a White House news conference.

Long a subject of international condemnation, Guantanamo has returned to the spotlight with the hunger strike. Some inmates have given harrowing accounts of force-feeding.

Obama defended the U.S. military's decision to force-feed hunger strikers, saying "I don't want these individuals to die."

He ticked off a list of reasons why the camp should be shut down.

"Guantanamo is not necessary to keep America safe," Obama said. "It is expensive. It is inefficient. It hurts us, in terms of our international standing. It lessens cooperation with our allies on counter-terrorism efforts. It is a recruitment tool for extremists. It needs to be closed."
These are the same things that the President was saying about Guantanamo Bay before he was elected, of course, and when he signed that Executive Order that was supposed to result in the prison being shut down. What actually happened, of course, is that the President's plan ran headlong into opposition from Members of Congress, both Democratic and Republican, who objected both to the idea of repatriating prisoners to the countries of origin and the idea of finding some location in the Continental United States where the remaining prisoners could be held. When push came to shove, Congress simply exercised its power of the purse and refused to fun any effort to close the prison, and Obama gave up on the initiative.
All of those same factors still exist today. Members of the House and Senate on both sides of the aisle are still likely to object to any effort to move Gitmo prisoners to the United States, and they will still control the purse strings. Furthermore, there doesn't seem to me to be any massive groundswell of support among the American public for the idea of closing the prison down, so it seems unlikely that the President can rely on popular pressure on Congress to get the job done. In many ways, he'll once again be all alone on this issue just has he was at the beginning of his first term. Given those circumstances, wow, exactly, is President Obama supposed to get anything accomplished vis a vis Guantanamo. I don't see any realistic possibility he'll be able to accomplish anything on this issue.
As for the merits of the issue, I find myself conflicted. It's troubling that there are so many people being held in what is essentially a state of legal limbo for an indefinite period of time. It's even more troubling that of the roughly 160 people still held there, some 86 have been conditionally cleared for repatriation but remain in custody because there cases haven't been heard yet. Of the rest, the military tribunals that are meant to handle the cases of men like Khalid Sheikh Mohammed have been moving at a glacial pace. Had these men been put on trial in a civilian court, a move that the Obama Administration did controversially try to make several years ago, I think its safe to say that their trials would be over by now and their appeals process would be moving rapidly forward. Instead, their proceedings are being conducted in secret and don't seem to be going anywhere. At the same time, though, I'm not sure it's wise to have these men held anywhere on the US mainland.
Ideally, what we need to be doing is processing the legal cases of these prisoners. The ones who have been cleared for repatriation should be sent home as quickly as possible, and the ones who are designated for military tribunals should have their cases moved through the system at a far more judicious pace than we've seen so far. To a large extent, the fact that there hasn't been movement in either of these areas is the fault of the Obama Administration since the processing of the cases is fully within the control of the military and the Administration. Regardless of whose fault it is, though, it's well beyond time that something be done about this stain upon the Constitution. Realistically, though, there's very little that President Obama is going to be able to do here other than moving the legal process forward, which is what he should have been doing for the past four years.