Obama Should Own Bergdahl Decision
My latest for War on the Rocks, "HAGEL: CLIMBING OUT FROM UNDER THE BUS," has posted.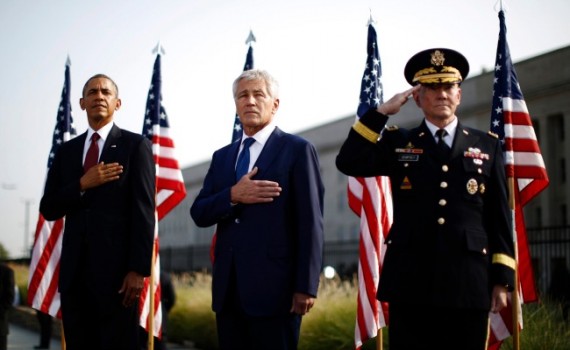 My latest for War on the Rocks, "HAGEL: CLIMBING OUT FROM UNDER THE BUS," has posted.
In testimony before the House Armed Services Committee, White House officials pointed the finger at Secretary of Defense Chuck Hagel as having ultimately approved the swap of Bergdahl for five Taliban leaders held captive at Guantanamo. Outgoing committee chairman Buck McKeon (R, CA) told the press that the administration seems to be setting up Hagel as the "fall guy" for the feel-good moment that quickly turned controversial.

[…]

Now, I happen to be in the minority here. As an American and as a veteran, I expect our leadership to do what's necessary to get our prisoners of war home safely. Distasteful as releasing Taliban militants might be, it's hardly unprecedented to engage in prisoner swaps in these cases, especially as wars wind to their conclusion (although President Obama should have followed the law and notified Congress ahead of the swap; but that's a separate issue). Regardless, it strains credulity that anyone other than the Commander-in-Chief made the call on this one.

[…]

But if Hagel is going to be the fall guy, he's not cooperating. Appearing himself before McKeon's committee Wednesday, he declared, "We made the right decision, and we did it for the right reasons" – note the "we" – and continued, "I want to be clear on one fundamental point – I would never sign off on any decision that I did not feel was in the best interests of this country." He added, "Nor would the president of the United States, who made the final decision with the full support of his national security team."

That version of events – which I believe happens to be the truth – is the right tack for the administration to take. The president made a difficult judgment call, but one that any of his predecessors would have likely decided the same way. He should simply own it.
Much more at the link but that's the gist.