Obama To Slow Withdrawal Of American Forces From Afghanistan
America's longest war continues.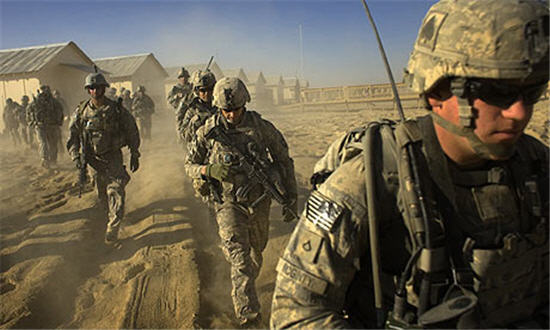 American forces currently in Afghanistan will be staying there at least a bit longer after an announcement today by President Obama:
WASHINGTON — The United States will halt the withdrawal of 9,800 troops from Afghanistan, half of whom were scheduled to leave in the months ahead, and instead keep them in the country through the end of 2015.

President Obama's decision not to pull American military forces out of Afghanistan as quickly as planned came after a direct entreaty from the Afghan president, Ashraf Ghani, who has been visiting the United States this week.

"I've decided that we will maintain our current posture of 9,800 troops through the end of this year," Mr. Obama said on Tuesday afternoon in a joint news conference with Mr. Ghani in the East Room of the White House.

"This flexibility reflects our reinvigorated partnership with Afghanistan," Mr. Obama said, including making the country more secure and preventing it from being used to launch terrorist attacks.

While the decision will mean that some American soldiers who had expected to return home will rotate back into Afghanistan "for a few extra months," Mr. Obama said, the additional time will be "well worth it."

The extension was needed in part "so we don't have to go back," Mr. Obama said, "so we don't have to respond in an emergency because terrorist activities are being launched out of Afghanistan."

Another factor in halting the drawdown, he said, was the "lengthy period" it took for Afghans to form their new government.

Mr. Ghani, who expressed gratitude to American troops and taxpayers for their support in his country so far, said the extension would allow his military to better prepare for the total withdrawal of United States forces, still scheduled for the end of 2016.

"Much binds us together, and the flexibility that has been provided for 2015 will be used to accelerate reforms to ensure that the Afghan security forces are much better led, equipped, trained, and are focused on their fundamental mission," Mr. Ghani said, mostly speaking in English during the news conference.
President Ghani has spent the last several days in Washington meeting with Secretary of State Kerry, Secretary of Defense Carter and other defense officials, and Members of Congress and he's made no secret of the fact that he came to the United States with a two-fold purpose. The first was to discuss the bill pending in Congress to fund training of the Afghan military and police through 2017 and the second was his belief that the withdrawal of U.S. troops should be slowed down to allow the government in Kabul the time it needs to deal with the future where it will be handling security on its one. Even in this current environment, American forces haven't been nearly as active as they have been in the past, especially since Afghan forces have taken over more and more of the primary security duties in the areas outside Kabul. This is one of the main reasons why American casualty figures in Afghanistan have dropped significantly over the past months. Additionally, for the most part, the situation on the ground appears from a distance to be a little bit more stable than it has been in the past. However, there's obvious concern in Kabul about how long that situation will last as the American withdrawal continues and President Ghani has made several none-too-veiled references to what happened in Iraq after American forces withdrew in 2011 and the subsequent collapse of authority from Baghdad that led to the rise of ISIS. Some might suggest that this is fear mongering of course, but Ghani is no doubt fearful for his own safety once the United States leaves completely so that's understandable.
Given the circumstances on the ground, including the fact that transition to the new leadership was delayed for months thanks to disputes over the election results, it's not surprising that the Administration would grant Ghani's request, and it's unlikely that this will face much opposition in Congress. Indeed, it's fair to say that the rise of ISIS and the fact that its influence seems to be spreading far beyond Iraq and Syria into Northern Africa, Nigeria, Somalia, and Yemen is probably a prime factor that led the Administration to agree to this request. Perhaps it's even a good idea from a military strategy point of view. However, I can't help but think that if instability in Afghanistan is the reason why we're extending our stay in the country then we've basically set ourselves up for a much longer term commitment than President Obama is willing to admit to the American people. Afghanistan hasn't been stable since the late 1970s. Expecting that it's going to happen any time soon because of the presence of less than 10,000 American troops seems to be the height of hubris.