Ashraf Ghani Declared 'Winner' Of Afghan Election Plagued By Fraud Allegations
There's a declared winner in Afghanistan's Presidential Election, but a cloud hangs over the results.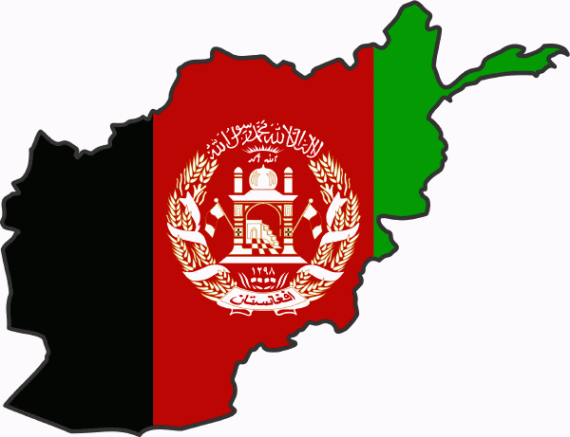 Afghanistan's Independent Election Commission has declared Ashraf Ghani the winner of last month's runoff election to succeed Hamid Karzai as President of Afghanistan, but that's hardly going to be the end of the matter:
Afghanistan declared former World Bank official Ashraf Ghani the winner of last month's presidential election runoff on Monday, on preliminary results that threaten to split the country along ethnic lines.

The Independent Election Commission said Ghani won the June 14 second round with 56.44 percent of the vote, according to preliminary results. The tally might still change, however, when the final official numbers come out on July 22 – though many expect Ghani to win even after the fraudulent votes are thrown out.

The preliminary results mark a massive political comeback for Ghani, who ran for president in 2009 and came away with less than 5 percent of the vote. Ghani, who had lived abroad for decades, was accused by some Afghans of being out of touch with everyday citizens and the challenges they face.

But Ghani's success after being appointed by President Hamid Karzai in 2001 to be his advisor and then head the Ministry of Finance earned him international recognition. Ghani was even invited to give a TED talk in 2006, after he had reformed Afghanistan's currency and massively expanded mobile phone networks throughout the country.

There was no immediate reaction from Ghani's rival Abdullah Abdullah, a former anti-Taliban resistance fighter who has claimed that there was widespread fraud in the messy vote, and insisted results should be delayed until all fraudulent votes were thrown out.

"The announcement of preliminary results does not mean that the leading candidate is the winner and there is [the possibility] the outcome might change after we inspect complaints," IEC chief Ahmad Yousuf Nuristani told reporters.

Though the specter of ethnic tensions has been raised, protests on the ground have so far not gained much traction or crowds. Regardless of who wins the election, a large part of the Afhgan population will be angry with the results, and the chance of violence will depend largely on how the leaders react.

Abdullah, son of a Pashtun father and a Tajik mother, draws much of his support from the Tajik minority in northern Afghanistan. Ghani has strong support from Pashtun tribes in the country's south and east. Without a unifying leader accepted by all sides, some fear Afghanistan could split into two or more fiefdoms along tribal fault lines, or even return to the bloody civil war of the 1990s.

Abdullah has accused Karzai, also a Pashtun, of playing a role in the alleged rigging in Ghani's favor, and has said he would accept the vote only if he sees firm evidence that fraudulent votes had been thrown out and the final result was clean.
Further details from The New York Times:
KABUL, Afghanistan — Despite accusations of widespread fraud and threats of protests, Afghanistan's election commission announced preliminary presidential runoff results on Monday, then followed them with a huge caveat: that there was no winner yet, with the prospect that millions of votes would be subjected to a special audit for fraud.

In an announcement delayed for hours by negotiations, the country's Independent Election Commission reported that Ashraf Ghani was more than a million votes ahead of Abdullah Abdullah, with a total of more than 8.1 million votes counted. That tally was far higher than previously estimated, and immediately cast even more doubt on an election already marred by weeks of conflict and accusations.

The United States State Department, in its most strongly worded statement on the election yet, emphasized that the preliminary results were "not final or authoritative" and demanded that Afghan election officials "implement a thorough audit whether or not the two campaigns agree."

"A full and thorough review of all reasonable allegations of irregularities is essential to ensure that the Afghan people have confidence in the integrity of the electoral process and that the new Afghan president is broadly accepted," the statement said.

Muhammad Yousuf Nuristani, the chairman of the election commission, said that before the announcement on Monday, the commission had already thrown out more than 11,000 votes from 1,930 polling stations. About 60 percent of the votes disqualified had been cast in favor of Mr. Ghani, he said, with the reminder cast for Dr. Abdullah.

In addition, the two candidates had agreed for votes from nearly another third of the country's 22,000 polling stations to be set aside for a special audit to spot fraudulent votes, he said. It will now be up to the separate Election Complaints Commission, which is charged with adjudicating electoral disputes, to conduct the inquiry.

The complaints commission said later Monday that it was ready to do the audit on top of complaints it was already adjudicating, if the campaigns requested it. But no such request had been made yet, said Nader Mohseni, a spokesman for the complaints commission.
Virtually from the moment that the runoff election ended, there have been allegations, made primarily by Abdullah Abdullah, of voting irregularities in the election and those allegations have already lead to protests in some parts of the country. The lack of an immediate response, primarily from Mr. Abdullah, is likely due to the fact that the commission appears to have made its announcement toward the end of the day in Afghanistan and, this being Ramadan means that people are generally otherwise engaged later in the day. Whatever the reason for the lack of an immediate response, though, there will be a response. The question will be how things play out going forward. If Abdullah launches a serious challenge to the results that raises legitimate questions about the credibility of the results, then it is likely to disrupt what both the Afghans and the U.S.. hoped would be a quick and peaceful transition of power from Hamid Karzai to his successor. This should be of particular interest to Americans if only because the successor will be the party that finalizes any deal that would keep a residual American military force in the country.
Leaving aside the allegations of irregularities, I can't say that I have any particular idea about whether or not Ghani or Abdullah would be "better" for the Afghan people or from the perspective of the United States. This is largely because I can't say that I followed the election closely enough and because I don't have enough knowledge about the tribal relationships in Afghanistan to even begin to answer that question. Some analysts who do have experience in that area have suggested that Abdullah would be preferable because he has family ties to two of the nation's largest ethnic groups, but since I don't know much about Ghani beyond what I've read I cannot say that he wouldn't be able to navigate those waters himself. What is clear, though, is that neither one of these men is going to have an easy task ahead of them if they get into office with allegations of voting irregularities and fraud hanging over their head. That's what happened with Karzai when he was re-elected several years ago, and he never quite lived it down. It seems unlikely that another President with questionable legitimacy would be all that helpful for the future of Afghanistan.