Obama Unloads Immigration Detention Centers Ahead of Sequester
Hundreds of illegal immigrants have been released from detention ahead of possible budget cuts.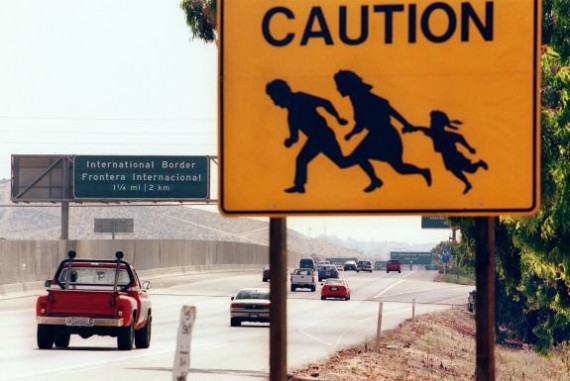 Hundreds of illegal immigrants have been released from detention ahead of possible budget cuts.
NYT ("Mass Release of Immigrants Is Tied to Impending Cuts"):
Federal immigration officials have released hundreds of detainees from detention centers around the country in recent days in a highly unusual effort to save money as automatic budget cuts loom in Washington, officials said Tuesday.

The government has not dropped the deportation cases against the immigrants, however. The detainees have been freed on supervised release while their cases continue in court, officials said.

But the decision angered many Republicans, including Representative Robert W. Goodlatte of Virginia, who said the releases were a political gambit by the Obama administration that undermined the continuing negotiations over comprehensive immigration reform and jeopardized public safety.

"It's abhorrent that President Obama is releasing criminals into our communities to promote his political agenda on sequestration," said Mr. Goodlatte, who, as chairman of the Judiciary Committee, is running the House hearings on immigration reform. "By releasing criminal immigrants onto the streets, the administration is needlessly endangering American lives."

A spokeswoman for Immigration and Customs Enforcement, or ICE, an arm of the Department of Homeland Security, said the detainees selected for release were "noncriminals and other low-risk offenders who do not have serious criminal histories."

Officials said the releases, which began last week and continued on Tuesday, were a response to the possibility of automatic governmentwide budget cuts, known as sequestration, which are scheduled to take effect on Friday.
On its face, this is a brazen, outrageous move, indeed. Seriously, letting people who are under custody awaiting deportation hearings out of prison just in case there are budget cuts? Really?
One has to get to paragraph 11 to find solace:
Under supervised release, defendants in immigration cases have to adhere to a strict reporting schedule that might include attending appointments at a regional immigration office as well as wearing electronic monitoring bracelets, officials said.

Advocacy groups, citing the cost of detaining immigrants, have for years argued that the federal government should make greater use of less expensive alternatives to detention for low-risk defendants being held on administrative charges.

One such group, the National Immigration Forum, estimated last year that it cost from $122 to $164 a day to hold a detainee in the federal immigration system. In contrast, the organization said, alternative forms of detention could cost from 30 cents to $14 a day per immigrant.

Among those released in the past week was Anthony Orlando Williams, 52, a Jamaican immigrant who spent nearly three years in a detention center in Georgia. "I'm good, man," he said. "I'm free."

Mr. Williams, in a telephone interview from Stone Mountain, Ga., said he became an illegal immigrant when he overstayed a visa in 1991. He was detained in 2010 by a sheriff's deputy in Gwinnett County, Ga., when it was discovered that he had violated probation for a conviction in 2005 of simple assault, simple battery and child abuse, charges that sprung from a domestic dispute with his wife at the time. He was transferred to ICE custody and has been fighting a deportation order with the help of Families for Freedom, an immigrant support group in New York.

Mr. Williams was released last Friday. "That was a long, long, long run," he said of his detention, adding that he has an appointment this Friday at an immigration office in Atlanta at which he expects to receive the terms of his supervised release — "a list of things I have to abide by."

Human Rights First, another advocacy group in New York, which has been pressing for reform of the immigration detention system, said that 96 percent of immigrants enrolled in ICE's alternatives-to-detention program attended their final hearing in 2011. That figure was up from the year before, in which 93 percent attended their final court hearings, said the group, citing statistics provided by B.I., a private contractor that provides monitoring and supervision services to ICE.
One the one hand, Williams is a bonafide criminal, having been committed of an actual criminal act, not just a violation of our immigration policies. On the other, it's unconscionable that we've been holding him in confinement for three years while he waits for a hearing.
Moreover, this isn't a "supervised" release; it's a supervised release. The use of electronic monitoring and other safeguards actually makes good sense as an alternative to incarceration for all sorts of minor criminals, much less those waiting to adjudicate immigration disputes. It's massively cheaper and more productive. Not to mention less cruel.