Obama's 2012 Re-Election Strategy: The Politics Of Personal Destruction?
The Obama re-election campaign is preparing an extraordinarily negative campaign against Mitt Romney.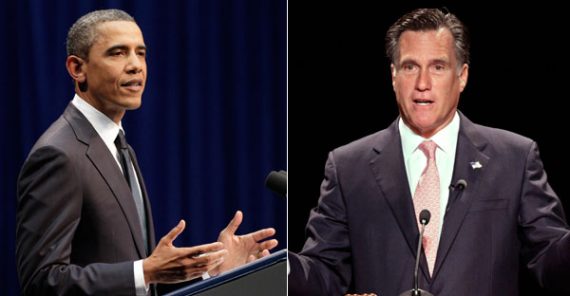 Perhaps in recognition of the fact that the economy is unlikely to improve very much between now and November 2012, Politico reports that the Obama campaign is preparing an extraordinarily negative campaign against the person they think is the likely Republican nominee:
Barack Obama's aides and advisers are preparing to center the president's re-election campaign on a ferocious personal assault on Mitt Romney's character and business background, a strategy grounded in the early stage expectation that the former Massachusetts governor is the likely GOP nominee.

The dramatic and unabashedly negative turn is the product of political reality. Obama remains personally popular, but pluralities in recent polling disapprove of his handling of his job and Americans fear the country is on the wrong track. His aides are increasingly resigned to running for re-election in a glum nation. And so the candidate who ran on "hope" in 2008 has little choice four years later but to run a slashing, personal campaign aimed at disqualifying his likeliest opponent.

In a move that will make some Democrats shudder, Obama's high command has even studied President Bush's 2004 takedown of Sen. John F. Kerry, a senior campaign adviser told POLITICO, for clues on how a president with middling approval ratings can defeat a challenger.

"Unless things change and Obama can run on accomplishments, he will have to kill Romney," said a prominent Democratic strategist aligned with the White House.

The onslaught would have two aspects. The first is personal: Obama's re-elect will portray the public Romney as inauthentic, unprincipled and, in a word used repeatedly by Obama's advisers in about a dozen interviews, "weird."

"First they've got to like you, and there's not a lot to like about Mitt Romney," said Chicago Democratic consultant Pete Giangreco, who worked on Obama's 2008 campaign. "There's no way to hide this guy and hide his innate phoniness."

A senior Obama adviser was even more cutting, suggesting that the Republican's personal awkwardness will turn off voters.

"There's a weirdness factor with Romney and it remains to be seen how he wears with the public," said the adviser, noting that the contrasts they'd drive between the president and the former Massachusetts governor would be "based on character to a great extent."
The character attacks on Romney will focus on what critics view as a make-over, both personal (skinny jeans) and political (abortion).
(…)

Democrats also plan to amplify what Obama strategists described as the "weirdness" quotient, the sum of awkward public encounters and famous off-kilter anecdotes, first among them the tale of Romney's once having strapped his dog to the roof of his car.

Indeed, Obama officials have made "weirdness" an epithet for Romney the way they tagged John McCain "erratic" in the fall of 2008, after the Arizona senator suddenly left the campaign trail and nearly backed out of the first debate as part of an attempt to get a deal on the bailout.

"Presidential campaigns are like MRIs of the soul," said Axelrod. "When he makes jokes about being unemployed, or a waitress pinching him on the butt, it does snap your head back and you say, 'what's he talking about?'"

"It's not just a matter of dodging the debate, not just a matter of flip flopping and putting his finger to the wind – it is that he's not comfortable in his own skin and that gives people a sense of unease," added a Democratic consultant expected to be involved in the re-elect.
Jonathan Chait comments:
I'm no political strategist, and I have no idea if this will work. It did work for George W. Bush in 2004. But I can authoritatively say it's total crap. Skinny jeans, dog on the roof, uncomfortable in his skin, butt-pinching jokes… do these things tell you anything meaningful about how he would govern?
Yea, it did work for George W. Bush in 2004, and the dirty little secret of American politics is that negative campaigning works, and that's the reasons campaigns utilize it. The big flaw I see in this strategy, though, is that, unlike Bush in 2004, or Bush Sr in 1988, Obama is likely to be campaigning for re-election in an era of high unemployment, a weak economy, and an uncertain international situation. The idea that his campaign is going to be able to distract voter attention from the problems they see around them by pointing at Romney and saying "Hey, look at the silly jeans that guys is wearing!" is just silly.
Barack Obama is running for re-election and he's going to have to defend his record and give voters a reason to give him another four years in office. Asking the voters to ignore the fact that your Presidency has, to a large degree, been a disappointment if not a complete failure, is asking the impossible and doesn't strike me as much of a strategy for victory.
Of course, there's also the possibility that Romney won't be the nominee at all. But that's a subject for another post.