Obama's Composite Girlfriend and Other Things I Don't Care About
A series of shocking revelations about Barack Obama's past have not changed my view of the man who's been in the White House three-plus years.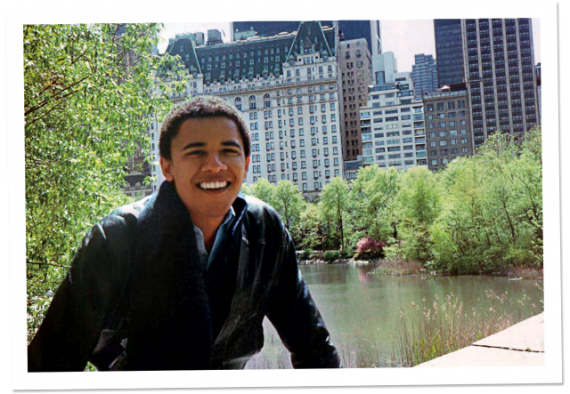 I spent much of yesterday traveling to and attending meetings, so only caught the buzz about "Obama's composite girlfriend" peripherally. Having more time to delve into the story this morning, I'm underwhelmed.
The revelation came in a Vanity Fair piece, "Becoming Obama," excerpting a new biography by David Maraniss. Politico's Dylan Byers ("Obama: 'New York girlfriend' was composite") seems to have made the story viral, finding the information in the meandering essay.
One of the more mysterious characters from President Obama's 1995 autobiography Dreams From My Father is the so-called 'New York girlfriend.' Obama never referred to her by name, or even by psuedonym, but he describes her appearance, her voice, and her mannerisms in specific detail.

But Obama has now told biographer David Maraniss that the 'New York girlfriend' was actually a composite character, based off of multiple girlfriends he had both in New York City and in Chicago.

"During an interview in the Oval Office, Obama acknowledged that, while Genevieve was his New York girlfriend, the description in his memoir was a "compression" of girlfriends, including one who followed Genevieve [Cook] when he lived in Chicago," Maraniss writes in his new biography, an excerpt of which was published online today by Vanity Fair.

"In Dreams from My Father, Obama chose to emphasize a racial chasm that unavoidably separated him from the woman he described as his New York girlfriend," Maraniss writes, offering a passage from the book in which they go to see a play by a black playwright:

One night I took her to see a new play by a black playwright. It was a very angry play, but very funny. Typical black American humor. The audience was mostly black, and everybody was laughing and clapping and hollering like they were in church. After the play was over, my friend started talking about why black people were so angry all the time. I said it was a matter of remembering—nobody asks why Jews remember the Holocaust, I think I said—and she said that's different, and I said it wasn't, and she said that anger was just a dead end. We had a big fight, right in front of the theater. When we got back to the car she started crying. She couldn't be black, she said. She would if she could, but she couldn't. She could only be herself, and wasn't that enough.

"None of this happened with Genevieve," Maraniss writes. "She remembered going to the theater only once with Barack, and it was not to see a work by a black playwright. When asked about this decades later, during a White House interview, Obama acknowledged that the scene did not happen with Genevieve. "It is an incident that happened," he said. But not with her. He would not be more specific, but the likelihood is that it happened later, when he lived in Chicago. "That was not her," he said. "That was an example of compression I was very sensitive in my book not to write about my girlfriends, partly out of respect for them. So that was a consideration. I thought that [the anecdote involving the reaction of a white girlfriend to the angry black play] was a useful theme to make about sort of the interactions that I had in the relationships with white girlfriends. And so, that occupies, what, two paragraphs in the book? My attitude was it would be dishonest for me not to touch on that at all … so that was an example of sort of editorially how do I figure that out?""
Well . . . okay. But the intro to the book made clear that several of the characters in the book were composites. He specifically declined to name the girlfriends in the book, including this one, whom he referred to as "the New York Girlfriend." So . . . why is this a big deal?
Cue John Hinderaker:
Genevieve Cook says it never happened. No such play, no such dialogue. Maraniss charitably supposes that the event involved a different, later girlfriend in Chicago who was part of the "composite" girlfriend character. But Obama places the play in New York, not Chicago. My guess is that the incident never happened at all: one nice thing about fictionalizing an autobiography and including fake characters is that it gives you license to include events that didn't happen but, from an artistic standpoint, should have.
But Obama never claimed it happened with Genevieve Cook. Or mentioned Genevieve Cook by name at all. He was at Columbia two years; maybe he had other girlfriends. But let's say, for the sake of argument, that Hinderaker is right and that Obama made the whole thing up. Does it really matter? I've never actually read Dreams From My Father but always gathered that it was a story about a young man (the book was first published in 1995) dealing with his confused racial self-identity. So, maybe the play story was a composite, or a parable, helping explain why he ultimatley chose to self-identify with his absent black father rather than the white mother and grandparents who had raised him.
Hinderaker is similarly bemused by another incident:
It was striking to me that when Genevieve met Obama he was a 22-year-old college graduate, but hadn't yet figured out what his name was. In high school, he had generally been called "Barry," but by this time he apparently was looking for something more formal:

She called him Bahr-ruck, with the accent on the first syllable, and a trill of the r's. Not Bear-ick, as the Anglophile Kenyans pronounced it, and not Buh-rock, as he would later be called, but Bahr-ruck. She said that is how he pronounced it himself, at least when talking to her.

I find that very odd. Think how fundamental a part of you your name is: when you were in elementary school, did you have any doubt about what to call yourself? At 22, Obama was still trying out names.
Well, perhaps it's because Barack is a different sort of name than John or James? Like Obama, I was named after my father. Unlike Obama, my father and I lived in the same house until I was grown and had a name that was perfectly congruent with the society in which we lived. My dad went by our middle name, Harvey, as a youth and became Jim in the Army and it stuck. Since James is a bit formal for a child, my parents called me Jamie and I became James to the rest of the world until I started school. I've been James ever since, except for the four years I was in the Army when I, too, was Jim because senior officers insisted on calling me that. The only other experimentation I've ever done with my name was a brief time in junior high when I was James H. Joyner II rather than James H. Joyner, Jr. 
And, again, James is a rather common name in our society. Except for the occasional phone operator, nobody has ever needed me to spell the name, explain how to pronounce it, or inquired as to the national origin of said name. Barack, on the other hand, not so much. Indeed, Obama had been running for president for months before I figured out how to spell it consistently. So, that he wanted to fit in with the kids in school as Barry and then later experimented with different ways to pronounce Barack neither surprises nor puzzles me.
For that matter, I'm bemused by last week's tomfoolery over old revelations that young Barry once ate some dog meat. The boy grew up in Asia; it would be pretty damned surprising if he hadn't. If he'd grown up in France, he'd probably have eaten some horse flesh. Who the hell cares?
I realize that we're in the Silly Season of the campaign, the long stretch between knowing who the major party nominees will be and between the general election fight getting into full stride. But Barack Obama has been under the intense glare of the national spotlight now for some five years. He's been Leader of the Free World for more than three years. Let's just say that we have a pretty good idea of what sort of man he is and what kind of president he'd be.