Yes, Barack Obama Inhaled. So What?
A new book about the President details his marijuana use in High School and at Occidental College.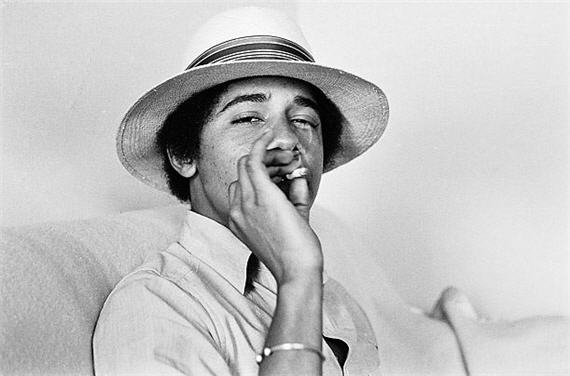 Apparently, the latest revelation to be leaked out of David Marinass's upcoming book about the President that, shockingly, a student who was in High School and College in the late 70s and early 80s smoked marijuana:
Bill Clinton he was not. When it came to smoking pot, the teenage Barack Obama had rules. You had to embrace "total absorption" or face a penalty. When you smoked in the car, "the windows had to be rolled up." And he could horn his way in, calling out "Intercepted!" and grab the joint out of turn.

Best-selling author David Maraniss'"Barack Obama: The Story" describes the future president's teenage antics, notably his copious marijuana smoking, details of which were published early Friday by Buzzfeed. While the book won't be released until June 19, vast sections of it were already available Friday on Google Books.

Starting on page 293, the reader begins to get the dope on high school-age Obama's group of basketball- and fun-loving buds, who dubbed themselves the "Choom Gang," from a verb meaning "to smoke marijuana."

"As a member of the Choom Gang, Barry Obama was known for starting a few pot-smoking  trends. The first was called 'TA,' short for 'total absorption.' To place this in the physical and political context of another young man who would grow up to be president, TA was the antithesis of Bill Clinton's claim that as a Rhodes Scholar at Oxford he smoked dope but never inhaled," writes Maraniss, author of a biography of the 42nd president.

"When you were with Barry and his pals, if you exhaled precious pakalolo (Hawaiian slang from marijuana, meaning "numbing tobacco") instead of absorbing it fully into your lungs, you were assessed a penalty and your turn was skipped the next time the joint came around. "'Wasting good bud smoke was not tolerated,' explained one member of the Choom Gang, Tom Topolinski, the Chinese-looking kid with a Polish name who answered to Topo."

Obama also made popular a pot-smoking practice that the future president and his pals called "roof hits." When they smoked in the car, they rolled up the windows, and "when the pot was gone, they tilted their heads back and sucked in the last bit of smoke from the ceiling," Maraniss writes.

Obama "also had a knack for interceptions. When a joint was making the rounds, he often elbowed his way in, out of turn, shouted 'Intercepted' and took an extra hit. No one seemed to mind," according to the text.

Maraniss details how the Choom Gang relaxed at a spot they called "Pumping Stations" partway up Mount Tantalus on Oahu.

"They parked single file on the grassy edge, turned up their stereos playing Aerosmith, Blue Öyster Cult, and Stevie Wonder, lit up some 'sweet-sticky Hawaiian buds,' and washed it down with 'green bottled beer' (the Choom Gang preferred Heineken, Beck's, and St. Pauli Girl)," according to Maraniss.
Rod Dreher, certainly no fan of the President's, finds this much ado about nothing:
I'm a social and religious conservative, don't smoke pot, never have smoked pot, don't have any close friends who smoke pot (around me, at least), and as far as I can remember, haven't been around people smoking pot since my twenties (I'm 45). I'm pretty sure I don't think pot should be legalized, but I don't have strong feelings about it.

And I sure don't care that President Obama was a teenage pothead.

Why not? Because I knew so many people in college who smoked pot recreationally, and turned out okay. If I concluded that anybody who smoked pot as a young person was therefore unfit for high public office, I wouldn't be able to vote for many of the smartest and most capable people I know. And I wouldn't be able to explain why in any way that made sense, even to myself.
That's largely, I think, because it wouldn't. Surely, there are some things that a person may do in their younger years that would be potentially disqualifying if the ran for office later in life. Multiple serious, especially violent, crimes come to mind for example, potentially involvement in large-scale drug trafficking would fall into that category as well. The same really can't be said of youthful drug use, especially a drug as relatively harmless as marijuana. So Barack Obama inhaled, so what? It's really not that big a deal when you get right down to it, and it's a good thing that we've come to the point in our society where condemning a man for something he did in his youth that harmed nobody is considered silly. Of course, it wasn't always that way. Douglas Ginsburg, a man who was more than well-qualified to sit on the Supreme Court, was forced to withdraw his name from nomination over revelations that he smoked pot during his time as a student at the University of Chicago in the 60s and as a young Professor at Harvard in the 70s. Bill Clinton was put through the ringer for the same activity and ended up coming up with the ridiculous wink-and-nod of "I didn't inhale." I'm sure both men would have prefered to live in an era where such youthful "indiscretions" were recognized for the irrelevancies that they are.
Of course, there is one aspect of the President's youthful adventures with marijuana and it's relationship with his Presidency that deserves to be talked about. After initially promising that his Justice Department would not pursue cases against medical marijuana dispensaries in states that have legalized marijuana for medical use, Obama and his Administration have done precisely the opposite:
On its own, stories like these about a young adult are actually kind of funny, even humanizing — like something straight out of a stoner comedy. But when you realize it's about President Obama, it becomes a little less humurous.

Less humorous because President Obama has repeatedly laughed off and dismissed serious discussion about drug policy, like in that 2009 virtual town hall where the president mocked online voters for picking a question about marijuana legalization.

Less humorous because the president shuts down medical marijuana dispensaries with a frequency that would have made Richard Nixon stand up and cheer. He presides over a DOJ, IRS, and DEA that have threatened, audited, and shut down legal pot sellers in California, Colorado, Montana, and Washington. All this despite once promising to respect state laws regarding medical marijuana.
Federal agents have also staged a record number of crackdowns at stores that sell hemp or so-called "drug paraphernalia," making Barack Obama and Eric Holder just two more in a long line of Generals in America's mostly failed War On (Some) Drugs. One wonders what young Barack Obama would think about that.