Romney Accused of Vicious Hair-Cutting
The day after President Obama expressed his personal support for gay marriage, a report has surfaced of his presumptive general election opponent engaging in a mean, anti-gay "prank" back in 1965.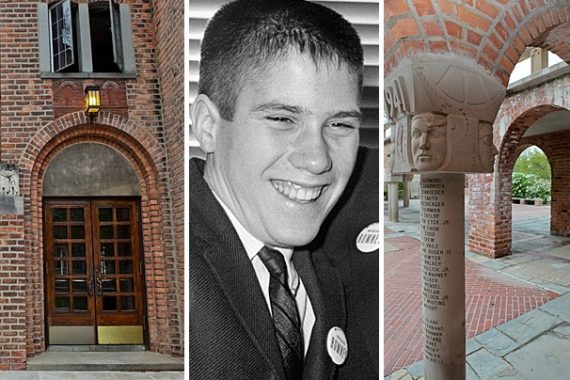 The day after President Obama expressed his personal support for gay marriage, a report has surfaced of his presumptive general election opponent engaging in a mean, anti-gay "prank" back in 1965.
WaPo ("Mitt Romney's prep school classmates recall pranks, but also troubling incidents"):
Mitt Romney returned from a three-week spring break in 1965 to resume his studies as a high school senior at the prestigious Cranbrook School. Back on the handsome campus, studded with Tudor brick buildings and manicured fields, he spotted something he thought did not belong at a school where the boys wore ties and carried briefcases. John Lauber, a soft-spoken new student one year behind Romney, was perpetually teased for his nonconformity and presumed homosexuality. Now he was walking around the all-boys school with bleached-blond hair that draped over one eye, and Romney wasn't having it.

"He can't look like that. That's wrong. Just look at him!" an incensed Romney told Matthew Friedemann, his close friend in the Stevens Hall dorm, according to Friedemann's recollection. Mitt, the teenaged son of Michigan Gov. George Romney, kept complaining about Lauber's look, Friedemann recalled.

A few days later, Friedemann entered Stevens Hall off the school's collegiate quad to find Romney marching out of his own room ahead of a prep school posse shouting about their plan to cut Lauber's hair. Friedemann followed them to a nearby room where they came upon Lauber, tackled him and pinned him to the ground. As Lauber, his eyes filling with tears, screamed for help, Romney repeatedly clipped his hair with a pair of scissors.
My first instinct was a quip about this proving that Romney was indeed  "severely conservative." But those accusing him of this act see it as far more than a "prank."
The incident was recalled similarly by five students, who gave their accounts independently of one another. Four of them — Friedemann, now a dentist; Phillip Maxwell, a lawyer; Thomas Buford, a retired prosecutor; and David Seed, a retired principal — spoke on the record. Another former student who witnessed the incident asked not to be named. The men have differing political affiliations, although they mostly lean Democratic. Buford volunteered for Barack Obama's campaign in 2008. Seed, a registered independent, has served as a Republican county chairman in Michigan. All of them said that politics in no way colored their recollections.

"It happened very quickly, and to this day it troubles me," said Buford, the school's wrestling champion, who said he joined Romney in restraining Lauber. Buford subsequently apologized to Lauber, who was "terrified," he said. "What a senseless, stupid, idiotic thing to do."

"It was a hack job," recalled Maxwell, a childhood friend of Romney who was in the dorm room when the incident occurred. "It was vicious."

"He was just easy pickins," said Friedemann, then the student prefect, or student authority leader of Stevens Hall, expressing remorse about his failure to stop it.
It should be noted that the Romney campaign denies the incident–and seems to understand that it won't be seen as youthful hi-jinks.
"Anyone who knows Mitt Romney knows that he doesn't have a mean-spirited bone in his body," Andrea Saul said in a statement. "The stories of fifty years ago seem exaggerated and off base and Governor Romney has no memory of participating in these incidents."

Campaign officials denied a request for an interview with Romney. They also declined to comment further about his years at Cranbrook.
I'm a bit troubled by this, in the same way I was when the Swift Boat attacks on John Kerry arose. On the one hand, we have some allegations from contemporaries–willing to go on record in a major newspaper–that undermines a critical part of the appeal of a major presidential contender. On the other, the charges are several decades old and strangely did not come to light earlier despite both men having been in the national spotlight a very long time. That really, really smells.
Assuming for the sake of argument that the characterizations of Romney's accusers are an accurate reflection of events, we would be safe in figuring that Romney was at as least occasionally a mean prick the spring of his 18th birthday (he was born March 12, 1947). That his alleged target was an effeminate classmate hardly seems shocking; that attitude prevailed several decades beyond 1965. As Friedemann, his chief accuser, notes, he "waited to see what form of discipline would befall Romney at the famously strict institution. Nothing happened."
And perhaps Charlie Spiering is right when he declares, "For men who have attended all boys schools, a hair cutting incident is remarkably tame." It's quite possible that some of his contemporaries felt guilty after the fact and that Romney hasn't thought of it since, seeing it as a youthful prank consistent with the times.
At the same time, though, William Jacobson is too cute by more than half to dismiss it by chortling "I once participated in a group which gave someone a wedgie when I was at summer camp in the 1960s.  That's why I'll never run for President, my record is stained." Teenage boys holding down a younger, weaker classmate who was crying and screaming is a far crueler act.
Still, as I observe any time we're talking about incidents and accomplishments that allegedly took place during a middle-aged politician's school days, we should largely discount it in light of more recent behavior. Indeed, as the story in question acknowledges, Romney was coming of age at Cranbrook–his first time outside the direct supervision of his parents–and he continued his transformation into his young adulthood.
In later years, after Romney went on a Mormon mission, married and raised five sons, he seemed a different person to some old classmates. "Mitt began to change as a person when he met Ann Davies. He gradually became a more serious person. She was part of the process of him maturing and becoming more of the person he is today," said Jim Bailey, who was a classmate of Romney's at Cranbrook and later at Harvard.
I'm reasonably confident that, regardless of whether he was mostly a jerk at 18, he's a mostly a kind and decent fellow at 65. To the extent I have misgivings about his character, it's with respect to the  steadfastness and courage of his convictions.
UPDATE: Romney has issued a tepid non-apology apology.
Mitt Romney is countering the notion that he bullied high school classmates and insists he didn't know some were gay.

The Republican presidential candidate apologized Thursday to anyone he may have offended by what he said were "hijinks and pranks during high school." His comments in a hastily arranged radio interview followed a Washington Post report Thursday that he had held down classmate John Lauber and cut off his bleached blond hair. The Post suggested Lauber was bullied because he was gay.

he newspaper also reported that Romney shouted "atta girl" at a different student.

Separately, Romney told Fox News that the people involved didn't reveal they were gay until years later. Romney said he participated in many pranks and that some, in his words, "may have gone too far."
This is just foolish. The accusation here isn't of "hijinks" but of rather vicious bullying. And, if the kid was screaming and crying while it was happening, there isn't any question as to whether his feelings were hurt.
This should be a one-day story. People get that 1965 was a long time ago–I'm 46 and wouldn't be born for several months–and that people grow up.
If it's partly wrong–whether through falsehood, exaggeration, or context–set the record straight. If it's true, say so, apologize, and put it behind you.
UPDATE: Family of Alleged Romney Bullying Victim Denies Knowledge of Incident