Obama's Tax Plan Is About Politics & Class Warfare, Not Tax Policy
The President could describe his tax plan differently, but there's a reason he isn't.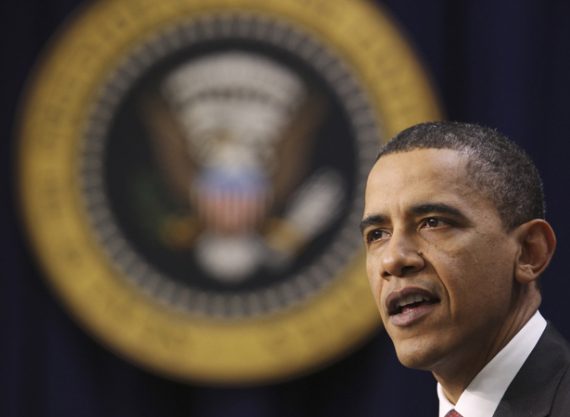 Dan Amira notes that every media outlet is reporting that President Obama is reporting that the President called to today to retain the Bush-era tax rates for people making less than $250,000 per year, but to raise them for people making more than that, and he asserts that they're getting it wrong largely because the President is getting it wron as well:
Obama is not proposing that families making up to $250,000 a year keep their tax cuts while families making more than that don't. He's proposing that everyfamily keep their tax cuts on their first $250,000 of taxable income (which isnot the same as "income" or "earnings," by the way).

That includes families with taxable income of $260,000, $1 million, $5 billion, $3 trillion, or whatever Jay-Z and Beyonce make in a year. Everyone would continue to pay a lower tax rate on their first $250,000 of taxable income under Obama's plan. To report that Obama only wants to maintain tax cuts for families making less than $250,000 is simply false.

If you're wondering how literally the entire media could get this story wrong, look no further than Obama himself, who is framing his own tax proposal inaccurately. "I'm calling on Congress to extend the tax cuts for the 98 percent of Americans who make less than $250,000 for another year," he said in an East Room speech earlier this afternoon.
Amira is right, of course. What we're talking about here is the wonderfully complicated world of marginal tax rates, which the media itself doesn't seem to want to bother to take the time to explain. The fact that someone makes, say, $450,000/year doesn't mean that, suddenly, all of their income becomes taxable at the new, higher, rate. Their income below $250,000 will still be taxable at the Bush-era rates, while that portion of their income above $250,000/year (or whatever number you might want to pick since some Democrats seem to favor a $1,000,000/year threshold) will be taxable at the higher rate. This is the way our tax system has worked ever since the idea of different rates for different rates of income came into existence. It doesn't mean that the tax increases are a good idea, that's a different question, but it does mean that the impression created by the idea that the President's plan raises taxes on "the rich" isn't entirely accurate, at least not in the way I think most people understand it.
There's another complication, of course. The fact that someone earns that $450,000 in gross income in a given year doesn't mean that every penny over $250k would be taxed at the new, higher rate. As anyone who has ever completed a tax return knows, there are several adjustments made to income before the tax owed is even calculated. We start with gross income and, from there we go through the deductions from income that bring us to Adjusted Gross Income. The current Form 1040 includes some 13 separate deductions that could be taken before AGI is calculated. And we're not done yet. From the Adjusted Gross Income, we deduct the personal exemption and either standard or itemized deductions that the taxpayer might be entitled to and we come up with Taxable Income, which is the number that is used to calculate ones tax liability. The point is that the amount used to calculate tax liability could be, based on an individual taxpayers circumstances, be substantially different from gross income. So, when we talk about raising tax rates on people who "earn" more than $250,000 per year, we're really talking about raising taxes on people with more than $250,000 per year in taxable income. That is potentially a big difference.
The question, of course, is why the Administration isn't selling the plan like this. One answer, of course, is that it's harder to explain the vagaries of marginal income tax rates and the calculation of taxable income than it is to just explain it in the manner the President did in his East Room Address today:
WASHINGTON — President Obama, drawing a contrast with what he called Republican trickle-down economics, called on Monday for temporarily extending the Bush-era tax cuts for people making less than $250,000 while letting the taxes of the wealthiest go up.

Leading Republicans promptly rejected that approach, saying that it would be a mistake to raise anyone's taxes when the economy was so weak.

Flanked by supporters handpicked to represent the taxpayers — 98 percent of households and 97 percent of small businesses, Mr. Obama asserted — who would benefit from his approach, Mr. Obama said only a strong middle class, not an ever wealthier top rung, would foster economic growth.

"These tax cuts for the wealthiest Americans are also the tax cuts that are least likely to promote growth," Mr. Obama said.

"We don't need more top down economics," he said. "We have tried that theory. We have seen what happened. We can't afford to go back to it."
Additionally, though Amira has a theory as to why the Administration isn't spinning this differently and I think he hits it right out of the park:
Normally, a president would want to publicize that he's trying to cut taxes for everyone in the country. But Obama actually has an incentive this time to downplay the number of Americans who would benefit from his tax plan. His proposal is, at its heart, a political maneuver meant to force Mitt Romney to defend tax cuts for the wealthy. It's more effective, then, for it to be seen as a cut solely for the middle class. The reality is that Obama's proposal would also keep Warren Buffett's taxes lower, if only a little bit.
In other words, this isn't a real tax proposal and it isn't meant to lead to legislation in Congress. It's a political ploy related to the election. It may work in the end, but I'd be interested in seeing how things would go if a politician actually explained an issue like this honestly instead of engaging in class warfare.