Ocasio-Cortez Gets A Republican Challenger She Need Not Worry About
Alexandria Ocasio-Cortez already has a Republican challenger, but she doesn't really need to worry about it.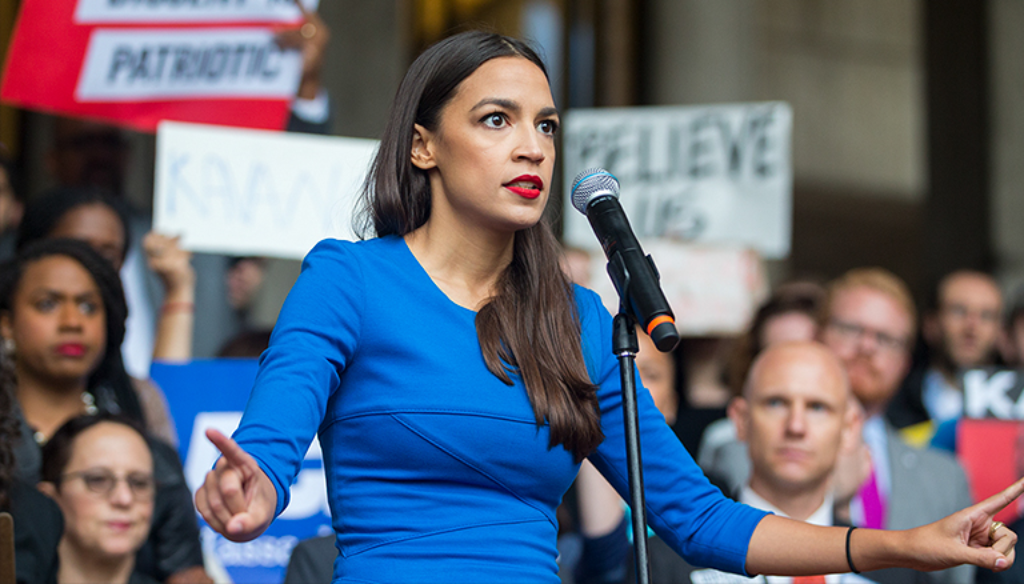 Election Day 2020 is still some seventeen months away, but Alexandria Ocasio-Cortez already has a potential challenger, but it's one she probably doesn't really need to worry about:
Democratic Rep. Alexandria Ocasio-Cortez will face a 2020 Republican challenge from a Jamaican-American businesswoman who says that she will better represent and more effectively attract jobs to the district.

While Scherie Murray could potentially channel greater Republican opposition to Ocasio-Cortez — who, in her calls to combat climate change and raise the minimum wage, has become a national face of democratic socialism — her bid is a longshot in a Democratic stronghold.
Murray released a campaign announcement video Wednesday portraying herself as a bridge-builder and accusing Ocasio-Cortez of looking for media attention over serving constituents.

"Your representative in Washington chooses self promotion over service, conflict over constituents, resistance over assistance," Murray says in the video. "Queens and the Bronx need someone who will create jobs, instead of turning them away."

She also slammed Ocasio-Cortez for supporting for a pay raise for congressional lawmakers and "fighting for the limelight" instead of constituents in the video announcement, which makes no mention of President Donald Trump or the Republican Party.

CNN has reached out to Ocasio-Cortez's office for comment.

Murray said in a Facebook post Thursday that "thousands have signed up" to support her campaign in the first 24 hours. But the district, New York's 14th, has been overwhelmingly blue for several cycles — Ocasio-Cortez won 78.2% of the vote in 2018, and former Rep. Joe Crowley won in 2016 with 82.9%. The challenge represents an apparent shift for Murray, who tweeted her congratulations to Ocasio-Cortez on her victory when she won the seat in November.

Murray immigrated to the United States from Jamaica when she was nine years old and is from southeast Queens, according to her campaign biography. In 2015, she lost a campaign to represent the New York Assembly's 29th District when, running as a Republican affiliated with the Reform Party, she won less than 10% of the vote. She previously founded a media company called The Esemel Group in 2004, which "generated employment opportunities for minorities in New York City," her biography says.

Speaking to Fox News' Sean Hannity on Wednesday, Murray said that Ocasio-Cortez's comments — specifically those advocating for environmental protection and likening border detention facilities to concentration camps — were "disgusting" and called for national political discourse to be "dialed back."
While Murray may get some national media coverage, especially from Fox News Channel, due to who she's running against, the truth of the matter is that the odds of her campaign being slim to none. The district that Ocasio-Cortez represents, New York's 14th Congressional District, is a solidly Democratic district that is unlikely to send a Republican to Capitol Hill. After defeating long-time incumbent Congressman Joe Crowley in the Democratic primary last year, Ocasio-Cortez went on to win the General Election by nearly 100,000 votes and more than 60 percentage point. Additionally, the Cook Political Report rates the district as a D +29 district, meaning that even a generic Democrat would walk into the race with a significant advantage. That advantage only increases based on the fact that the 2020 election will be taking place in a Presidential election year. Three years ago, Hillary Clinton won the Empire State by nearly 2,000,000 votes and it's likely that the 2020 Democratic nominee will do just as well. In that kind of climate, the odds of a Republican winning in the 14th District are somewhere between slim and none, probably closer to none.
If Ocasio-Cortez is going to be defeated in 2020, it would have to be via an intra-party challenge in the primary. So far there doesn't seem to be any serious Democratic challenger developing, but it's earl so that could change quickly. Among the challengers AOC may find a challenge in the form of former Congressman Je Crowley, who may run to try to regain his seat. Barring a loss in the primary, Ocasio-Cortez will be safe in the General Election regardless of how good a campaign Murray runs.