New York Democrats Looking At Potential Challengers To Alexandria Ocasio-Cortez?
Alexandria Ocasio-Cortez has managed to become a media star, but she has a lot to learn about politics.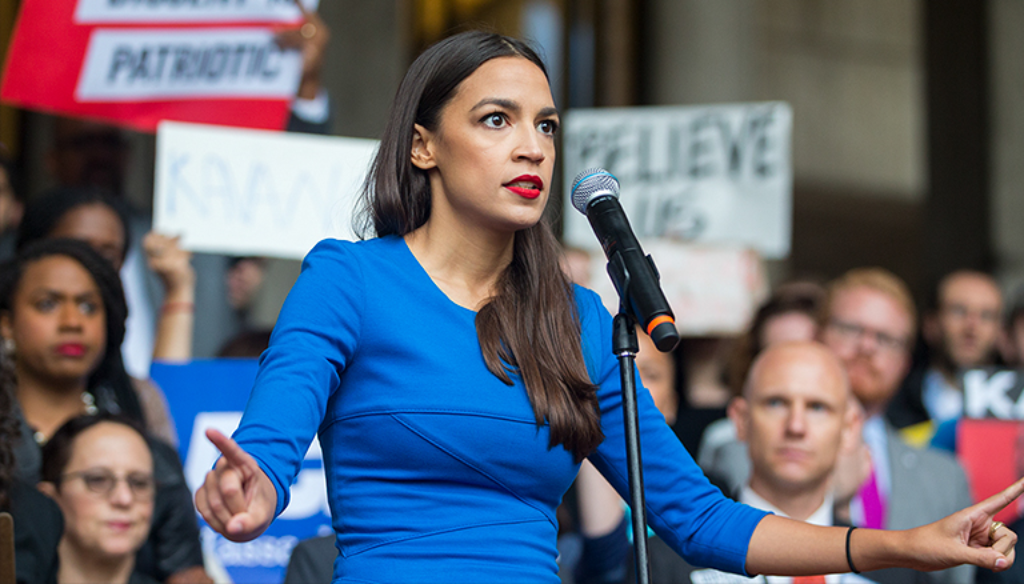 In the time since she beat veteran Democrat Joseph Crowley in the 2018 Democratic primary, Alexandria Ocasio-Cortez has drawn media attention both from mainstream news outlets and, especially, the conservative news media for the role she has assumed as the seeming leader of a new generation of House Democrats. In the process, though the freshman Democrats has managed to step on a significant number of toes inside her own party, including powerful members of the New York Congressional Delegation, and that is leading to speculation that party insiders may seek to recruit a primary challenger to run against her in 2020:
Rep. Alexandria Ocasio-Cortez (D-N.Y.) has infuriated colleagues by aligning with a progressive outside group that's threatening to primary entrenched Democrats. Now some of those lawmakers are turning the tables on her and are discussing recruiting a primary challenger to run against the social media sensation.

At least one House Democrat has been privately urging members of the New York delegation to recruit a local politician from the Bronx or Queens to challenge Ocasio-Cortez.

"What I have recommended to the New York delegation is that you find her a primary opponent and make her a one-term congressperson," the Democratic lawmaker, who requested anonymity, told The Hill. "You've got numerous council people and state legislators who've been waiting 20 years for that seat. I'm sure they can find numerous people who want that seat in that district."

The New York delegation has eyed Ocasio-Cortez with skepticism ever since last summer when the 29-year-old self-described democratic socialist shocked the political world and defeated then-Rep. Joseph Crowley (D-N.Y.) in what many thought would be a sleepy primary race. Crowley, a Queens powerbroker and affable House Democratic Caucus chairman, had been considered a possible future Speaker.

Many New York and Congressional Black Caucus lawmakers were also furious with Ocasio-Cortez after a recent Politico report stated she and the grass-roots group aligned with her, Justice Democrats, were considering backing a primary challenge to fellow New York Democrat Hakeem Jeffries, a Black Caucus member and establishment insider who succeeded Crowley as caucus chairman.

Both Ocasio-Cortez and Justice Democrats have denied the report, but the group of insurgent progressives has vowed to target centrist Rep. Henry Cuellar (D-Texas) and is eyeing other potential 2020 targets.

For now, New York Democratic lawmakers are playing nice with Ocasio-Cortez and her 2.6 million Twitter followers and say no one in the Empire State's delegation is currently contemplating backing a primary challenger against her.

"We are going to see what happens. Generally for me, I'm giving folks the benefit of the doubt, the presumption of innocence. You might say one thing before you get in here, and then after you get to meet folks, you see what happens and how the body works … things are different, so we'll see what happens," Rep. Gregory Meeks (D-N.Y.), whose district includes part of Queens, said in an interview.

(…)

[I]t's not just Black Caucus members she has rubbed the wrong way. Ocasio-Cortez, whose mother was born in Puerto Rico, has also annoyed members of the Congressional Hispanic Caucus by targeting one of their own: Cuellar. Earlier this month, she appeared in a Justice Democrats promotional video with her spokesman, Corbin, and her chief of staff, Saikat Chakrabarti, touting a program recruiting progressive insurgents to run for Congress.

Justice Democrats is currently searching for a progressive to launch a primary challenge against Cuellar. Hispanic Caucus members aren't happy about those efforts but say they are taking a wait-and-see approach before intervening with Ocasio-Cortez, who joined the caucus this month.
It's far too early in the process to be talking about whether or not Ocasio-Cortez, or "AOC" as she's come to be known on social media, could be vulnerable to a primary challenge in 2020, however these early reports are a good indication of the fact that, notwithstanding her media celebrity, the freshman Congresswoman does have a lot to learn when it comes to surviving on Capitol Hill. Social media and an admittedly aggressive personality that speaks to millennials and other disaffected voters have served her well in making her a media star but she is, in the end only 1/435th of the House of Representatives, and a relatively powerless Freshman at that. Were it not for the fact that her party is currently in control of the House of Representatives, she would be just one voice in a minority crowd. Being with the majority party, though, doesn't necessarily help her either since it means that some of the people she's already managed to cross swords with, such as Congressman Jeffries, are more powerful than they would be if Democrats were in the minority and thus have more control over just how much she is able to do in her first term in office, which isn't going to be much in any case.
Like several other commentators, my advice to Ocasio-Cortez from the beginning has been very simple. Notwithstanding her media stardom, she needs to recognize that she is a relatively powerless Member of Congress at the moment and that advancing to the point where she is going to actually be able to accomplish anything means learning how to work within the rules of the House, both written and unwritten. Part of that includes not stepping on the toes of those in more powerful positions than she is. This is especially true in New York, where there are any number of Democrats in the Bronx and Queens who might be willing to challenge her if they had the backing of those that Ocasio-Cortez seems intent on challenging herself. The best thing she could do would be to cool down, act in accordance with her position in the caucus, and perhaps actually learn how things actually work on Capitol Hill rather than assuming she can walk in the door and rewrite the rules on her own.