Omicron Now 73% of US COVID Cases [Or Not?]
That didn't take long.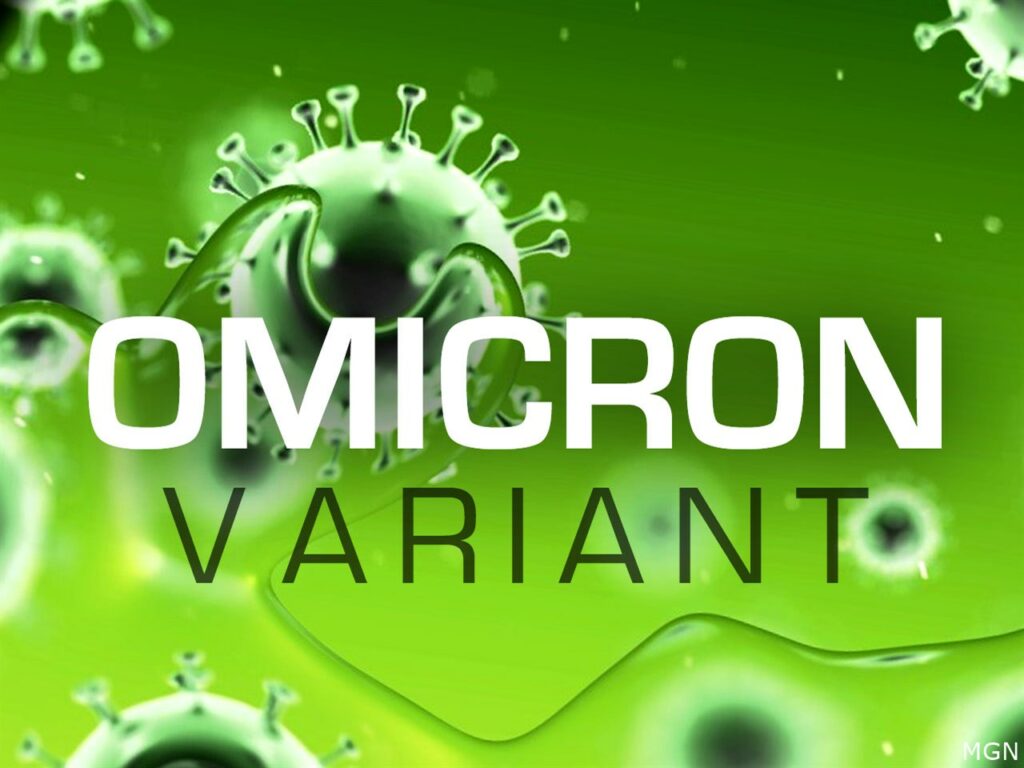 Three weeks after its discovery, the newest COVID variant has become far and away the predominant form spreading in the United States.
Axios ("CDC: Omicron accounted for 73% of recent COVID-19 cases"):
The Omicron variant accounted for more than 73% of recent COVID-19 cases in the U.S., according to Centers for Disease Control and Prevention's updated data released on Monday.

[…]

"These numbers are stark, but they're not surprising," said Rochelle Walensky, the CDC's director, adding that the growing infections reflect what has been seen in other countries.

[…]

President Biden on Tuesday will deliver a speech outlining new steps the administration will take to address the rapid spread of the new variant.
NYT ("Omicron accounts for nearly three-quarters of new U.S. cases."):
The extremely contagious Omicron variant is now the dominant version of new coronavirus cases in the United States, according to the Centers for Disease Control and Prevention, and has prompted the resumption of mask mandates in some cities and states in the Northeast, where the growth in new cases has been particularly steep.

Omicron, first discovered overseas around Thanksgiving and identified in the U.S. on Dec. 1, now accounts for more than 70 percent of new U.S. cases, according to federal estimates released Monday.

The estimates underscored the rapid spread of the new variant. Two weeks ago, the C.D.C. said Omicron accounted for just 1 percent of U.S. cases; a week ago, it was about 13 percent. Delta, which for months had been the dominant form of the virus, accounted for about 26 percent of new cases over the last week, the C.D.C. estimated.

Omicron, discovered thanks to its distinctive combination of more than 50 mutations, has turned out to be highly transmissible — two to three times as likely to spread as Delta — and less susceptible to vaccines than other variants. Early cases raised hopes that it may cause milder disease than other variants, but scientists say more research is needed.

[….]

The tens of thousands of new cases in recent days have included prominent politicians and lawmakers, such as Larry Hogan, the governor of Maryland, and Senators Cory Booker of New Jersey and Elizabeth Warren of Massachusetts.

The surge is coming as many hospitals have reached capacity and governors in several states have mobilized the National Guard to help with hospital staffing shortages. As Covid-19 cases crowd into hospitals, leaders of health care facilities in multiple states have taken out newspaper ads begging local residents to get vaccinated.
We're starting to see closures again with, for example, the National Hockey League becoming the first sports league to suspend play again. At the same time, though, people are far less cautious than the last go-round. The latest Spiderman movie is doing boffo box office.
Even though this variant seems more likely to cause breakthrough cases than Delta, those who are vaccinated are mostly just going about their lives. And those who aren't vaccinated were pretty much doing that all along.
UPDATE: Ari Allyn-Feuer who describes himself as "an Artificial Intelligence engineer at a major pharmaceutical company" and who purports to hold a Ph.D. in Bioinformatics from the University of Michigan, says this is simply a technical glitch that the news media has jumped on.
There was some kind of bug in an automated statistical algorithm at the CDC, known as the variant proportions Nowcast.  Omicron isn't really dominant in most of the USA yet (although all evidence continues to indicate it will be soon).  And the bug in Nowcast went from a quiet database update on a quiet CDC web page, to a national press sensation, in a matter of hours.

No humans at the CDC stood up in front of a podium and announced the 73% number, or wrote a press release.  It came from the CDC's automated COVID data tracker website.

But it's also not a statement of hard data, it's the output of an algorithm called the Nowcast.

[…]

All the press coverage has focused solely on the top level, nationwide number.  But digging into the regional and time series numbers, and comparing them with the hard data from two weeks ago, the national and regional case numbers, and what we know about Omicron's rate of growth from other contexts, shows clearly that something is fishy with this update of the Nowcast.

From the top down, we can look at the national numbers. The last two weeks of data say that Omicron made up 0.0% of cases sampled (regionally adjusted) in the week ending November 20, .1 in the week ending on November 27, and .7% in the week ending December 4.  Then, the Nowcast says these numbers shot up to 12.6% in the week ending December 11, and 73.2% in the week ending December 18.

That is, the Nowcast is not saying Omicron is making up 73% of US COVID-19 cases now.  It's saying that Omicron was already making up 73.4% of cases during the average day in a week that began all the way back on December 12.  And that it escalated from .7% to 12.6% in one week, and from 12.6% to 73.2% in another week.  Assuming, as data has indicated, that Delta cases stayed approximately constant during this time, these numbers correspond to Omicron case numbers growing approximately twenty fold in one week, a doubling time of approximately thirty six hours, sustained over a two week period.

This is out of touch with what we know about Omicron.  Responsible estimates of the growth rates of Omicron in populations with better data (like the UK and Denmark) and prior data on the USA, have suggested doubling times in the range of two to four days.  This has caused us (and the real experts) to characterize its rate of growth as "explosive," and to say in late November and early December that it might attain dominance in the USA in a matter of weeks.  And that's all true.  But a doubling time of 36 hours, sustained for over two weeks, is out of step with all the other data.  It's not credible.