On Constitutionality and Impeaching a Former President
The problem is theoretical at best and cannot stop the Senate from acting.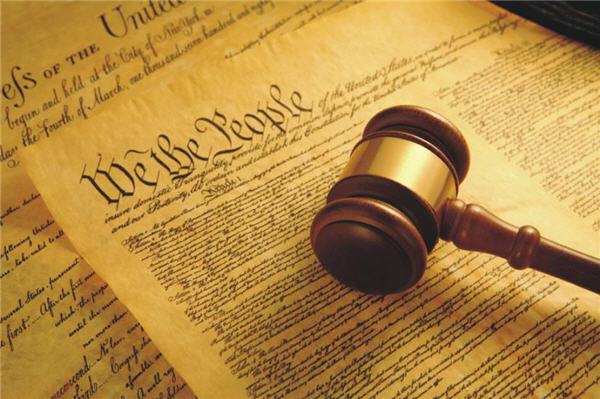 It is difficult to know what Trump's defense will be when his impeachment trial starts in the second week of February if anything because he is having trouble retaining a legal team. Perhaps the strongest, and the one that a lot of Republican Senators will use as an excuse to vote to acquit, is that it is not constitutional to impeach a former president.
The argument is pretty straightforward, and it is not without logical merit. The US Constitution say the following about the Senate trial (Article I, Section 3):
Judgment in Cases of Impeachment shall not extend further than to removal from Office, and disqualification to hold and enjoy any Office of honor, Trust or Profit under the United States: but the Party convicted shall nevertheless be liable and subject to Indictment, Trial, Judgment and Punishment, according to Law.
Put simply, since the sequence is conviction, removal, and then a vote on disqualification, how can you remove someone not in office?
There is a certain elegance in this notion, I will admit.
Now, my view is that since there are two sanctions listed (remove and disqualification) then it has to be possible to proceed through the process even if the removal portion is moot. Indeed, many people who have been impeached have been removed but not disqualified from holding office, so why not the other way around?
To be honest, it is unclear to me that the constitution forbids simply disqualifying Trump and not worrying about the removal part. All the document says is that punishment cannot go beyond these two items.
I think that those who focus on the sequencing issue are being too literal as well as ignoring the spirit of the clause. Since both punishments are linked to holding office (and only holding office) it stands to reason that the Senate would have the power to forestall future office-holding of someone who committed impeachable acts at the end of their term.
So, if an office-holder oh, I don't know, incited insurrection two weeks before leaving office, is it really that big a stretch to think that barring such a person from holding future office might not be a good idea?
What better reason to bar an official from holding future office than that official inciting an attack on the US Capitol in the hopes of disrupting the election of his successor?
The notion that time could run out on a term and, therefore, the constitutional sanction of disqualification is taken off the table strikes me as problematic. Are we really going to say that if a president takes a bribe on their last day in office that is okay because the clock ran out? Do we want such a person running for the House or Senate in two years? Do we want them eligible to be named to the bench?
---
What I am about to say will probably annoy attorneys and law profs, but I think that constitutionality is largely a political process and that there are two broad categories, and one important sub-category, that cuts through discussions of various frames of interpretation.
The first category is the easy one. There are some portions of the Constitution that are not amenable to argument or interpretation. For example, Article I, Section 2:
No Person shall be a Representative who shall not have attained to the Age of twenty five Years, and been seven Years a Citizen of the United States, and who shall not, when elected, be an Inhabitant of that State in which he shall be chosen.
It is impossible to argue that an eighteen-year-old can take a seat as a US Representative. There are no fancy means of interpreting the document nor any political pretzel logic to get you to any other conclusion than a US Representative has to be at least twenty-five years of age on the day they are sworn into office.
However, the document is full of statements that are not so clear. Indeed, even statements that appear unequivocal aren't as concrete as they seem. Take, for example, the free speech clause of the First Amendment:
Congress shall make no law… abridging the freedom of speech
I mean, pretty clear, right? No law means no law! Except, of course, there are laws against slander, regulations on commercial speech, federal regulations on certain language used on broadcast outlets, and against incitement.
So it ends up, the plain letter on the page is not as great a guidance as we like to pretend it is. In the case of regulations on speech, they exist due to a combination of long-standing practices (such as prohibiting slander) and political compromises that emerge due to changing societal conditions (e.g., FCC regulations over what can be broadcast).
The speech example is to illustrate that even seemingly unambiguous language may not actually be so.
The only time something is definitively constitutional or not is either when the black letter of the document is utterly unambiguous or when Congress and the Courts have decided otherwise. That's a pretty big "or."
And, of course, there is the ever-evolving set of legal precedence and interpretations within our common law traditions that our attorney friends are needed to unscramble.
In general, the question of what the constitution means is far more about politics than it is about decoding the "real meaning" of the document.
So two categories: 1) black letter obvious or 2) politically derived via legislation and judicial action.
A sub-category of #2 strikes me as where the question of "can you convict an ex-president in a Senate impeachment trial" resides–which is direct action by Congress. This is profoundly political and not amenable to judicial action, at least not at this stage (I suppose that if Trump were denied the right to hold office he could take the matter to court and claim the action was unconstitutional, but that can only happen if the Senate first acts).
Fundamentally it seems to me that it boils down to this: there is nothing that can stop the Senate from holding the trial (save the Senate itself). While many GOP members will claim that that they are voting to acquit based on a constitutionality argument (whether they believe that position of not is immaterial) the reality is that unless the Senate convicts and that conviction is this challenged in court and then overturned by the Supreme Court, the claim that is it an unconstitutional process is just that, a claim.
And it is a claim that cannot stop the Senate from acting (clearly). Although, it can be used as a political means for Senators to vote to acquit.