Thinking Through the Impeachment Process
Forget high language about constitutional prerogatives. This is about parties and elections.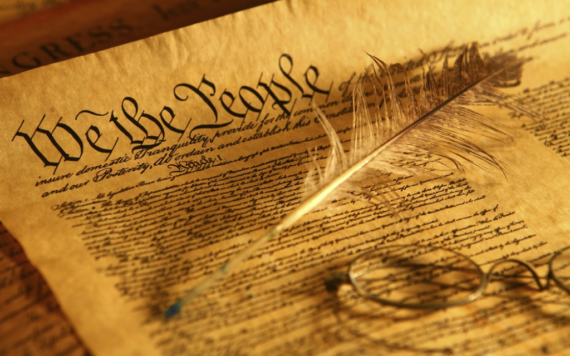 I continue to struggle with how best to understand the impeachment process as it pertains to the presidency. I don't mean that I do not understand the process, I do. I mean the differences between the process in theory versus in practice.
In theory, it is all about separated powers engaging in checks and balances. In practice it is far more about partisan and electoral politics.
Further, the struggle in my mind is wrapped up in the fact that there is a certain circular logic at play: the only time impeachment and removal is likely to be successful is when the evidence is such that resignation is already a likely outcome.
Nixon, as the prime example, was headed towards impeachment and removal. So, he resigned. This move short-circuited the process (and eventually led to his pardon). Now, would he have resigned without the threat of impeachment and removal? Probably not, so does that mean that the real usefulness of the impeachment process is more the threat of it being successful more than the actual process itself? Perhaps it does. Is there even a scenario in which a president would ride out charges to the point of allowing the Senate to vote him out of office without quitting first?
All of this raises the question of whether and when the House should pursue impeachment of a president when removal is highly unlikely.
In thinking about the mechanism itself (as I detailed here) it makes a lot of sense for judges. After all, there has to be a process to remove judges who serve life terms on condition of good behavior. It makes sense that there be a clear, but somewhat arduous, process to raise formal charges (impeachment in the House) and a process to review those charges (trial in the Senate) and then a super-majority vote for removal. As such, it is not surprising that of the 19 impeachments, the vast majority (14 or 73.7%) have been judicial.
For the executive branch the process is less clearly useful. Now, the idea that the Congress needs a mechanism to remove a cabinet official does make sense, but the likelihood is that a truly problematic cabinet member will likely resign or be fired by the president (plus, in the case of illegality, a cabinet member could be formally charged in court, unlike the president). Indeed, the fact that only one cabinet member has been impeached, Secretary of War William W. Belknap in 1876, more or less confirms this observation.
Put another way: there is no other way to remove a judge, so the process makes substantial sense for that office. For the cabinet, since they serve at the pleasure of the president, there are alternative ways to remove them, although it makes sense for the Congress to have way to remove a cabinet officer if needed. And, of course, elections also oust the cabinet.
This brings us to the president (and, to a lesser degree, the vice president). On the one hand, yes, it is essential for the legislature to have a way to remove a treasonous or clearly criminal president. But, unlike judges, presidents serve fixed terms. This means that there is always a chance for removal coming. It blunts, therefore the urgency for Congress to seek to remove a problematic president. They can always punt to the people to decide. It also underscores the political nature of the process: all sides are calculating not only whether impeachment and/or removal are viable and appropriate avenues, but what role the next election plays in the process.
Really, the electoral dimension of the situation means that a given president can be ousted by means other than the impeachment process, and in ways that are far easier to achieve than actual removal via a Senate vote (winning an election is hard, getting 2/3rds of the Senate to agree on anything of consequence is much harder). Further, all sides have to assess how the impeachment process, if pursued, will affect electoral fortunes of their parties. (All of which only applies in a first term, since a second term always ends a presidency).
Back to what I said above: this means that the only sure outcome of removal is when the president has so shamed himself that he might as well resign since he knows he will lose the next election (again, assuming we are talking first term). In a second term scenario he will likely only resign if his party is willing to vote him out because they have decided that their electoral fortunes will be adversely effects by continued support of that president.
Despite the elevated constitutional position of the impeachment process, it really does come down to electoral calculations. It is, to paraphrase Madison from Federalist 51, ultimately about a reliance on the people. The only way to get the Senate to vote in overwhelming numbers to remove a president is if the people have turned against that president in substantial numbers.
As such, we can't forget that while all of this is mess is blamed on party politics, those parties are responding to voters. This fact would, of course, be a cleaner final answer if the Senate and Electoral College were more representative of popular political sentiment.
All of this is to say that if removal is really the point of impeachment (which, logically, that appears to be the goal) then impeaching a president, unless the case is a slam-dunk of slam-dunks is pointless.
And, I have long thought that the purpose of impeachment is, in fact, removal. That the reason the House would proceed to impeach was because they thought a) there is sufficient evidence for removal, and b) the airing of that evidence would lead to removal.
On that standard, I have been hesitant to call for the impeachment of the current president because I think that there is an almost zero chance that Trump would be removed from office.
However, the more I think about the current situation (I think I have started to write some version of this post at least four times over the past month), the more I think that when it comes to presidents (and perhaps any member of the executive) that impeachment isn't solely, or even primarily, about removal, but rather about signalling. I will leave actions against members of the judicial branch in a different category, i.e., one more about only bringing charges where removal is a legitimately probably outcome.
So, with all this in mind, impeachment without only a slim chance of removal (or no chance at all) can still serve a purpose, but that purpose would be a full airing of one party's serious concerns about the behavior of the president of another party. I specifically say "party" and not "branch" because I see no plausible scenario, save some truly extreme, obvious, and videotaped crime wherein a House controlled by the president's own party would seek to impeach–and in even in that scenario, I think the party would pressure such a president to resign.
So, to speak plainly about our present moment: if the Democratic majority in the House believes that President Trump committed acts that fall in the general real of "high crimes and misdemeanors" and if they really want full investigatory powers and to have as public an airing of their grievances as possible, then the only constitutional mechanism is the impeachment process. At a minimum a formal impeachment inquiry would blunt the White House's current legal strategy that the Congress has no legitimate reason to issue subpoenas.
But let us all understand that while the impeachment process is steeped in the language of constitutional prerogatives and checks and balances, we would really be seeing a party-based process and one in which the goal would be persuading the people of the United States with electoral outcomes firmly central to the calculus. Indeed, that is the calculation that Speaker Pelosi and House leadership are making: what course of actions will be the most advantageous at the ballot box.
Some may consider that craven, but what else should representative democracy be than politicians trying to make sure their actions are in alignment with voter preferences? Indeed, would we even be in this place if our institutions did a better job of aligning public preferences with electoral outcomes?
All of this is to say two things.
One, impeachment of a president has to be understood as more about public censure than of removal, I think, given the profound partisan and electoral forces at work. And because, as I noted at the beginning, any impeachment process with a high probability of ending in removal will likely end in resignation first.
Two, all this combined means that opposition parties in control of the House who think a sitting president of the opposite party deserves impeachment has to understand that their likely best outcome is the most extreme censure they can deliver: impeachment without removal. And they have to calculate what the political fallout might be in terms of votes.