On Diversity and Standards
A Representative's slip of the tongue and the ensuing debate.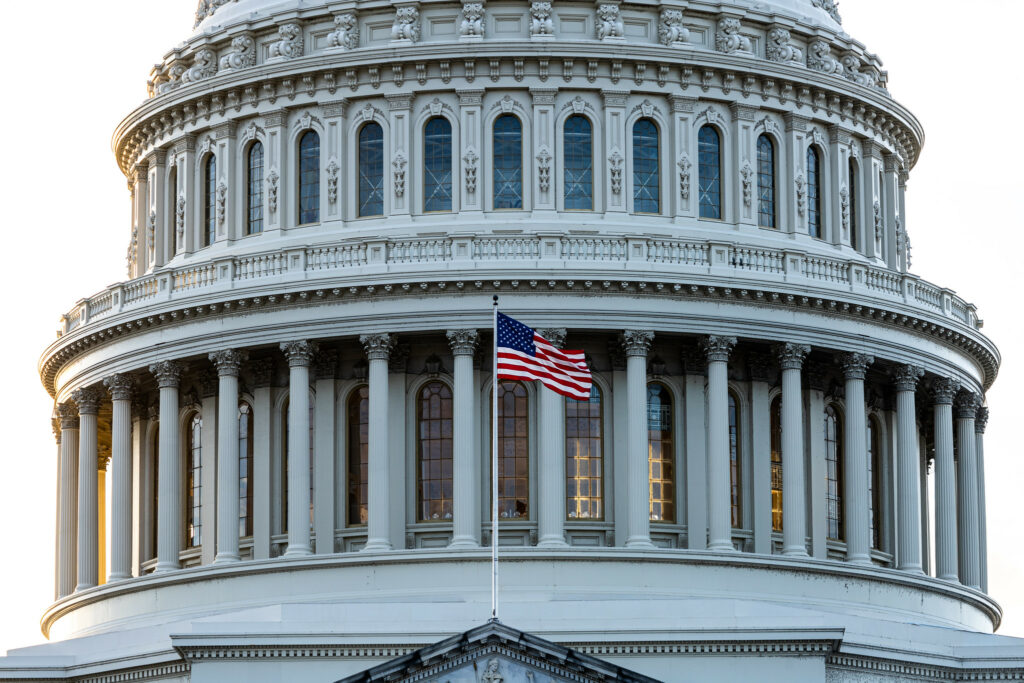 Now for the third in a series of posts that started out as tab clearing, but all grew beyond the limitations of a bulleted list. The themes are all linked and continue to connect to topics that have clearly been on my mind of late. For this post we go to the floor of the US House of Representatives from a little over a week ago via WaPo, GOP lawmaker says he 'misspoke' in referring to 'colored people' on House floor.
Freshman Rep. Eli Crane (R-Ariz.) said he "misspoke" when he referred to Black Americans as "colored people" on the House floor Thursday while arguing that the military should not focus on diversity — a comment that sparked an immediate outcry in the chamber and that was condemned by Democrats.

[…]

Rep. Joyce Beatty (D-Ohio), a former chairwoman of the Congressional Black Caucus, accused Republicans of using the typically bipartisan defense budget bill to advance a political agenda.

"I'm old enough to remember when Black officers, when women were not allowed to serve," Beatty said. "You are setting us back on this floor on both sides of the aisle."

Crane responded by declaring that his amendment "has nothing to do with whether or not colored people or Black people or anybody can serve" — which prompted a few audible gasps from the chamber and an outcry from Beatty.

"It has nothing to do with the color of your skin — any of that stuff," Crane added. "What we want is to preserve and maintain is the fact that our military does not become a social experiment. We want the best of the best. We want to have standards that guide who's in what unit, what they do."

Beatty then demanded that the words "colored people" be stricken from the record, after which Crane stood and asked for his comments to be amended to "people of color."

"I find it offensive and very inappropriate," Beatty said. "I am asking for unanimous consent to take down the words of referring to me or any of my colleagues as 'colored people.' … I didn't ask for an amendment."
The embedded video at the link shows the interchange. Quite frankly while Crane understands he made a mistake, he didn't seem especially embarrassed about it.
At any rate, Crane's eloquence over "any of that stuff" suggests a simpleminded approach to a complex question.
"The military was never intended to be, you know, inclusive," Crane said. "Its strength is not its diversity. Its strength is its standards. Diversity can be a great thing, but that should not be our focus. And I'm going to tell you guys just right now, you can … keep playing around these games with diversity, equity and inclusion. But there are some real threats out there. And if we keep messing around and we keep lowering our standards, it's not going to be good."
This is a striking, and ongoing theme in much of what I have written of late on this topic. The assumption is that diversity equals "lowering our standards" which, in turn, means that minorities are inferior to whites. I suspect the that Representative would dispute that characterization, but the inherent logic is simply true: the argument is that attempts to diversify inherently weaken the armed forces
Having been involved in a large number of hires, let me note the following:
Objectively identifying "the most qualified" candidate is impossible. Identifying qualified v. unqualified is fairly straightforward, but actually ranking the qualified can be fully subjective.
Diversity does not happen by itself. This is especially true at the upper levels of an organization.
I will note if you look, for example, at the US Army, you will find a definite disjuncture between the overall racial breakdown and the percentage of whites at upper levels.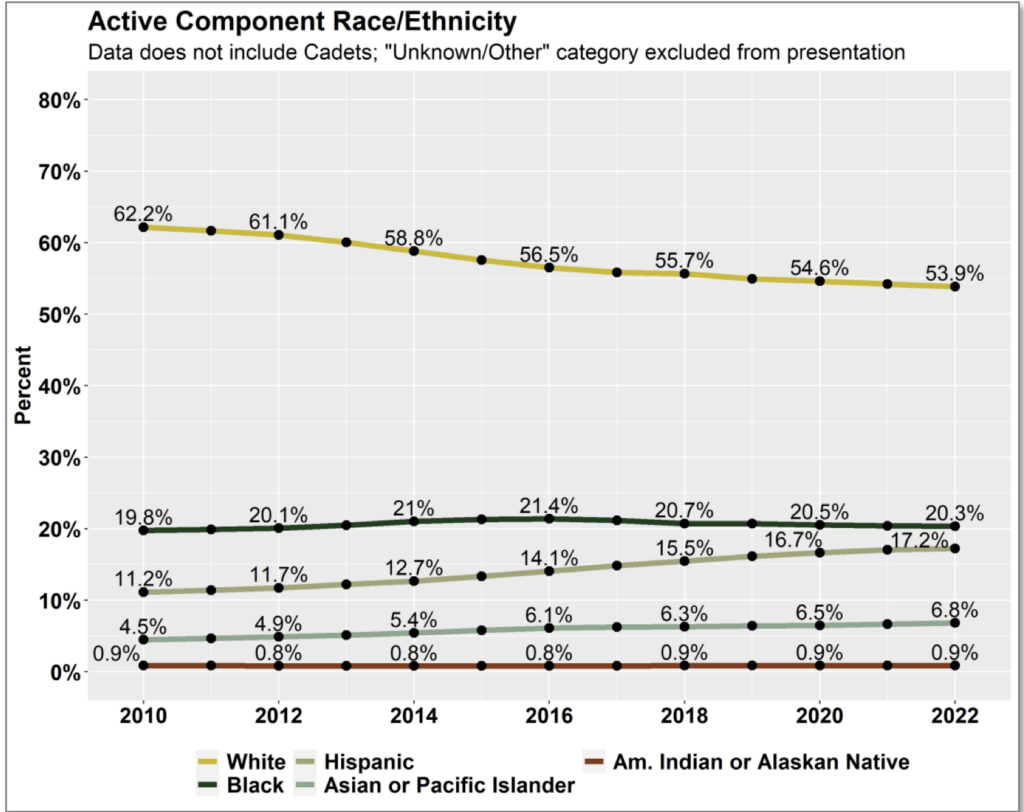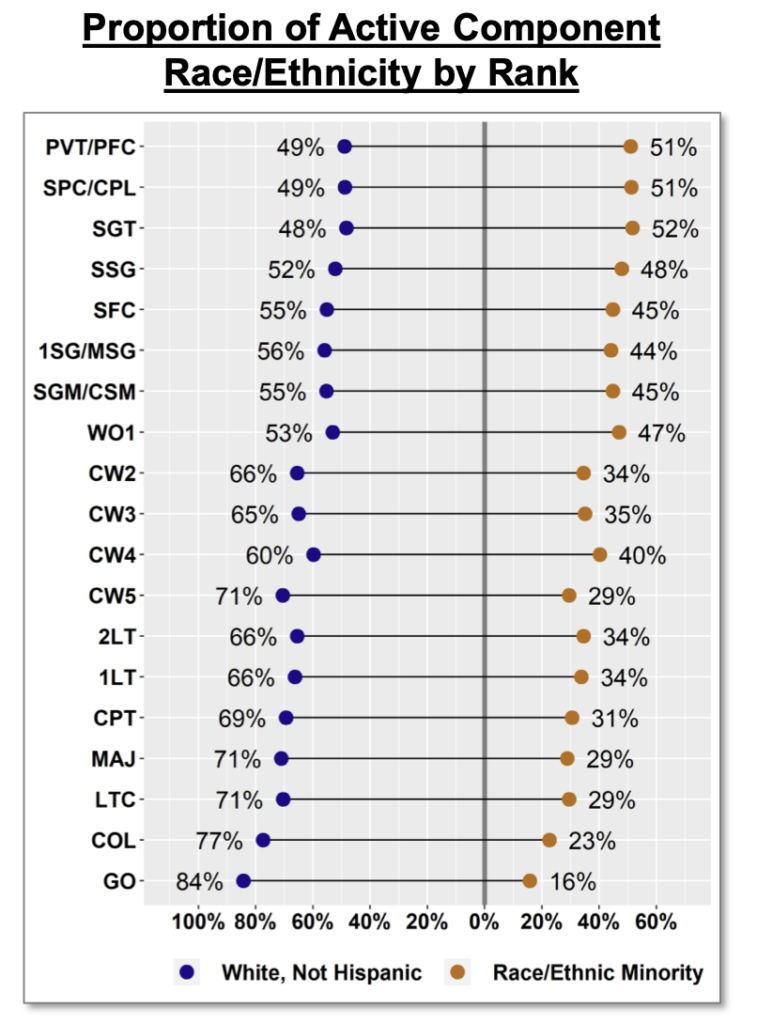 Something is going on here, and it favors white officers. And since the Army was integrated in 1948, I think there has been enough time to pass to allow this to have been fixed if it was going to be fixed by itself.
I would also note that this issue could very much influence recruiting, which is both a legitimate national security concern and something that Republicans have been complaining about.
I would also note that Chief Justice John Roberts disagrees with Crane, insofar as Roberts exempted military academies from the Court's affirmative action ban (via Military.com):
However, the Court specifically exempted the military academies from its decision on race-based affirmative action. The majority opinion, written by Chief Justice John Roberts, said in a footnote that this policy would not impact how military service academies approached admissions, citing "distinct interests" those institutions have.

"The special nature of military academies and their interests was addressed in an important amicus brief filed in Grutter v. Bollinger almost 20 years ago," said Lawrence Friedman, JD, professor of law at New England Law Boston. "The Supreme Court's decision tacitly acknowledges that."
I meant to comment on this at the time, insofar as I find this to be some pretzel logic: we need to give the military the tools needed to promote diversity, but not for elite educational institutions to do so.
---
Let me add a bonus side story because the WaPo headline immediately sparked the memory. I was in a graduate seminar at the University of Texas in probably my second year of graduate school when I was trying to say something about "persons of color" and I stumbled over my words (I was still not especially confident in classes at the time) and "colored people" came out of my mouth. I was mortified. Note that this was over thirty years ago and that was an embarrassing screw-up then–so much so that I remember it to this day. I think I quickly mumbled out a correction. And to be clear, I did not say "colored people" in private and had somehow revealed myself. But I certainly had heard my grandparents use the term (although they were more likely to say "coloreds" if not worse) and it was fairly common in older pop culture. I remember it being a time wherein there was a transition away from "black" to "persons of color"/"African American."
And not to make light of the news story above, this reminds me (and did at the time) of this Bloom County strip from 1988: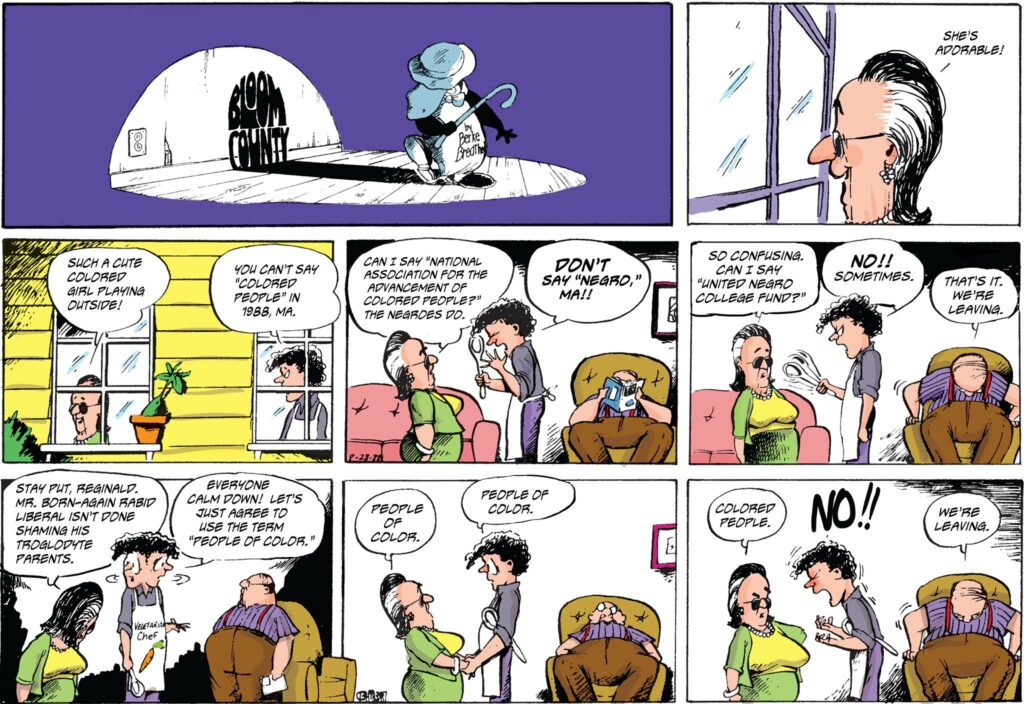 Indeed, since I know I had read that cartoon prior to my seminar flub (which was probably in the 1991-1992 academic year), maybe the whole thing was Berkley Breathed's fault (who is, coincidentally, a Texas alum).